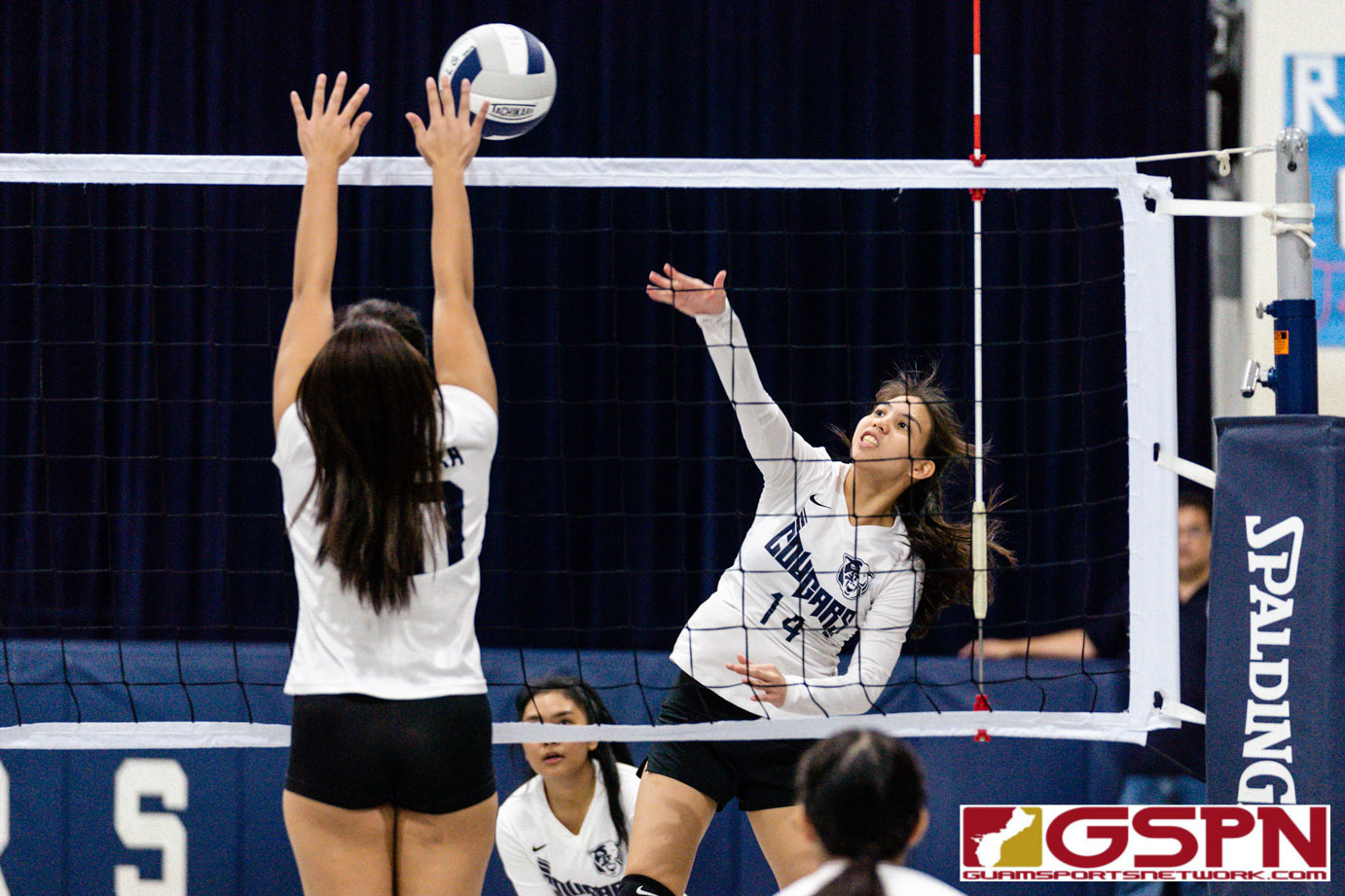 By Brandon Kinsella
In a midseason IIAAG Girls Volleyball League matchup between the Academy Cougars and St. Paul Warriors, the Cougars dominated on their home floor, winning in three sets 25-21, 25-16, 25-21 to secure an impressive victory.
The final set of the game looked a lot like the first two as St. Paul struggled to return serves and could not find an offensive rhythm to match the Cougars.
When Sadie Gutierrez stepped up to the line to serve, it would give Academy leeway for the rest of the game's final set. Crisp serving by Gutierrez resulted in 13 straight serves, six of which were aces, which placed the Cougars way ahead 17-3 in the 3rd.
"I was kind of nervous when I was serving, but as I started to find a rhythm, I felt really good. I'm happy with the way I was able to perform today," said Gutierrez. 
Although Academy eventually pulled off three straight sets to secure the win, there were lapses where little mistakes got the best of them.
Those lapses would contribute to the Warriors ability to cut the 17-3 deficit to a four-point deficit at 24-21 before the game ended.
Later on in the set, an ace by Warrior Keiani Pangelinan sparked the Warriors comeback attempt and shrunk the deficit to single figures at 19-10. Following the ace, two errors by the Cougars trimmed the deficit to just seven at 19-12.
"At the beginning of the game our energy dropped a bit. We picked it up midway, then in the last set it started to drop again. When that happened, we decided we needed to play our game and get it over," said Gutierrez.
The closest the Warriors would get to possibly winning the set and forcing another, came off a block by Amaya Sablan. This put the Warriors well within striking distance, down three at 24-21.
But Academy was able to regroup, and after a lengthy rally, outside hitter Rebecca Salas was able to secure the game winning kill which gave the Cougars a 25-21 win in the final set.
Gutierrez described what coach said to them, to keep the team composed in the moments where St. Paul started to pick up momentum, "Coach (Manny Guarin) just said to keep it simple. He told us to keep our passes high and just get it over."
Keeping it simple proved efficient; and the Cougars picked up a win to improve their record to 6-3, while the Warriors fall to 6-4.
Kristen Serrano led the Cougars in kills, finishing with four on the night. For the Warriors, Pangelinan led the team in kills, finishing with six on the night.
PHOTO GALLERY BROUGHT TO YOU BY: