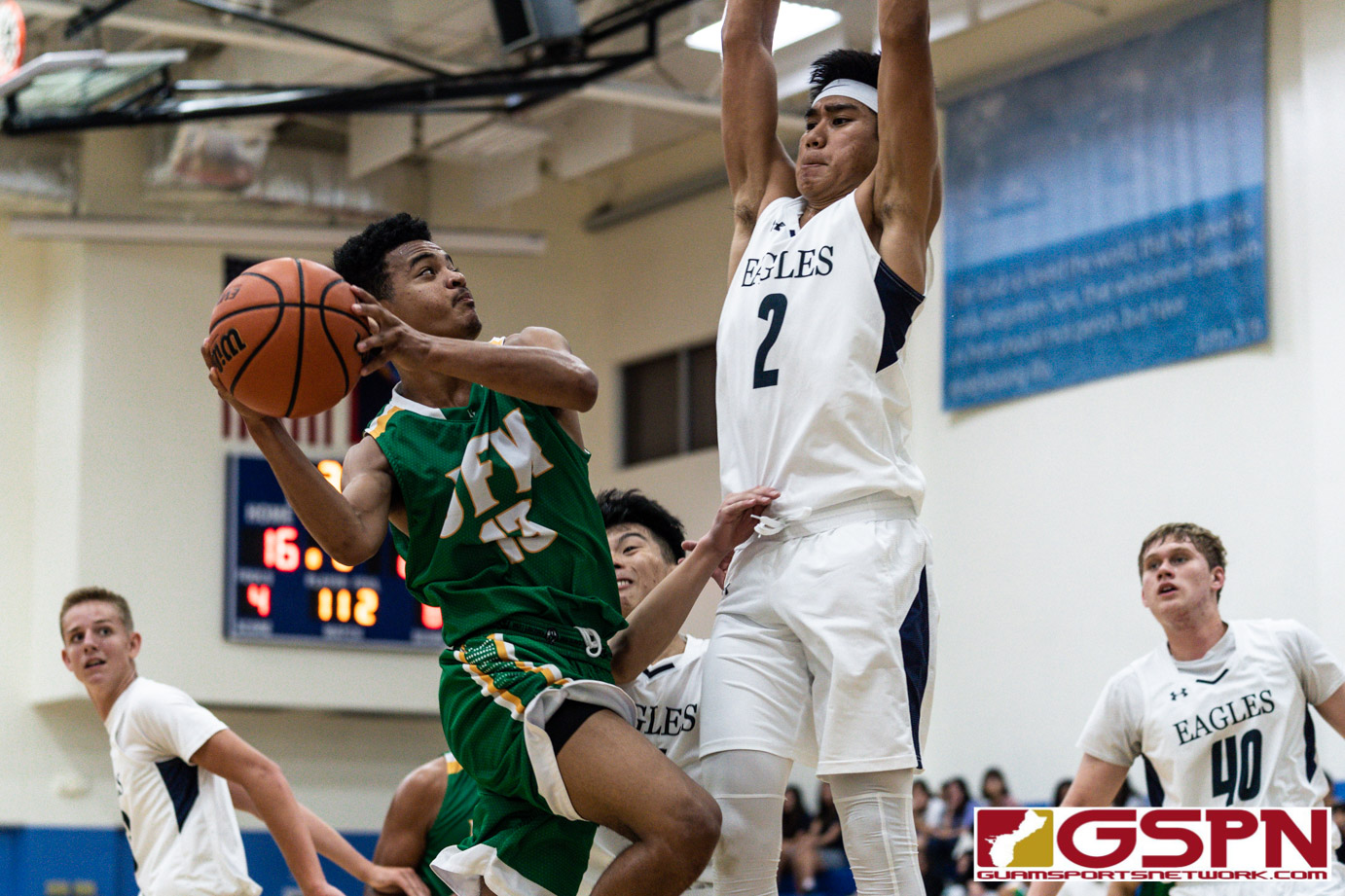 By Brandon Kinsella            
In a Friday night IIAAG Boys Basketball matchup between the JFK Islanders and Harvest Eagles, the Islanders would win in a blowout 82-44. Islanders Jerry Ngiraremiang and Jeremiah Kintoki led the charge, combining for 31 points.
The Islanders entered the building with confidence, showing great team chemistry off of great ball movement in transition right from the tip. It was a 2nd Quarter run that spurred the blowout victory, when the Islanders increased their lead to 20 before the half.
Following a defensive rebound, Skylor Corpus bulleted a cross-court, no look pass to teammate Ngiraremiang where he finished with a finger roll at the rim. The basket put the Islanders in front by double digits for the first time of the contest at 25-14.
The Islanders continued their offensive dominance in unique fashion as several plays were highlight worthy, leaving the crowd in awe on several occasions.
Ngiraremiang got comfortable in the first half and showed crafty ability in transition, knowing where his teammates were without looking and finding the open man with ease. In addition to his crafty passing, he would score 12 points in the first half alone.
Ngiraremiang talked about his team's dominant performance,  
"I think we did a good job showing our team chemistry tonight. We have big games coming up so it's important that we're on the same page. Everyone was having fun out there and our bench stepped it up too."   
Coming off the bench, Jeremiah Kintoki exploded in the 4th Quarter, knocking down three 3-pointers in a row to increase his team's lead to 26 at 62-36. Kintoki also demonstrated great offensive awareness and racked up five assists in the final quarter.
Kintoki elaborated on his hot quarter of shooting.
"My coach kept pushing me to shoot the ball. I just keep practicing my shot, and it's getting better."
Turnovers
Despite a dominant performance by the Islanders, they struggled with fundamentals throughout the game, amassing seven turnovers off of travelling violations alone. The Islanders were also in foul trouble in both halves, and the Eagles capitalized, as the bulk of their points came at the free throw line.
Harvest's Jacob Oshiro shot efficiently at the charity stripe. Oshiro made 10 of 13 free throws and led the Eagles in scoring, finishing with 16 points.
Harvest also struggled with the fundamentals, turning over the ball six times off of travelling violations
Room for Improvement
The Islanders are currently the second seed in the league and have had impressive wins over the Okkodo Bulldogs and the FD Friars. Their only loss of the season came at the hands of the defending Champion St. Paul Warriors. Kintoki explained what needs work if they want to close out the season with a championship,
"We have to work on our defense, and the fundamentals. We struggled a lot with that tonight, and we can improve those things."
PHOTO GALLERY BROUGHT TO YOU BY: