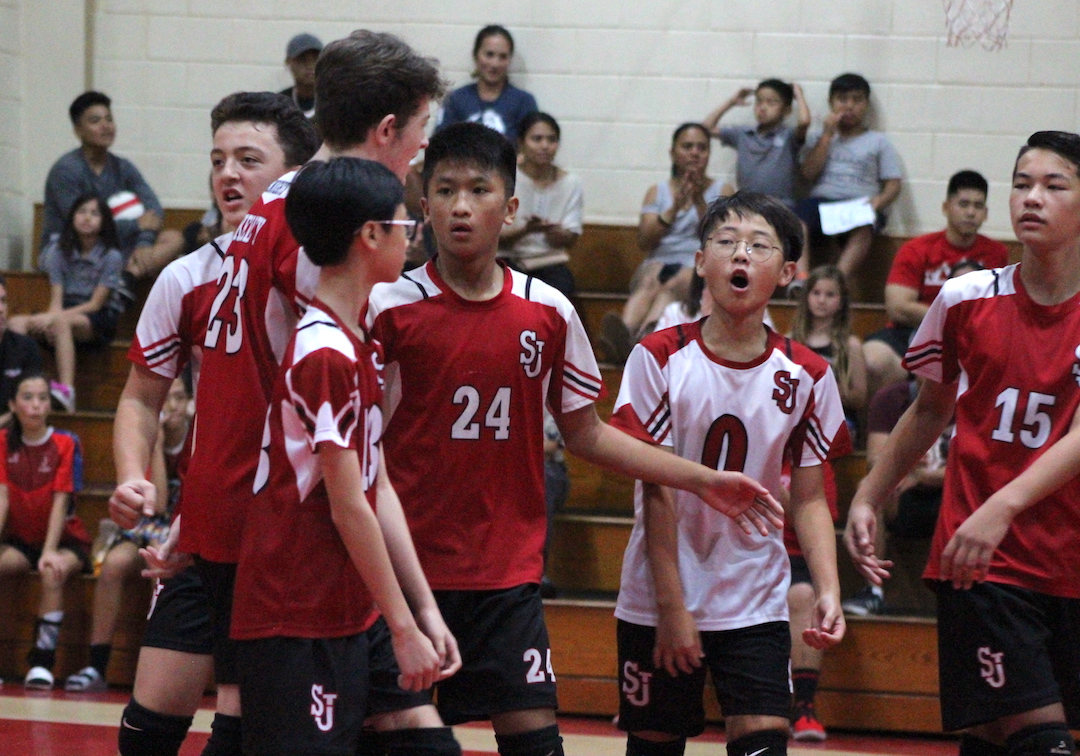 By Robert Balajadia
The last two undefeated teams left (5-0) in IIAAG middle school volleyball met Friday evening as the home team St. John's Knights and Harvest Eagles battled for top seed. With the game having big implications on championship standing, the Knights would prevail in dominant fashion winning in straight sets 25-13, 25-14.
Star of the evening was 8th grader Miles Ganeb who finished with four kills including six aces. Ganeb single handedly disrupted the Eagles defense from the service line by sparking two separate runs in the first and second set to push the Knights firmly ahead.
"There was tons of pressure and the whole team was feeling it, but we knew that if we played strong from the beginning that we would be able to beat them. Once I started getting it over I started putting in more power into 'cuz I knew they were getting nervous," said Ganeb.
Ganeb ran off six straight successful serves to pull ahead 7-2, which the Knights extended to 12-6 with hitting errors from the Eagles. A big block by Knight Cameron Kelley to go up 14-7 sparked a big 9-2 Knights run with Ganeb and Brock Larsen adding the fuel. Kelley would get the final kill to shutdown an Eagles run 25-13.
"We all gave 110% and I don't feel like the team could've played any better and everyone was feeling it today," said Ganeb.
Eagle Traven LaFaurie had a strong start to the second set grabbing a pair of kills as they trailed 3-2. Ganeb's second spark would come while up 10-6, running off a 9-3 run to get up 19-9 with the Knights in cruise control. Ganeb would serve two aces to go up 24-13, and nearly served his third ace to end the game, but the head official on the play blew the serve dead after Ganeb let loose before the official whistle.
An error would end the Eagles evening with the Knights now in the drivers seat to win the 2019 boys volleyball title. The Knights still have McCool, Bishop, St. Francis and St. Paul left on the schedule.
"We're still going to keep on working because it's not over until the last game of the season," stated Ganeb.