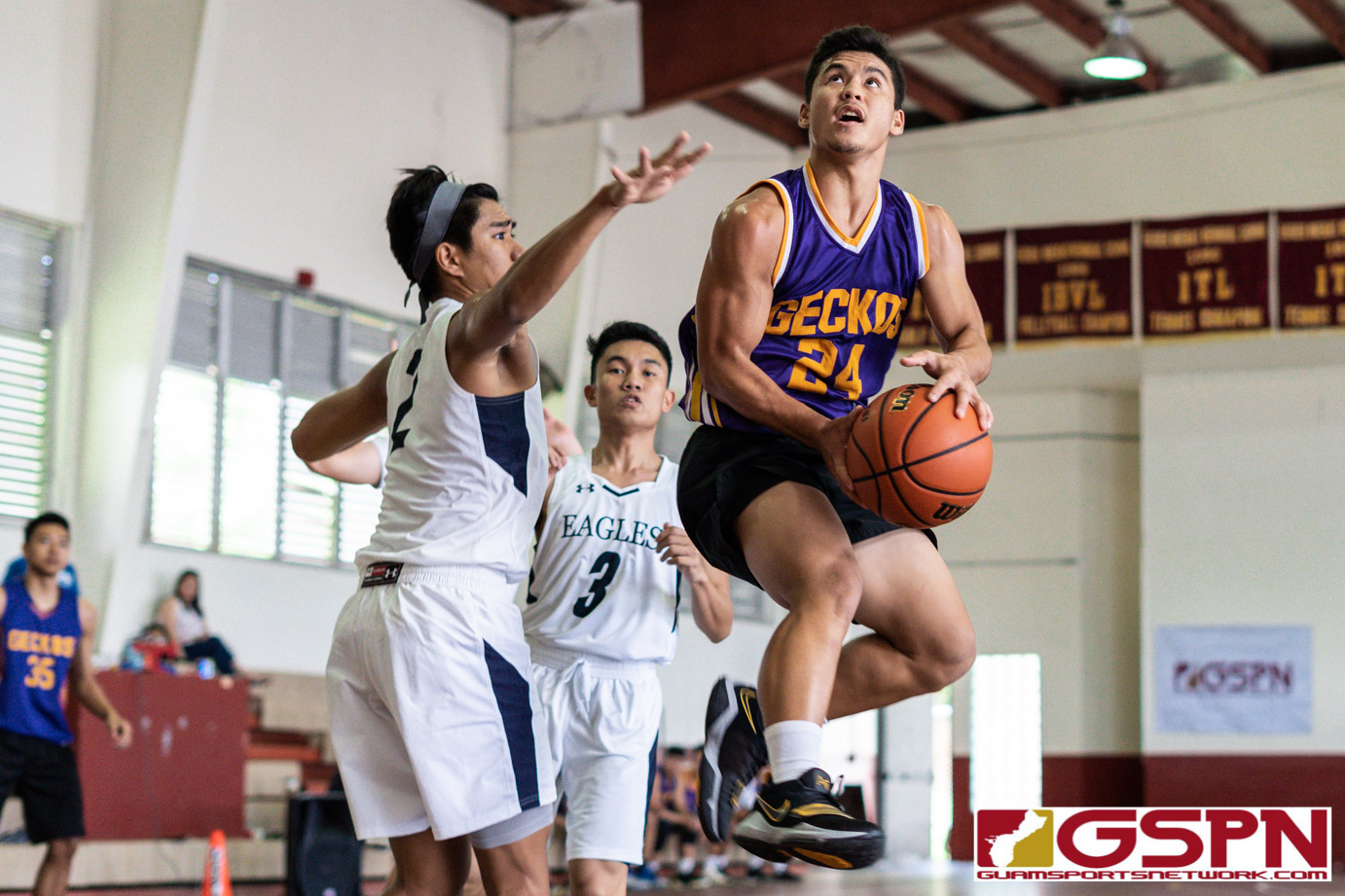 By Robert Balajadia
Day 3 of the GSPN Preseason Basketball Tournament wrapped up Sunday with six more games being played at the FD Jungle.
The road to the championship game this coming Friday (1/11/2018) is getting more clear with the top two teams in each Pool getting a spot in the finals. The St. Paul Warriors (3-0), JFK Islanders (3-0), Okkodo Bulldogs (2-0) and FD Friars (2-0) are currently a top the standings. The Warriors and Bulldogs are in the same pool (Pool B) as is the Islanders and Friars (Pool A).
Okkodo 84, ND 25
The Bulldogs got the morning started off with a big win over the Royals to improve to (2-0) on the tournament. Team captain Dale Bautista led the way with 21 points with each Bulldog on the roster scoring at least one point.
FD 60, Guam High 41
The Friars picked up a quality win with no player scoring in double digits. Swingman Lawrence Sugatan caught fire in the second half hitting three three-pointers to lead the Friars with 9 points. Panther Nick Keefe scored a team-high 12 points in the loss
GW 44, Harvest 43 – OVERTIME
The Harvest Eagles fought back from nine points down in the final three minutes of the 4th quarter to force overtime. Forward Jacob Oshiro nailed a 4-point play in the final moments, but a missed shot from Eagle Jake Palisoc at the buzzer pushed the game into OT. Gecko Shelby Meeks scored 20 points in the win and Oshiro scored a game-high 25.
JFK 60, Guam High 43
In a rescheduled game, the JFK Islanders controlled the pace from start to finish to improve to (3-0) in the tourney. Jerry Ngiroremiang scored a team-high 16 points for the Islanders. Nick Brown led the way for the Panthers scoring 16 in the loss.
St. John's 73, ND 30
After struggling in their first two outings, the Knights caught fire behind a big night from Brandon Chu and William Sha as St. John's picked up their first win of the tournament. Sha scored 26 and Chu scored 20 with the Knights defense opening up most of their offense.
St. Paul 91, Sanchez 49
The Warriors could do no wrong in the opening quarter where they ran away to a 38-9 lead. Jahmar White continued his rampant tournament spree scoring 15 of his game-high 25 points in the opening period. Rench Pingol scored 12 points for the Sharks as they fall to (1-2) in the tourney.
Standings
Pool A
JFK 3-0
FD 2-0
GW 2-1
Guam High 0-2
Harvest 0-3
Pool B
St. Paul 3-0
Okkodo 2-0
Sanchez 1-2
St. John's 1-2
ND 0-3
PHOTO GALLERY BROUGHT TO YOU BY: