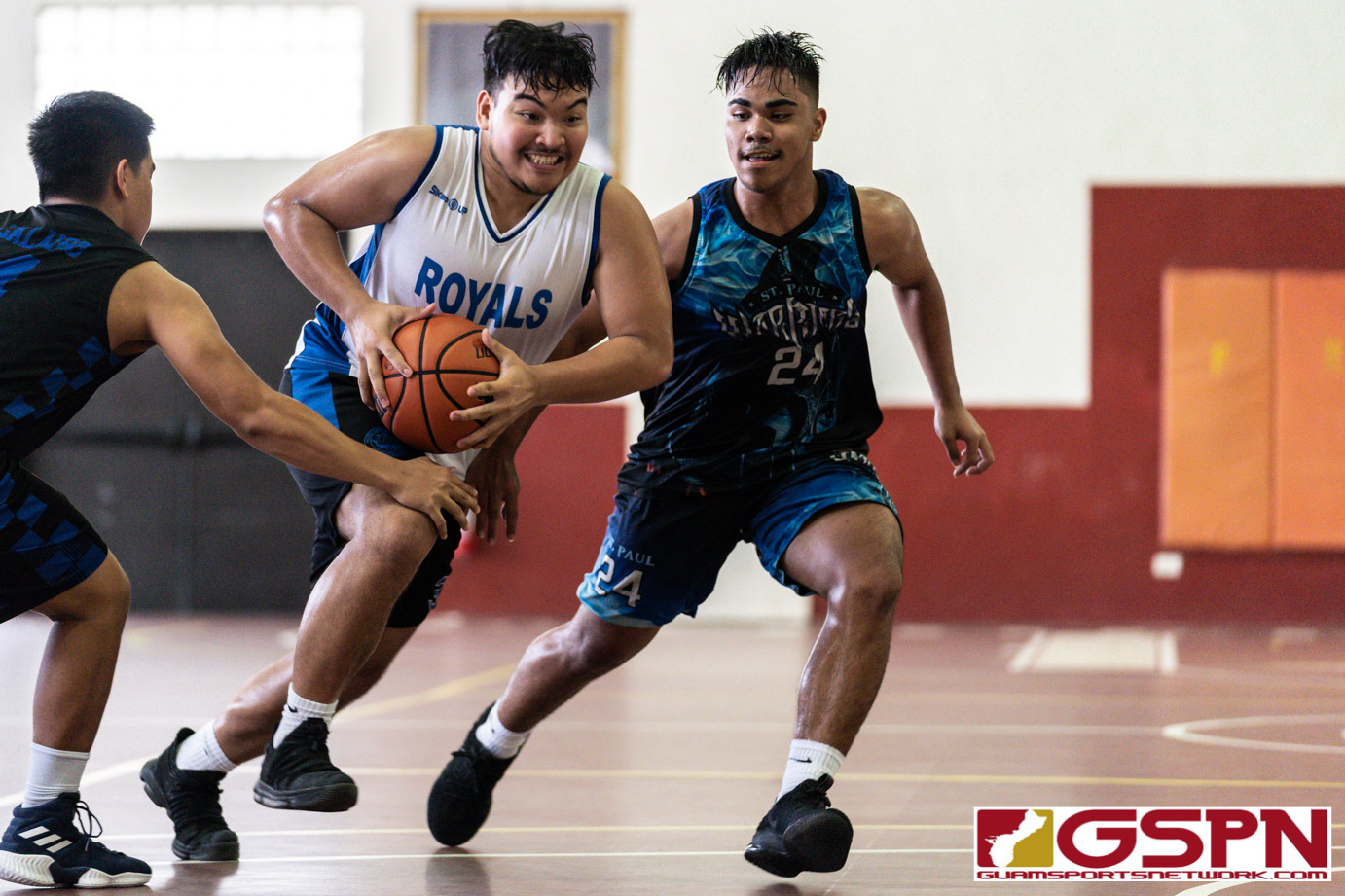 By Robert Balajadia
All 10 teams in the GSPN Preseason Basketball Tournament took the court Saturday as six games filled the gym for non-stop basketball action. The FD Friars won in their debut against the Harvest Eagles and the Sanchez Sharks played twice, closing out the evening by picking up their first win over the St. John's Knights.
GW 55, GHS 52
Making their tournament debuts, the GW Geckos managed to avoid overtime after Panther Ryan Taitague missed a shot at the buzzer to send the game into overtime. Taitague led all scorers with 21 points while Gecko Shelby Meeks poured in 17.
Okkodo 57, Sanchez 53 – OT
Sanchez Shark Isaiah Malig nailed a corner three pointer late in the 4th quarter to send the game into overtime, the first OT game of the tourney! The Bulldogs prevailed in the overtime going 4-5 on free throws to pick up their first win of the tournament.
FD 74, Harvest 22
The FD Friars cruised behind a strong outing from Tony Quinene and Matt Fegurgur, including a two-handed throw down from Fegurgur, to drop the Eagles to (0-2) in the tourney thus far.
St.Paul 103, ND 28
The Warriors deployed their bench after surmounting a big lead to push their strong tourney record to (2-0).
JFK 68, GW 27
The Islanders dominated the fast break turning Gecko turnovers into easy baskets all contest long. Chris Morikami's 20 points led all scorers as JFK improved to (2-0) in the tourney giving the Geckos their first loss as they split their two Saturday games.
Sanchez 64, St. John's 51
The Sharks bounced back from the earlier loss by handling the St. John's Knights. The Sharks and Knights were knotted up at 25 at the half until a strong defensive 3rd quarter from the Sharks, where they outscored the Knights 23-1, blew the game open.
Sunday (1/6)
ND vs. Okkodo 10:30 am
Guam High vs. FD – 12:05 pm
GW vs. Harvest – 1:40 pm
JFK vs. Guam High – 3:15 pm (schedule change)
St. John's vs. ND – 4:50 pm
Sanchez vs. St. Paul– 6:25 pm (schedule change)
Monday (1/7)
Okkodo vs. St. John's – 5:30 pm
GW vs. FD – 7 pm
Tuesday (1/8)
Harvest vs. Guam High – 5:30 pm
St. Paul vs. Okkodo – 7 pm
Wednesday (1/9)
Sanchez vs. ND – 5:30 pm
FD vs. JFK – 7 pm
Thursday (1/10)
7th place game 5:30 pm
5th place game 7 pm
Friday (1/11)
3rd place game 5:30 pm
1st place game 7 pm
PHOTO GALLERY BROUGHT TO YOU BY: