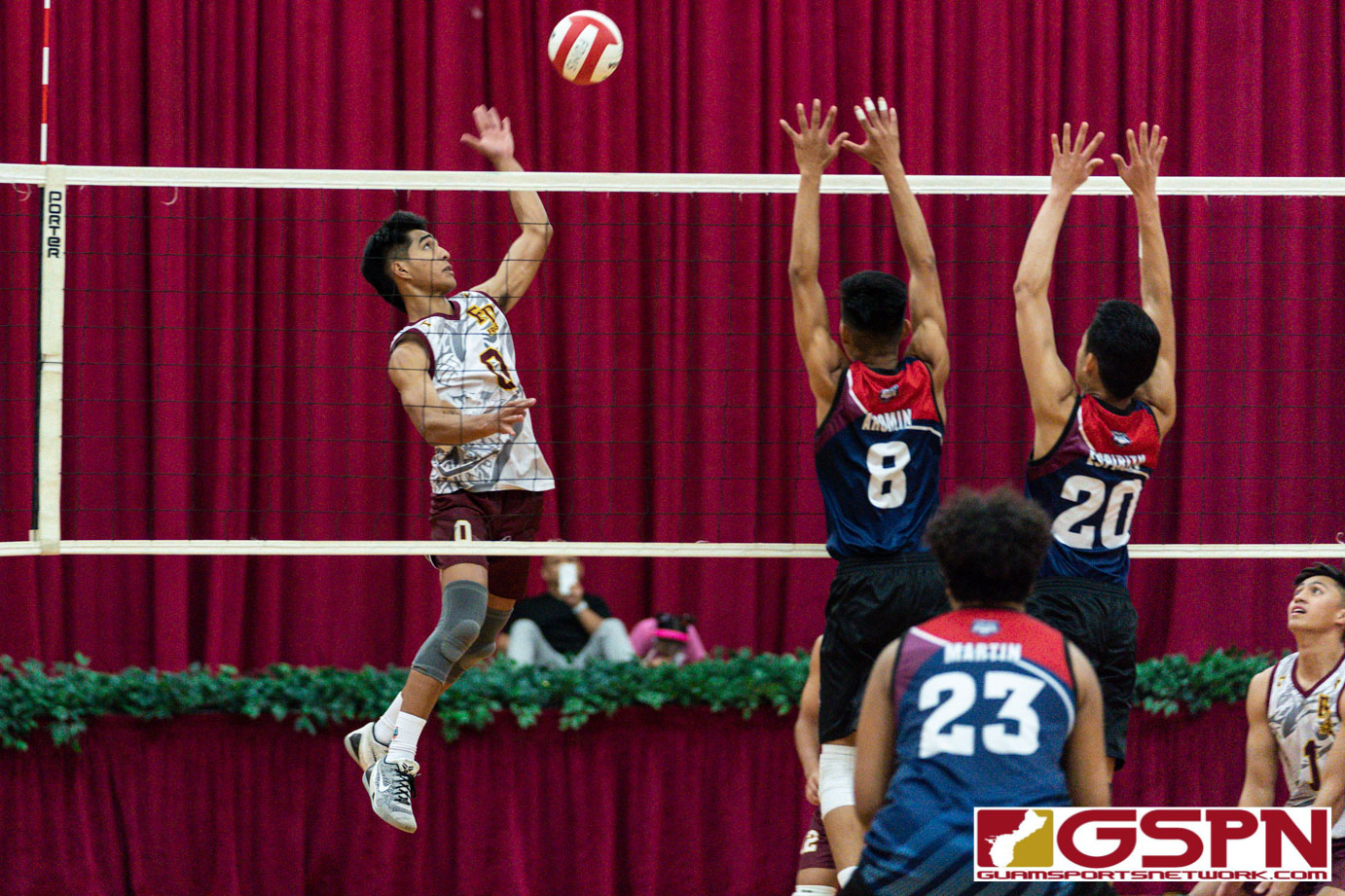 By Jay Leon Guerrero
The defending champion FD Friars are headed back to the IIAAG Boys Volleyball Championship game after defeating the Okkodo Bulldogs in straight sets (25-11, 25-19, 25-20). The Friars will meet the Harvest Eagles in the big game Wednesday night at UOG.
League MVP Aidan McDonald and Noah Diaz led the offensive attack for the Friars with combined 23 kills in three sets.
"Our mindset was to not get too hyped up and just play our game tonight," said McDonald.
Diaz set the tempo in the first set as the Friars won the set convincingly, 25-10. Diaz did work on both sides of the net with four kills and two blocks. Diaz finished the game with 11 kills, three blocks and two aces.
The second set started much like the first with the Friars looking to take another big lead. But the Bulldogs went on a 5-0 run to cut the Friar lead to 18-20. Rylan Cajigal recorded three big blocks on defense and Jesse Martin served an ace as Friar coach Steve Pangelinan called a timeout to stop momentum.
The timeout settled the Friars and they were able to hold on for the win. Two unforced errors and an ace by Logan Pangelinan gave the Friars the 25-19 second set victory.
"We were kind of freaking out because when momentum shifts it's hard to get it back. Our coaches reminded us that we were still okay and to relax," said setter Logan Pangelinan.
The Friars regained momentum and established another lead. The Bulldogs had their backs against the ropes but once again fought back and trimmed the lead to 18-21 behind kills Alvin Aromin and Martin. James Quenga served an ace for the Bulldogs to cap off the run.
The Friars were not to be denied and finished with crisp passing courtesy of Kaleb Tennessen and Camden Camacho to win in straight sets.
The Friars will play in the championship game at 7pm at the UOG Field House. The Bulldogs will face the Tiyan Titans for third place at 530pm.
"We are just going to have a good practice tomorrow and do what our coaches tell us to do on the championship game," said McDonald.
"We know that as the season progressed, they (Harvest) got better," said Pangelinan. "I'm going to watch film from our first matchup and see what we need to do to get better as well."
"This team is motivated to win another title. We want to dedicate this season to Mr. Tony Thompson, Xavier Akima and we also want to play hard for Mr. Joey Santos," said McDonald.
PHOTO GALLERY BROUGHT TO YOU BY: