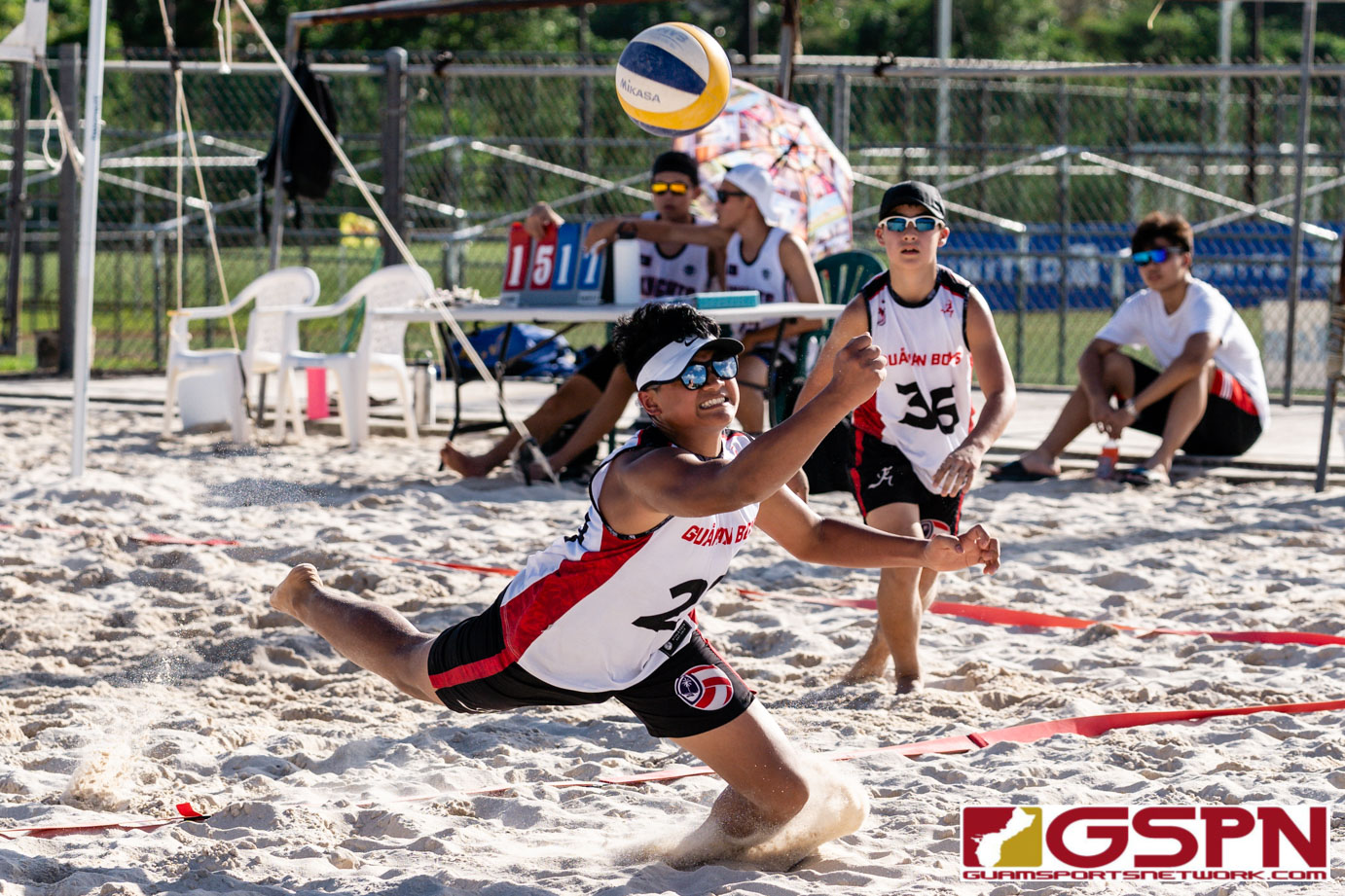 By Robert Balajadia
Beach volleyball has become the IIAAG's newest venture after going through an exhibition phase last season. This season, both boys and girls will have a quarter dedicated to the sport with the 2nd Quarter belonging to Boys Beach Volleyball while the Girls will resume play in the 3rd.
Saturday afternoon's matchup between the FD Friars and St. John's Knights at the GFA Training Facility sand courts marked the debut for FD with the Knights making their season start earlier in the week. Out of three games, the Friars managed to sweep the Knights 3-0.
Saturday Results
Team 1 Winners: FD def St. John's 21-12, 21-18
(FD) Kaleb Tennessen & Jeremiah Nguyen
(St. John's) Albert Liu & Warren Chen
Team 2 Winners: FD def St. John's 21-13, 21-15
(FD) Raymond 'RJ' Castro & Jacob Herrera
(St. John's) Cameron Kelley & Jon Xu
Team 3 Winners: FD def. St. John's 21-12, 18-21, 15-9
(FD) Thomas Moylan & Kiko Damian
(St. John's) Erren Chen & Aidan Johnson
The FD tandem of RJ Castro and Jacob Herrera were the first to lock in a victory for the Friars, defeating the Knights in straight sets. Even with their strong play, the Friar tandem were trailing in both sets before making a surging finish.
"It was all about communication. There's just two of you on the court instead of six, so you have to bring each other up. With that communication and motivation from each other, we pulled through," said Castro on finding their groove. "You have to move a lot faster, but the game itself is a lot slower."
The duo of Kaleb Tennessen and Jeremiah Nguyen appeared to transition smoothly to the sand. Tennessen plays more of a defensive specialist for the Friars indoor team, but his offense has been coming along since transitioning to beach.
"I practice my hits often whenever I get the chance to… whenever me and my partner aren't doing anything I always try to get him to set me so I can practice hits also," said Kaleb.
The quick reactions of being a libero has only benefited Kaleb, but even he admitted it's no easy task to play in the sand. But being part of the inaugural season on FD's first beach volleyball team presented too memorable an opportunity.
"The sand and elements played a big factor and it's pretty difficult," admitted Tennessen on his first game of the season. "It's definitely a lot of fun and it's pretty cool to say that you're a part of something in the beginning."
PHOTO GALLERY BROUGHT TO YOU BY:

COMING SOON …
High School Football starts Sept. 29
Brawl 3: Oct 13
Guam's Strongest Man and Woman Competition October 29
QUICK HITS
The Figo Islanders 40s women's softball team took gold in the Senior Softball World Championship in Las Vegas. Figo came out of the loser's bracket and beat the Arizona Belles 17-3 in the AA division championship game Sunday afternoon.
Other Guam teams that played in the 40s tournament were: Team SOTTA (women's) and Bud Light Guam, Friars 671 and Sindalun Guahan (men's).
Sindalu finished a respectable 4th out of 24 AAA division teams.