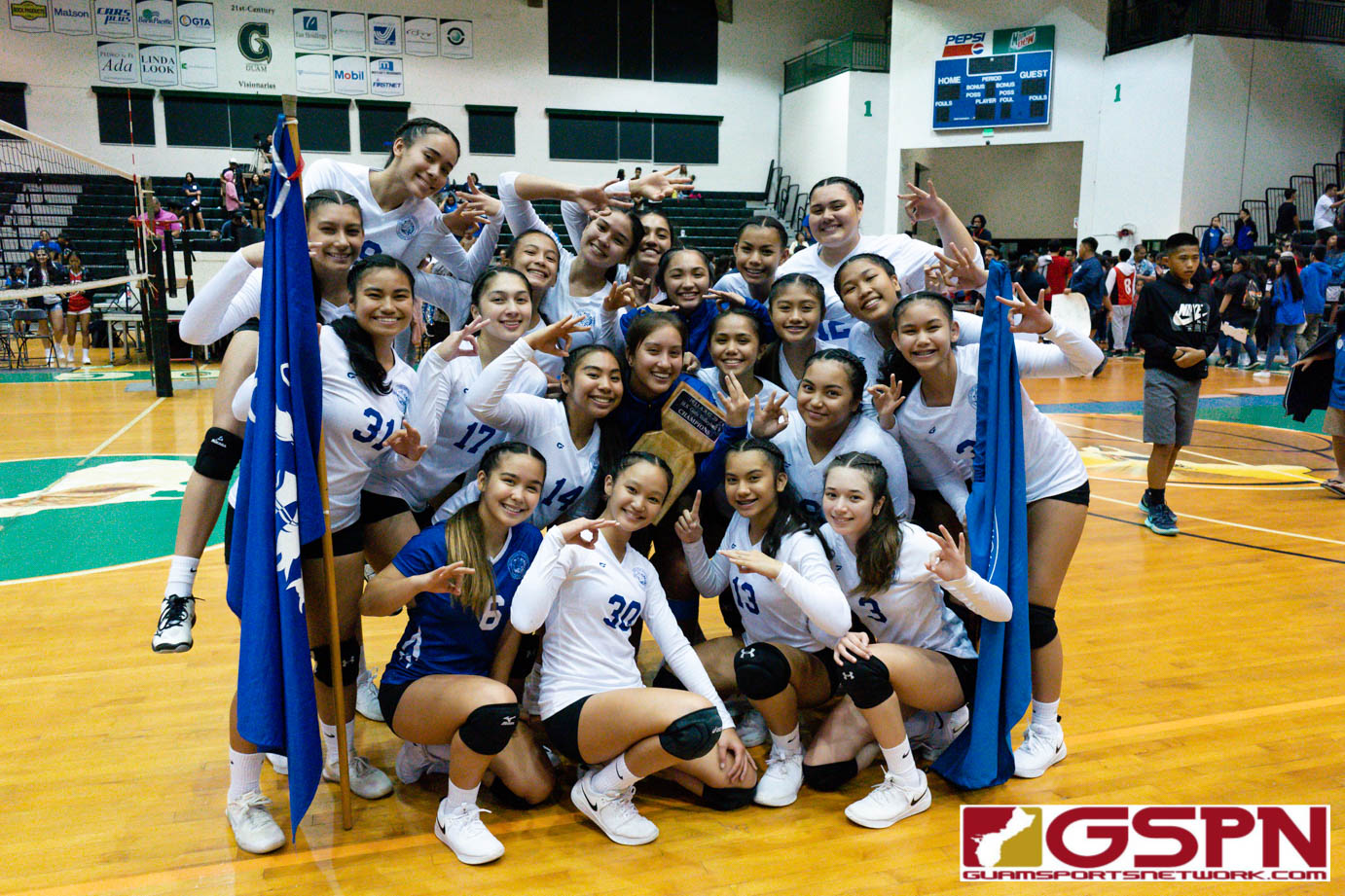 By Robert Balajadia
Twice is nice, but three times is the way of Royalty.
The Notre Dame Royals completed a Girls Volleyball League three-peat after fighting off a hungry St. John's Knights team at the UOG Calvo Field House Tuesday evening for the 2019 IIAAG title. The Royals got a total team performance on high school volleyball's biggest stage as each player who stepped on the court made an impact in a big way.
Royals junior outside hitter Austia 'T.N.T.' Mendiola and right side hitter Minami Rabago were molded in a Championship atmosphere having won a title with the team since the start of their three-peat in 2017 as freshmen. Both players ascended their level of play in the 2019 championship as Mendiola flourished with 19 total kills and Rabago added a big 13, but it was the momentum plays from their Royal teammates that really had them functioning in high gear.
"It was great to watch! Our young girls have so much potential and all it takes is for them to believe in themselves, and we all do. We told our team tonight that coming out and believing in yourselves would pay off," said Mendiola on her teammates play.
ND's libero Michala Connelley spent most of her night cleaning the court with her jersey in the form of diving saves, setter Nicolette Perez served her hitters their favorite dishes, freshman Faith Piper re-introduced herself to the league with high energy kills and middles Gia Camacho and Mikaila Genereux got the Royals fans off their seats with big blocks in crucial moments. As for her own performance, Mendiola was in the zone from the first whistle.
"I felt locked in from the start. The energy and the big plays from my teammates really just fired me up and kept me going!," said Tia.
For coaches Mike Rabago and Art Stanley, seeing other players step up in big moments is nothing newer than what they've been seeing in practice all season long.
"Nobody gets to see the action in practice, but these girls square off against each other. We rarely split up first team and second team to make them gel, and you always got to compete with first team in our house, but when the girls get the opportunity to show what they can do, they bring it," said Mike Rabago on seeing his rotational players impact the game.
The Knights were a playoff underdog after clearing the first round and proved to be within a swing of a point from drastically changing the outcome of the Championship Game, given the razor-thin margin in each set. Tuesday nights Finale was the last stand for senior Hallie Wigsten who went out with 13 total kills, right next to a 13-kill night from teammate Tylee Shepherd. Wigsten shared the emotions of playing her final game and embracing her unit after coming close in yet another Championship Game.
"I'm honestly really proud of the team and how far we came this season. The outcome wasn't what we wanted tonight, but I really enjoyed my senior year of volleyball and I'm really glad I got to play it with these group of girls and I wouldn't want it any other way," said an emotional Wigsten.
Though ND vs. St. John's for a third straight year might not be exciting for everyone, Wigsten knows that both teams bring the best out of each other.
"I love playing against ND. It feels so much more personal and feels much more competitive, especially since some of my best friends are on that team. It is really hard when there has to be a winner and loser, but I enjoy playing against them and I'm glad that I got to play them for one last time," added Hallie.
Breakdown
The Royals jumped out to a 5-1 lead in the opening set, but the Knights would rally to a 6-0 run behind the serving of Shepherd to jump ahead 7-5. Down 20-16, ND turned to Mendiola who served during a 5-0 run to retake the lead 21-20 on an ace. Both teams would trade points to get locked at 23 before a pair of errors by the Knights would end the opening set in favor of the Royals 25-23.
St. John's kept the errors to a minimum in the 2nd set while the Royals dug themselves deep with 18 mistakes. Both teams still found themselves neck-and-neck in the middle of the set with Tia and Hallie trading kills for a 17-all score. Mendiola would shoulder some of the offense as she and Shepherd traded big shots with the Knights leading late 20-19. A kill from Mendiola would give the Royals some life down 24-22, but a miscommunication error by ND on a free ball gave the Knights the final point to even the sets.
Offenses unloaded in the 3rd set with Mendiola and Rabago getting three apiece for ND as they led 14-10 midway through. Wigsten would pick up her fifth kill of the set to tie the game at 17. Four lead changes would ensue before a kill by Perez followed by a Knights hitting error would put ND up 22-21. Down 24-22, St. John's would rally as Shepherd would knot the game with her fourth kill in the set at 24. A kill from Mendiola followed by a set-winning block from Camacho would shift momentum back to ND 26-24.
ND had their largest lead of any set in the 4th up 13-6. St John's stormed back to get within 16-14 as ND took a timeout. In the huddle, Mendiola grabbed the attention of her girls with an animated pep talk to try and finish strong.
"I just told them not to look at the score and just focus on getting the next point. I told them to leave their whole heart on the floor," said Mendiola.
The Knights would stick close behind before knotting the game at 18, but kills from Mendiola and Rabago on back-to-back points helped calm the team down as the went up 21-18. The pair added one more kill each as ND went up 23-19 before errors would allow St. Joh's to shave off three straight points 23-22. Rabago would grab a clutch kill and a hitting error would end the Knights run crowning ND Champions for the third straight year.
Championship Game Stats
1st Set – ND 25, St. John's 23
ND Kills: 11 – Austia Mendiola (4), Minami Rabago (3), Faith Piper (2), Mikaila Genereux (1), Nicolette Perez (1)
ND Blocks: Faith Piper (1)
ND Aces: Nicolette Perez (2), Austia Mendiola (2)
———-
St. John's Kills: 8 – Hallie Wigsten (2), Tylee Shepherd (2), Angeline Del Carmen (2), Jadyn Palomares (2)
St. John's Blocks: Angeline Del Carmen (2)
St. John's Aces: Tylee Shepherd (2)
———-
Unforced Errors: ND – 3, St. John's 1
Hitting Errors: ND – 5, St. John's – 3
Service Errors: ND – 4, St. John's -5
2nd Set – St. John's 25, ND 22
ND Kills: 9 – Austia Mendiola (6), Minami Rabago (1), Faith Piper (2),
ND Blocks: Gia Camacho (2)
ND Aces: Nicolette Perez (1)
———-
St. John's Kills: 8 – Tylee Shepherd (3), Hallie Wigsten (2), Angeline Del Carmen (2), Jadyn Palomares (1)
St. John's Blocks: N/A
St. John's Aces: Jadyn Palomares (1), Hallie Wigsten (1)
———-
Unforced Errors: ND – 4, St. John's -3
Hitting Errors: ND – 6, St. John's – 5
Service Errors: ND – 6, St. John's – 2
3rd Set – ND 26, St. John's 24
ND Kills: 12 – Minami Rabago (5), Austia Mendiola (4), Faith Piper (2), Nicolette Perez (1)
ND Blocks: Gia Camacho (1)
ND Aces: Minami Rabago (1), Heaven Reyes (1)
———-
St. John's Kills: 14 – Hallie Wigsten (6), Tylee Shepherd (4), Angeline Del Carmen (2), Jadyn Palomares (1), Wendy Zheng (1)
St. John's Blocks: Wendy Zheng (1)
St. John's Aces: Hallie Wigsten (1)
———-
Unforced Errors: ND – 1, St. John's – 1
Hitting Errors: ND – 7, St. John's – 6
Service Errors: ND – 3, St. John's -3
4th Set – ND 25, St. John's 22
ND Kills: 9 – Austia Mendiola (5), Minami Rabago (4),
ND Blocks: Mikaila Genereux (2)
ND Aces: Gia Camacho (2), Austia Mendiola (2)
———-
St. John's Kills: 8 – Tylee Shepherd (4), Hallie Wigsten (3), Angeline Del Carmen (1)
St. John's Blocks: Wendy Zheng (1), Angeline Del Carmen (1)
St. John's Aces: Tylee Shepherd (1)
———-
Unforced Errors: ND – 0, St. John's – 2
Hitting Errors: ND – 10, St. John's – 4
Service Errors: ND – 1, St. John's – 4
PHOTO GALLERY BROUGHT TO YOU BY: