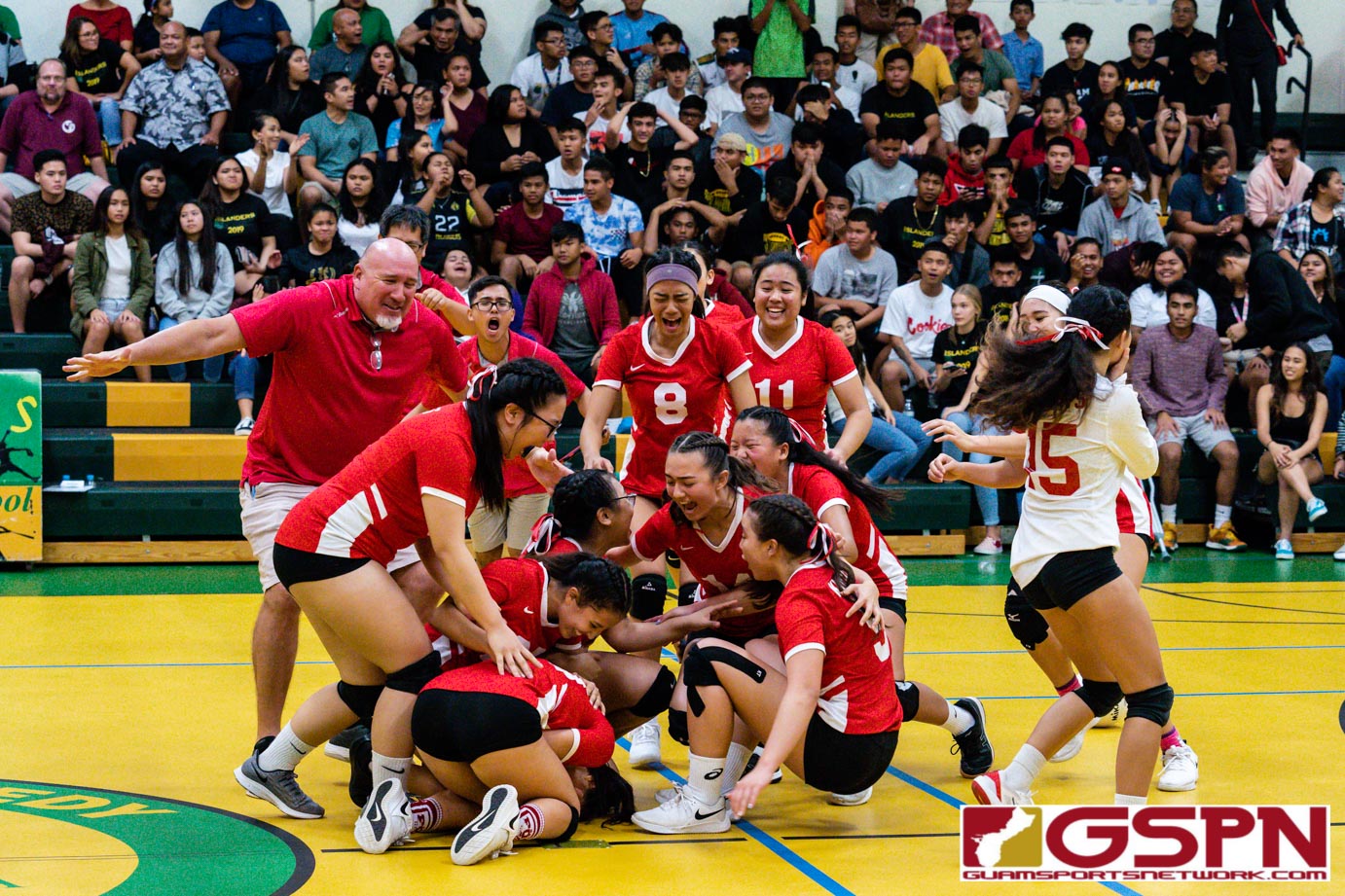 By Jay Leon Guerrero
The IIAAG Girls Volleyball Semifinal playoff game between the JFK Islanders and the St. John's Knights showcased a pair of teams demonstrating perseverance, determination and heart. It was too bad one team had to lose; but nonetheless, the fans who paid to witness this game got more than their money's worth.
In the end, the Knights prevailed in a five set thriller (25-15, 23-25, 25-18, 26-28, 15-13) in a game that will forever be remembered. There were smiles on one side of the court and tears on the other. Win or lose, good sportsmanship was displayed by both squads. 
Hallie Wigsten had the final kill for the Knights and she was happy to get back to the championship game to face the ND Royals in a rematch of last season's finale.
"As a senior, I just wanted to leave it all put there with no regrets," said Wigsten. "I have to give props to the JFK girls, they played so well tonight and gave us a real run for our money".
Wigsten had 12 kills but none more important than her final kill.
"I knew the score and we had one more point to go. I wanted to hit the ball as hard as i could and not hold back knowing that JFK was doing a good job covering all the tips."
Tylee Shepherd from the Knights had a game-high 14 kills. Chants of "MVP" came from the Knights' side and she played like one down the stretch for St. John's.
"We wanted to get back to the championship game again. We've been there two years in a row and we worked too hard to not get back to that championship again," said Shepherd.
"JFK played a really good game. They've played well since the Shieh Tournament and they were undefeated throughout the season so we knew tonight was going to be a challenge," said Shepherd.
1st Set
The Knights came out firing behind the play of Shepherd and Wigsten. The Knights led by three points but JFK's Kiana Rivera converted two emphatic kills to tie the game 9-9. The dynamic duo (Wigsten/Shepherd) catapulted the Knights to a 20-13 lead with good defense and clean kills. Momentum was very much in their favor as the Knights cruised to a 25-15 win.
2nd Set
The Islanders responded with the play of Frencine Villena. Villena managed to serve seven straight points which included two aces to put the Islanders ahead 10-4. The Islanders needed each and every point because the Knights mounted a comeback later in the set.
Angeline Del Carmen trimmed the lead to four points with a pair of blocks on defense to start the comeback. The Islanders fed off their home crowd and avoided the late rally with Keiana Raval making the winning kill to hold on for a 25-23 victory.
3rd Set
The game is tied 10-10 and the Knights go on a run after another Wigsten kill. Setter Nikki Mathews served six straight points which included an ace and the Knights were suddenly up 21-13. The Knights controlled the pace of the game and held on for 25-18 victory.
4th Set
The Islanders headed into their locker rooms briefly for a quick meeting. Their backs were against the ropes and they responded by jumping out to a 16-5 lead. Kiyoni Yamaguchi and Villena had their way at the net, recording two kills each to open up a huge lead.
It seemed like the Islanders were going to cruise to an easy win but the Knights were not ready to surrender the set. Del Carmen played good defense and recorded another block and Shepherd crushed two kills to rally the Knights to tie the game at 19 apiece.
The two teams went back-and-forth to a deuce and the Islanders dug deep and scored two straight points for the win behind a kill from Hannah Hular and a net-nipping ace from Maiya Taijeron.
5th Set
The crowd was very much into it entering the decisive fifth set. The home team Islanders were clinging to a 4-3 lead. Shepherd and Rivera traded kills and the contest was now tied 12-12. 
Del Carmen records another block and the Knights were up 13-12. Villena dived out of bounds and returned a bad pass into a point to tie the game 13-13. The Islanders look to attack but an errant hit gave the Knight's game point.  Wigsten took over and made the winning kill from the left side to win 15-13. 
Rivera, the leagues MVP, recorded a team high 12 kills. Villena had seven kills and three aces; Yamaguchi had six kills and also managed to serve three aces. Kamalynne Lizama had three blocks for the Islanders who will play in the consolation game for third place. 
"Im excited to get back to the championship game and all I can say is the fans will expect to see a game that every girl will be playing their hearts out," said Shepherd.
"We are going to come out so much stronger than we previously did," said Wigsten.  "This game tonight really showed us we are capable of anything due to all the hard work we put in. Tuesday's game is for sure going to be a great game."  
PHOTO GALLERY BROUGHT TO YOU BY:

National Guard Athletes
Scott Eclavea
Scott Eclavea is a jiu-jitsu black belt and an accomplished MMA fighter. The Guard has given him an outlet in combatives to display his martial art skills, where he's become a head instructor for that program. Eclavea has served since coming out of high school and the Guard has only changed his life for the better.
COMING SOON …
LIVE FOOTBALL ON GSPN
Semifinals: #1 FD vs. #4 Southern (Friday 7 pm)
GSPN Preseason Basketball Tournament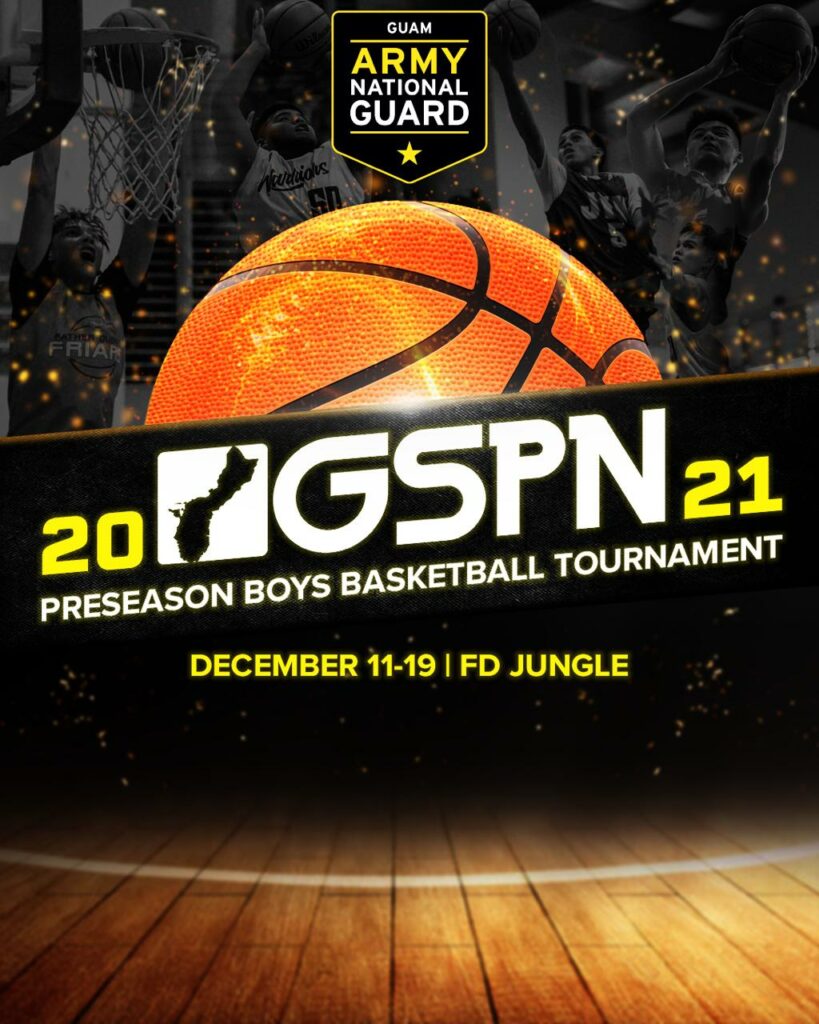 QUICK HITS
Robert Artero Maley recently captured the 182-lb. division of the Costa Mesa Classic, winning via pin in 4 out of 5 matches. Robert is a 4-year varsity wrestler at San Clemente HS (Tritons) and is currently ranked 15th in California's high school scene. He is the son of Jacque Artero Maley (AOLG 1991).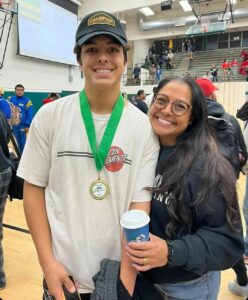 ——————————————–
Pat Taitano and Rich Abiador, teammates on the 1995 SPG volleyball team, have led their high school girls volleyball teams to the Washington State Championships in Yakima, Wa.
Taitano coaches Mt. Rainier High while Abiador leads North Creek High.
There for support is Dr. Mark Perez, a health professor at Central Washington University and a former UOG volleyball player.