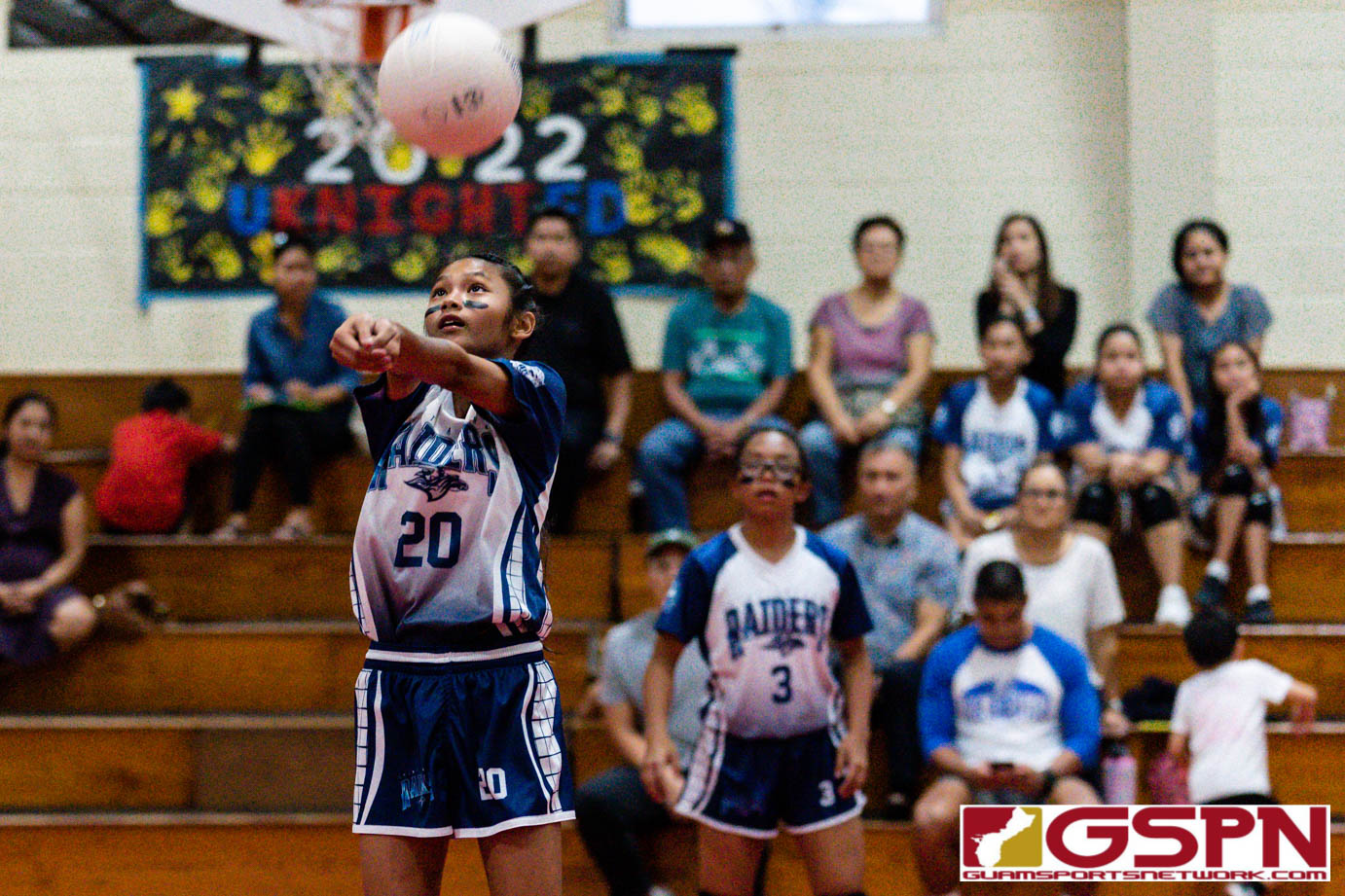 By Robert Balajadia
A big showdown between the last two unbeaten teams in IIAAG Middle School Girls Volleyball met Tuesday evening for an early-season battle. The St. John's Knights hosted the St. Anthony Raiders, and the visiting team stole the show in straight sets.
The Raiders jumped out to a strong first set victory, followed by a comeback victory in the second set to take the contest 25-22, 25-21. The win moves the Raiders to (3-0) while the Knights fall to (2-1).
St. Anthony's Victoria Rapadas helped her team break away from a tie contest midway through the opening set with three serve aces to get ahead 15-12. She would later put her team on the brink of taking the first, getting a kill to go up 24-18.
"We were super prepared and tried our hardest. We had a lot of great cheering and that helped for good morale," said Rapadas on preparation and coming out with a victory.
St. John's would put together a rally of their own behind a kill from Ella Wigsten and two aces from Kneesa Davis to get as close as 24-22, but a kill from Raiders Madisyn Cruz would nip the Knights comeback attempt for the final point.
The Knights came out strong in the second set behind a flurry of aces from Alexa Espaldon to take a commanding 11-3 lead. Espaldon would string together five straight aces to go along with two early kills for a personal 7-0 run.
The Raiders would persevere by playing sound defense allowing the Knights to pile on enough errors to stage a St. Anthony comeback. Down 18-14, Raider Pia Hart stepped to the service line to orchestrate a 4-0 run to tie the game at 18. St. Anthony would take a their first lead of the set off a big rally 19-18 to completely seize momentum.
"We knew that if we could get back into that set then we could come out with the win," said Cruz.
The Knights repeatedly attacked the Knights backline on serves, but the Raiders were in position to defend them, which played a big part in turning the set around.
"Our coach always serves really hard at us in practice so we were prepared to defend that," added Rapadas.
Cruz would grab her third kill of the set to go up 21-18 as the game ended on a Knights hitting error moments later.
Standings
St. Anthony (3-0)
Santa Barbara (3-1)
St. John's (2-1)
St. Francis (2-1)
Bishop (2-2)
San Vicente (2-2)
GAA (2-2)
Harvest (2-2)
McCool (1-3)
Andersen (0-1)
St. Paul (0-3)
Mt. Carmel (0-3)
PHOTO GALLERY BROUGHT TO YOU BY: