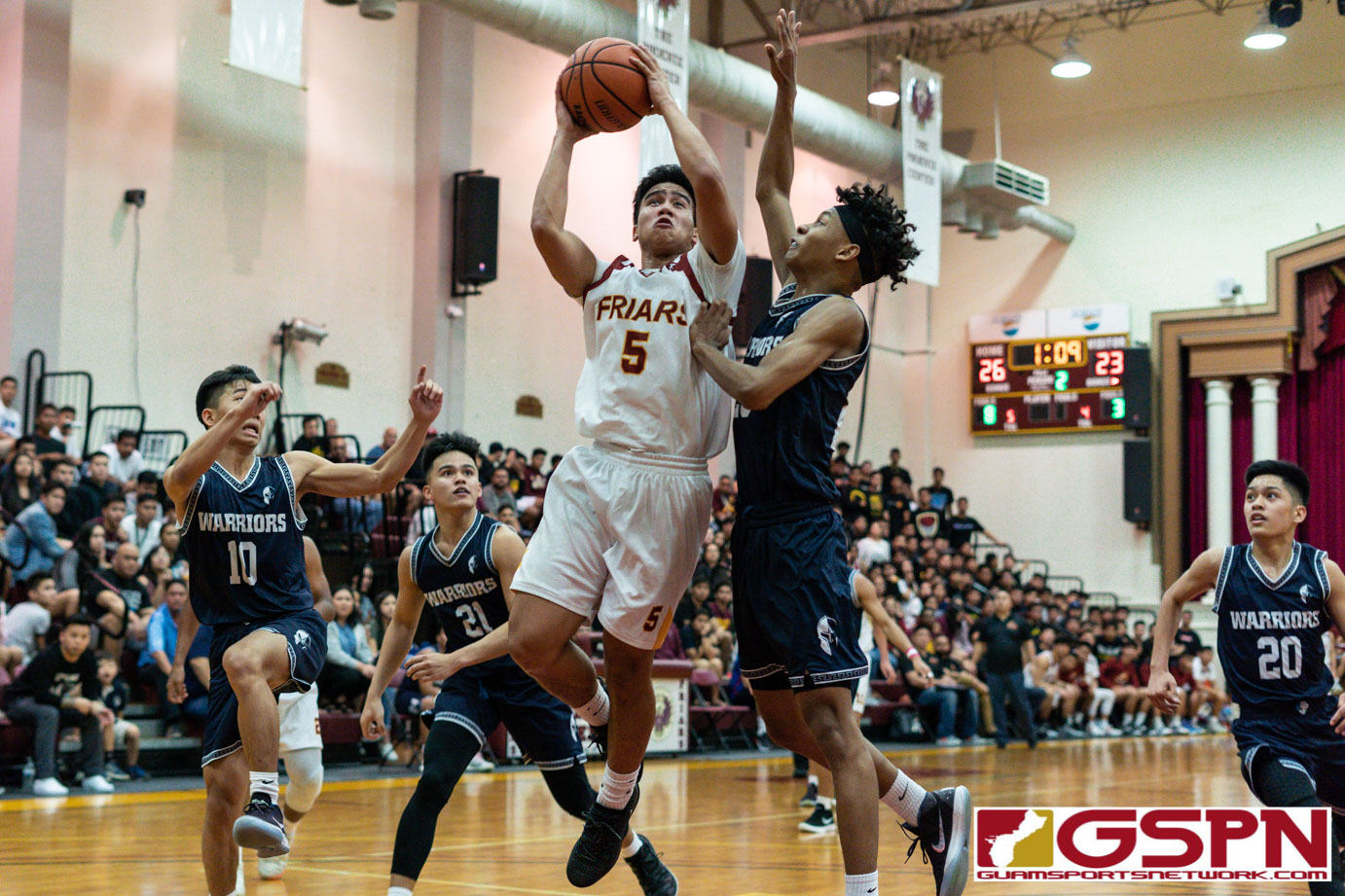 By Robert Balajadia
The FD Friars managed to pull off a feat that no team has been able to accomplish since 2016: hand the St. Paul Warriors boys basketball team a loss in the regular season. The game plan was far easier said than done, but the Friars controlled the pace of the game and played solid defense to upend the Warriors 51-50 at the Phoenix Center in the lone IIAAG basketball game Wednesday evening.
Friar and Warrior fans weren't the only ones who flooded the Phoenix Center for one of the most intense basketball rivalries on Guam as current players from all over the league, like the JFK Islanders and Guam High Panthers, along with Russia's pro basketball team, were all in attendance.
Leading the way for FD was senior Tony Quinene who scored 17 points while knocking in a pair of key free throws in the final 20 seconds to stretch his teams lead 51-47. The Warriors tried to answer, but went empty on three straight attempts from down town before Friar Matt Fegurgur hauled a rebound while getting fouled with just 3.4 seconds left lock up the game.
"It's always good to play a really good team like this, but it's just regular season and none of this means anything to us if we don't win it all. If anything, this win gives us a lot of confidence and shows that all the hard work we're doing has been paying off so far, but we got to get back in the gym tomorrow and continue to get to work," said Quinene on picking up the big win.
The Friars have struggled against the top seeds in the Taga Division with their only two losses coming from the JFK Islanders and Okkodo Bulldogs.
FD broke the St. Paul press often which prevented the Warriors from turning the contest into a track meet as they so often do in all of their games. In the half court setting, the Friars attacked the basket and kept their bigs active for a slow and steady approach.
"I don't think that any team in the league can get up and down the court with St. Paul. They're ultra talented and the familiarity they have with each other is unbelievable so we knew that running wasn't going to be an advantage of ours. But we felt like we could attack and break their high pressure and the game plan from there was to get high percentage shots, until they pulled the pressure back," said Friars head coach Eddie Pelkey.
"We know that [St. Paul] likes to get out and run so we tried to play to our strengths. We're really confident in our sets and we feel like if we can get into our offense then we can do anything we want," said Quinene on the teams attack.
The Friars forced the Warrior offense to beat them from the perimeter with the 6'7″ Fegurgur rerouting shots in the paint.
"If we can keep Fegurgur around the rim then it's going to be real difficult to score on us unless you shoot the ball lights out from the three point line," added Pelkey on his teams defensive ploy.
Warriors start guard Jahmar White scored a game-high 20 points, but didn't net his first bucket until late in the 2nd quarter after getting fouled from the three-point line at the 2:21 minute mark. The Warriors only lead of the game came early in the 3rd quarter after forward Nich Fermin converted a layup to go up 33-32. Quinene immediately answered to recapture the lead on the next possession giving FD the wire-to-wire lead for the rest of the contest.
Gameplay Recap
Friar Christian Taitano scored seven of FD's first nine points to get the home team off to a hot start. Two layups and a deep three from Taitano was answered by two shots from Warrior Reo Aiken as FD held a 9-5 early lead.
Moments later, Quinene would get fouled on a drive to the basket with his attempt sailing over the rim. He approached the line for a pair of routine free throws, but the baseline official called the basket good which garnered reasonable frustration from the Warriors sideline. The puzzled scorers table got confirmation from the official that the basket was good, giving Quiene a three-point play after converting the free throw to put FD up 14-6 in the 1st.
The Friars started to beat it up inside the paint with Fegurgur and Brandon Soriano stringing together three straight layups to go up 22-16 early in the 2nd. White would score his first bucket after getting fouled on a three point attempt, but the Friars would close the half strong with a layup from Soriano and Kyle Camacho to hold a 30-26 halftime lead.
St. Paul opened up the 3rd on a 7-2 run to take their first lead off the Fermin bucket. Quinene would get in the paint to retake the lead, which would be extended by Camacho with FD up 39-33 with three minutes left in the quarter. Fegurgur wouldn't give the Warriors much breathing room down low forcing three missed layups with FD still in control 39-35 through three.
FD would grab their biggest lead off a Quinene layup 43-35 in the first two minutes of the 4th. Taitano would score his ninth point under two minutes, flipping up a shot over his shoulder to hold a 49-43 lead.
White would get to work by converting a contested jumper in the lane followed by an even tougher layup to get within 49-47 with under a minute left. The Friars would burn a timeout and play keep away to let 20 seconds shave off the clock before the Warriors were forced to foul Quinene where he would ice the game.
Warriors Brandon Miranda would nail a last second heave from deep, but the score would be just out of reach for the final 51-50.
PHOTO GALLERY BROUGHT TO YOU BY: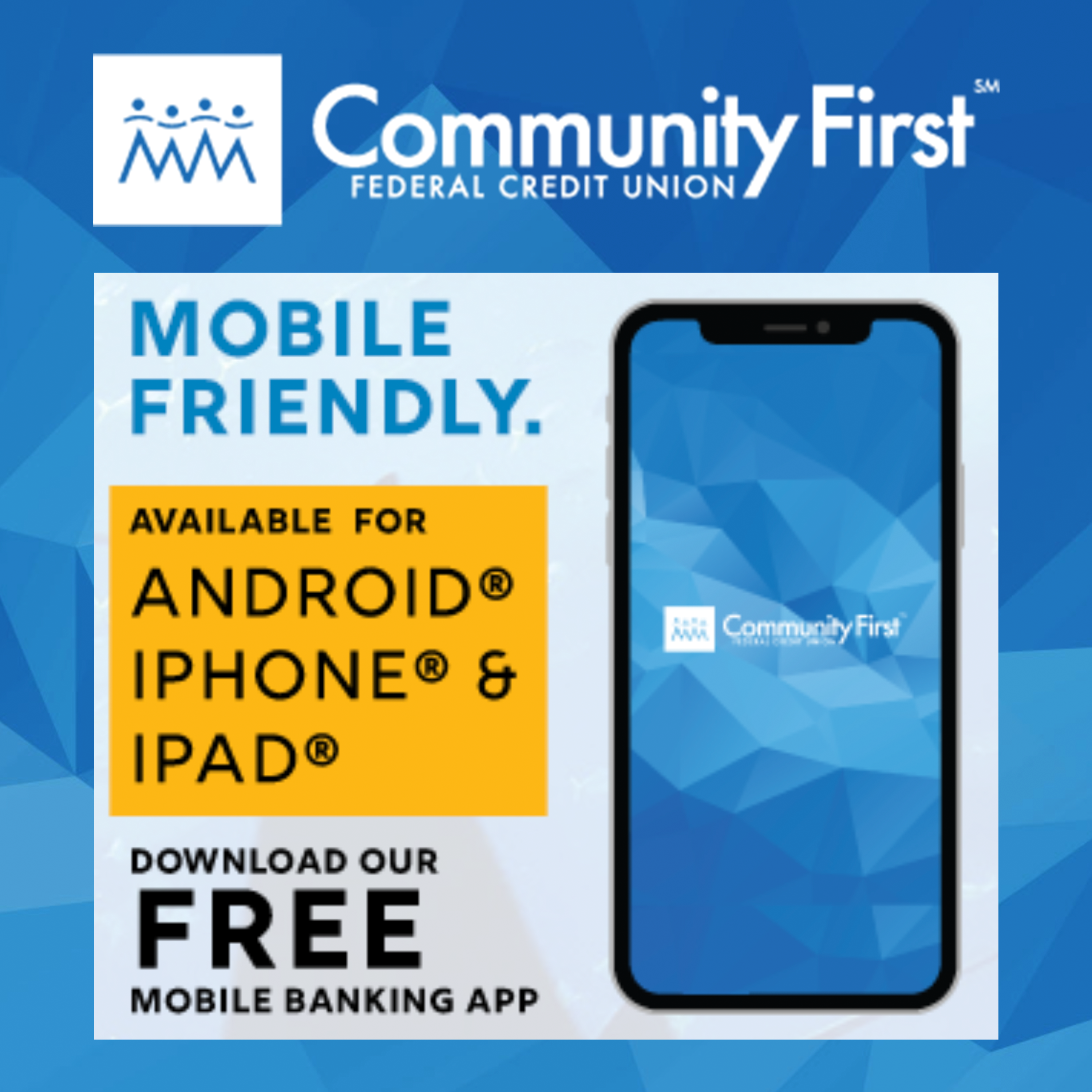 GPS Sports Calendar
SU

MO

TU

WE

TH

FR

SA
Events for December
1st
06:00 AM - 08:00 AM
Sagan Kotturan Chamoru
Events for December
2nd
04:15 PM - 08:00 PM
Events for December
3rd
05:30 AM - 08:00 PM
04:00 PM - 06:00 PM
04:15 PM - 08:00 PM
Events for December
4th
No Events
Events for December
5th
04:00 PM - 06:00 PM
04:15 PM - 08:00 PM
Events for December
6th
04:15 PM - 08:00 PM
Events for December
7th
06:00 AM - 08:00 AM
Chamorro Village
09:00 AM - 05:00 PM
Events for December
8th
No Events
Events for December
9th
No Events
Events for December
10th
04:00 PM - 06:00 PM
08:15 PM - 10:00 PM
UOG Calvo Field House
Events for December
11th
Events for December
12th
No Events
Events for December
13th
Events for December
14th
Events for December
15th
08:00 PM - 10:00 PM
Japan
Events for December
16th
Events for December
17th
Events for December
18th
No Events
Events for December
19th
No Events
Events for December
20th
Events for December
21st
08:00 AM - 06:00 PM
22

23

24

25

26

27

28
Events for December
22nd
No Events
Events for December
23rd
No Events
Events for December
24th
No Events
Events for December
25th
No Events
Events for December
26th
No Events
Events for December
27th
No Events
Events for December
28th
No Events
29

30

31

1

2

3

4
Events for December
29th
No Events
Events for December
30th
No Events
Events for December
31st
No Events
Foody's 5 Fun Facts
Tiyan Titan Calib Naputi
DID U KNOW?
The FD Friars have retired running back Kein Artero's (#3), becoming the third Friar in three years to have his number retired. 2018 saw two numbers be retired from quarterback Daniel Phillips (#6) and De'Aundre Cruz (#24).
COMING SOON …
– Girls Basketball Finals on Saturday!
– Deep 93: Roque Martinez HW Title Fight
– NFL Week 15: Bills at Steelers
– Jon Tuck in Bellator Japan Dec. 29
– IIAAG/GDOE Split on Jan. 1st
– GSPN Preseason Basketball Tournament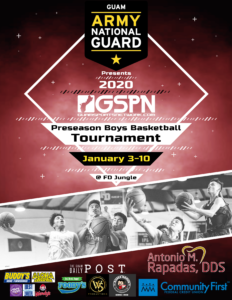 QUICK HITS
Coach Terry Stotts will be inducted into the Indiana Basketball Hall of Fame. Stotts moved to Indiana for his junior and senior years of high school after five years on Guam.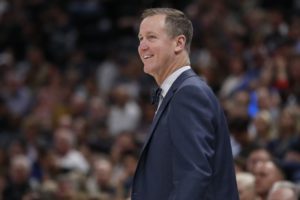 —————————————————-
Bubba Nickles makes a stop at the Guam marker of the World War II Memorial in Washington DC during a team trip to the capital with the reigning national softball champion UCLA Bruins.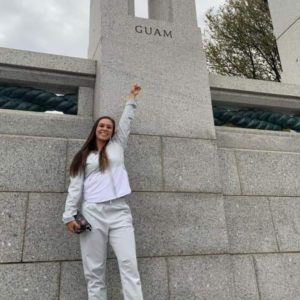 —————————————————-
GSPN celebrates 8 years! Chartered 11/11/11