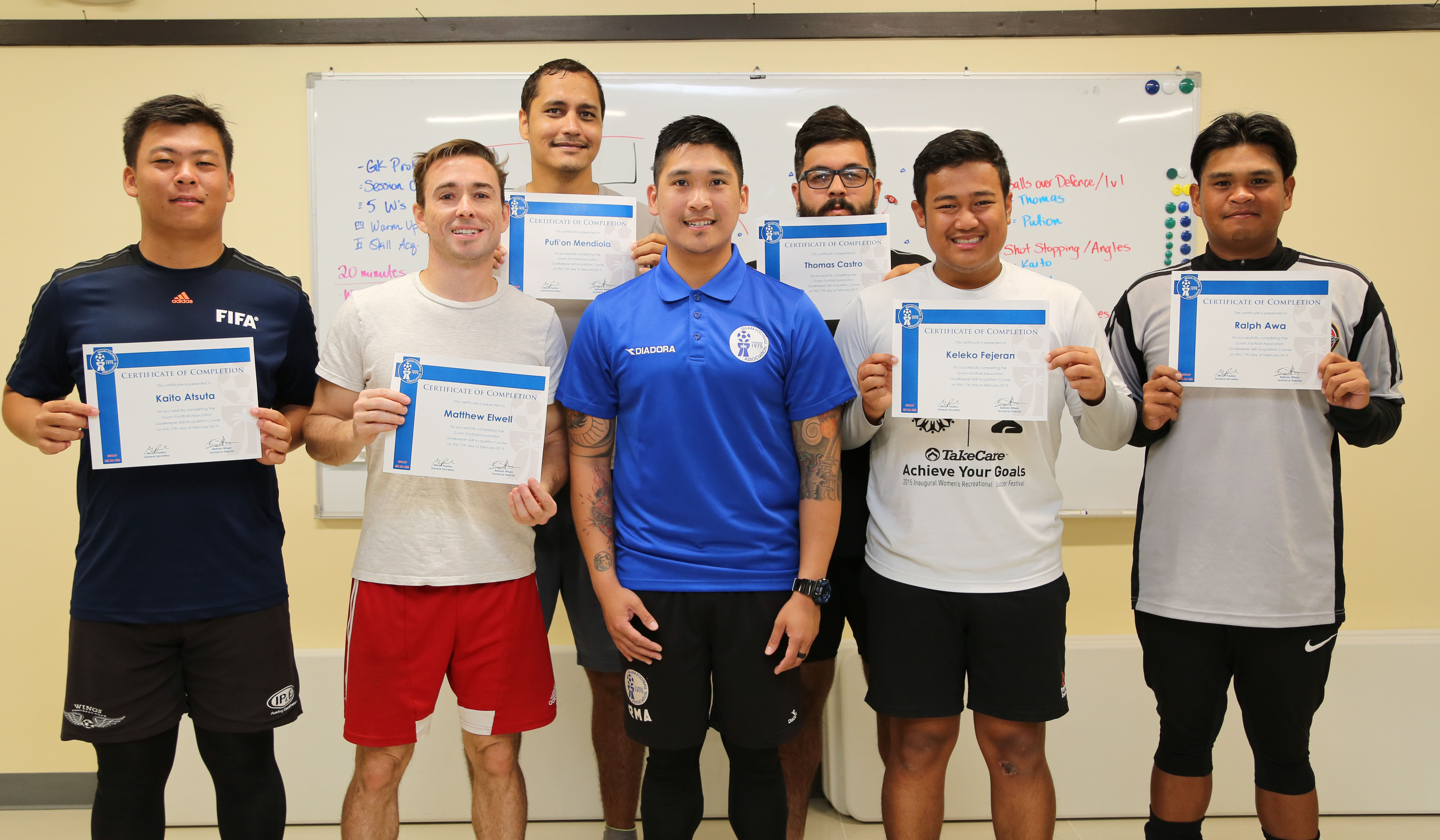 PRESS RELEASE – With instruction and experience gained from participating in Guam Football Association's Goalkeeper Skill Acquisition coaching course, 17-year-old Kaito Atsuta has aspirations to create a goalkeeping program for the Wings FC with fellow coaches from the youth club.
"What I've been thinking, as well as a few other coaches from (Wings FC) who were attending the GK Skill Acquisition coaching course, is to start up a goalkeeping program for the club, and continue to refine it to potentially be an example for other youth clubs and teams," Atsuta said after the course. "I recently started coaching and from what I've seen, the role of the goalkeeper is not looked up to these days at the youth level, and some kids are afraid to play goalkeeper. I think that by starting up a program within the club, we can attract more youth players to want to become goalkeepers.
"I've started coaching with my club as a way to give back to the community that has given me so many opportunities as a player growing up. If there is something I can do to help younger players now experience what I have experienced and possibly more, I think it is through coaching. Additionally, courses like the one we just completed also help me become a better player overall – I've actually learned a lot more about the sport through these courses I've attended," Atsuta added.
Atsuta and five others completed the three-day course, which serves as the first of two goalkeeper coaching courses to obtain the GFA Goalkeeper Level 1 Coaching License. The other five coaches are Ralph Awa and Thomas Castro from Wings FC, Matthew Elwell from Bank of Guam Strykers FC, and Keleko Fejeran and Puti'on Mendiola from the ASC Trust Islanders FC.
The course, facilitated by GFA Goalkeeper Coach Instructor and AFC-licensed goalkeeper coach Ross Awa, consisted of classroom instruction and practical sessions on the pitch tailored for working with U9 to U12 age groups.
"I am extremely pleased with how the course turned out," Awa said after the conclusion of the course. "The participants gained valuable information about the role of the Goalkeeper and the Goalkeeper Coach, as they were introduced to the modern trends of goalkeeping.
"As the game continues to grow globally, so do the demands and a greater emphasis on the importance of the goalkeeper within the team; as goalkeeper coaches, we must continue to provide a holistic training environment for young goalkeepers. Goalkeeper coaches have a vital role in the development of goalkeepers, players, and the game," added Awa.
The GFA Goalkeeper Skill Acquisition Coaching Course precedes the GFA Goalkeeper Game Training Coaching Course. In order to register for the GFA Goalkeeper Game Training Coaching Course, coaches need to have earned the GK Skill Acquisition Coaching Course certificate, as well as the GFA "D" Coaching License. All courses are designed by the GFA Technical Department to prepare local coaches to properly coach their teams toward strengthening Guam's pool of players for national and professional levels, as well as providing the coaches the tools to succeed in elite courses for international coaching licenses.
"The goalkeeper coaching courses are part of an overall GFA coaching pathway for local coaches to develop both professionally and personally and we applaud all coaches who take advantage of these courses," said Belinda Wilson, GFA Technical Director. "Coach education is integral to the development of football in Guam and is a key component in producing quality players for our Triple J Auto Group Robbie Webber Youth League and Aloha Maid Minetgot Cup Elite Youth League, which transfers to international football. Coaches and football clubs that recognize this will see the most success and players will benefit in the long run.
"Here in Guam, at least at this time, we've made the courses completely accessible by not charging local participants a registration fee and modifying schedules to accommodate the usual working hours of the participants," Wilson added.
For more information about upcoming coaching courses, visit the official GFA Web site at http://guamfa.com/education/coaches/courses/
PHOTO GALLERY BROUGHT TO YOU BY:

QUICK HITS
Guam MTB National Championship: Edward Oingerang and Jennifer Camacho are your 2023 MTB national champions. Oingerang finished the course in 1:13:24 while Camacho won her second straight title in 54:08.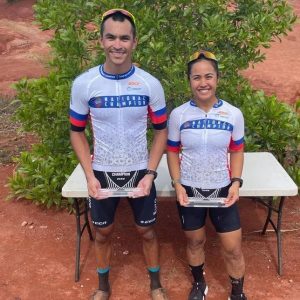 ——————————————
Kobe Miyashita, with St. John's coach Arvin Flores, was named the 2023 IIAAG Middle School Boys Volleyball MVP!