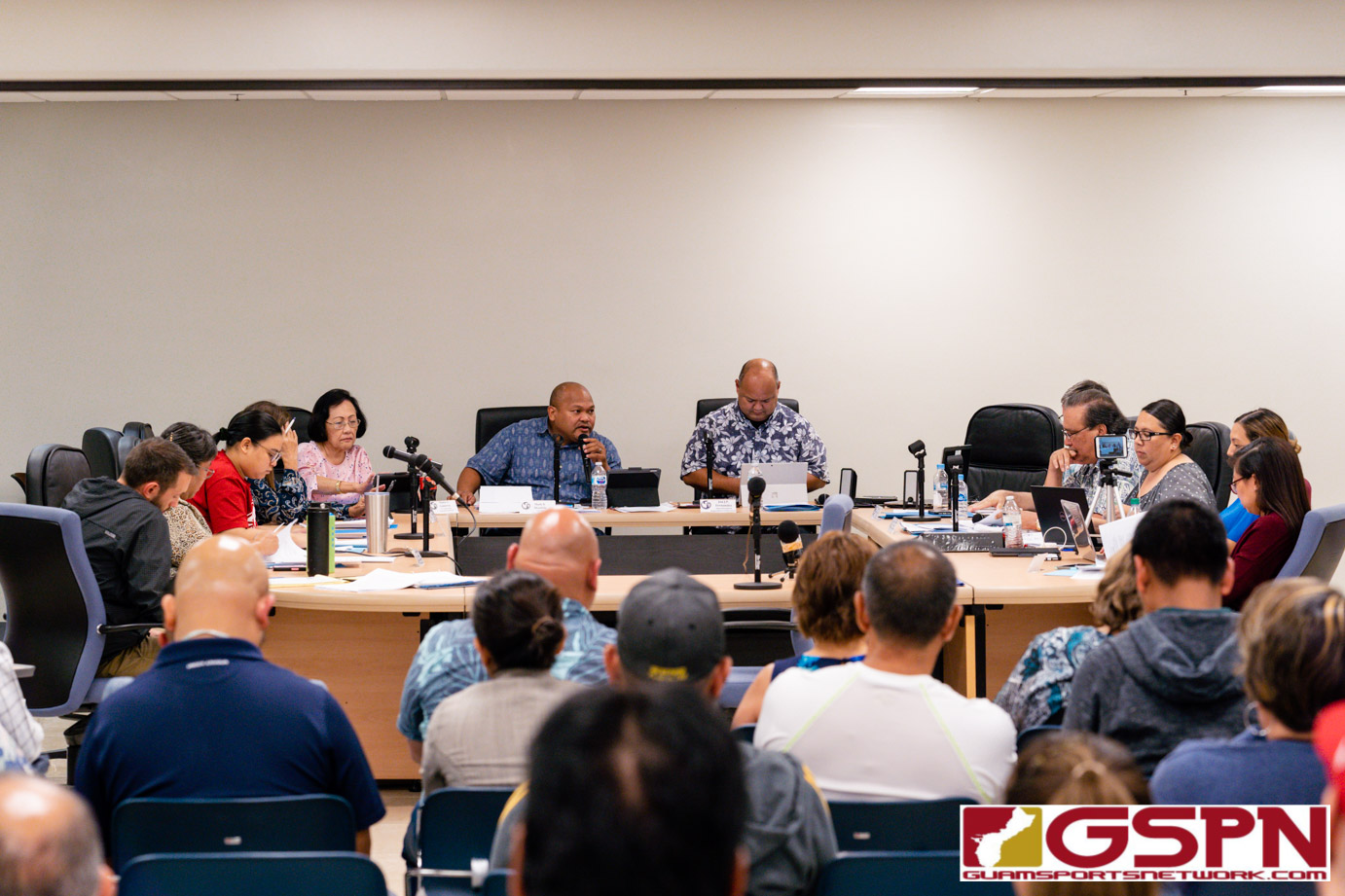 By Robert Balajadia
GDOE held a public board meeting Friday evening reaffirming their intent to separate from the IIAAG and carry on with their plans to form their own league under the Interscholastic Sports Association (ISA). The GDOE Board voted 4-3 in favor to maintain their stance on transitioning to ISA for a two-year term starting in January 2020.
The initial motion was initiated by GEB Member John T. Burch to have GDOE remain with the IIAAG, for at least, the remainder of the 2019-2020 school year. His motion was revised after an executive meeting, filing a new motion to shorten prohibitive outsourcing from two years to six months. Seven members were present with Ray Chargualaf not in attendance with James Lujan present via conference call. Of the seven, four members voted against the change of two-year prohibited outsourcing to six months, upholding their original motion made last month to give control of public school sports back to GDOE.
Voted YES on two-year prohibited out sourcing to six months
Voted NO on two-year prohibited out sourcing to six months
(not pictured is James Lujan)
GDOE's contract with the IIAAG ended in November and are required by law to go through a procurement process, which would have put 3rd quarter sports in jeopardy for all public schools, which was the cause for the revised motion.
Governor Lou Leon Guerrero had met with GDOE Chairman Mark Mendiola and IIAAG President Terry Debold two weeks ago regarding the separation, sending out a formal letter to Mendiola on her stance on the matter, which was for GDOE to remain unified with the IIAAG. Leon Guerrero had expressed her displeasure with the separation of the leagues stating that the sports community is being "divided" and had advised GDOE to revert their decision to leave the IIAAG in hopes to keep a unified league.
Meeting Timestamp
6:01 pm – Meeting officially started
6:04 pm – Public participation started (11 speakers)
7:09 pm – Public participation ended
7:12 pm – Motion to move interscholastic sports up in agenda (passed)
7:31 pm – Motion to stay with IIAAG pending procurement (postponed)
7:37 pm – Motion to have private executive meeting to clarify motion (passed)
8:39 pm – Public called back into meeting
8:41 pm – Revised motion to shorten prohibited out sourcing from 2 years to six months (failed 4-3)
The public speaks
The meeting took place at the GDOE head quarters in Tiyan. After an hour-long portion of public speaking, other topics were on the agenda, but a crowded meeting of eager coaches, athletic directors and concerned citizens inspired the motion to move the topic of sports to the top of the list.
The public speaking portion was dominated by GDOE administration members who all showed their support in favor of GDOE leaving the IIAAG and forming ISA. These included Okkodo Assistant Principal Emily Meno, Southern Athletic Director Marvin Linder, JFK Assistant Principal Jay Antonio, Tiyan High Assistant Principal Joel Punzalan and Simon Sanchez acting Princical Melvin Finona.
IIAAG President Terry Debold also took part in the public speaking, though chose to speak as a parent and coach. Only three of the 11 public speakers, including Debold, pleaded for the reversal of the decision of GDOE to leave the IIAAG.
The biggest concern
With GDOE ready to transition to the ISA in January 2020 the biggest concern that many athletes and fans have is the effect it will have on the level of competition. GDOE often stated in the meeting that private schools are more than welcome to play in the ISA, pressing the issue that segregation was not their goal.
Superintendent Jon Fernandez shared that three of the six able private schools (FD, St. Paul, Guam High) have already offered to partake in inter-league play for boys basketball in the 3rd quarter with the offer being extended to the remaining three.
For the case of rugby and sports of low private school participation, the ISA has also extended the invite to have inter-league play.
UPDATE: ISA's latest rugby, softball and tennis schedules include all schools.
GNOC offers partnership
Guam National wrestling and judo coach Mariano Aquino attended the public speaking portion representing Rick Blas and GNOC, who are in support of ISA. Aquino stated that GNOC would like to get involved in giving the athletes more 'opportunities' by way of more off-island competitions, stating the IIAAG "does nothing for athletes after high school."
So what now?
GEB members who voted to stay the course and transition to ISA say that their team has been working diligently for the past year and is ready for the move. ISA sent out their official by-laws and rules last weekend, which greatly mimics the by-laws and rules of the IIAAG, to help ease into the transition, as stated by Fernandez. The ISA official by-laws and rules will be revisited over summer.
The IIAAG has stated before that they have no intentions of disbanding. With the ISA extending their invite in certain sports, it's still unclear whether the IIAAG will be running a league of their own in that particular sport, which could discourage inter-league play. Post season play was amongst the chatter for the leagues if there is no regular season inter-league play, but nothing concrete.
A video was posted to the GSPN Instagram on the final voting from the Friday meeting, which is not being well received by the public. Many are voicing their opinions on the growing list of comments.
Details on what's next for ISA and the IIAAG will be coming soon!

QUICK HITS
Bishop Obispos beat Mt. Carmel for the IIAAG Middle School Girls Basketball championship 37-25.
—————————————-
The Benavente Roadrunners crushed the Agueda Pirates 17-1 to win the 76 PONY Middle School Baseball League. Rodney San Nicolas was a beat, striking out 13 batters in a complete game while going 4-for-4 at the plate, including a homer and 4 RBI.