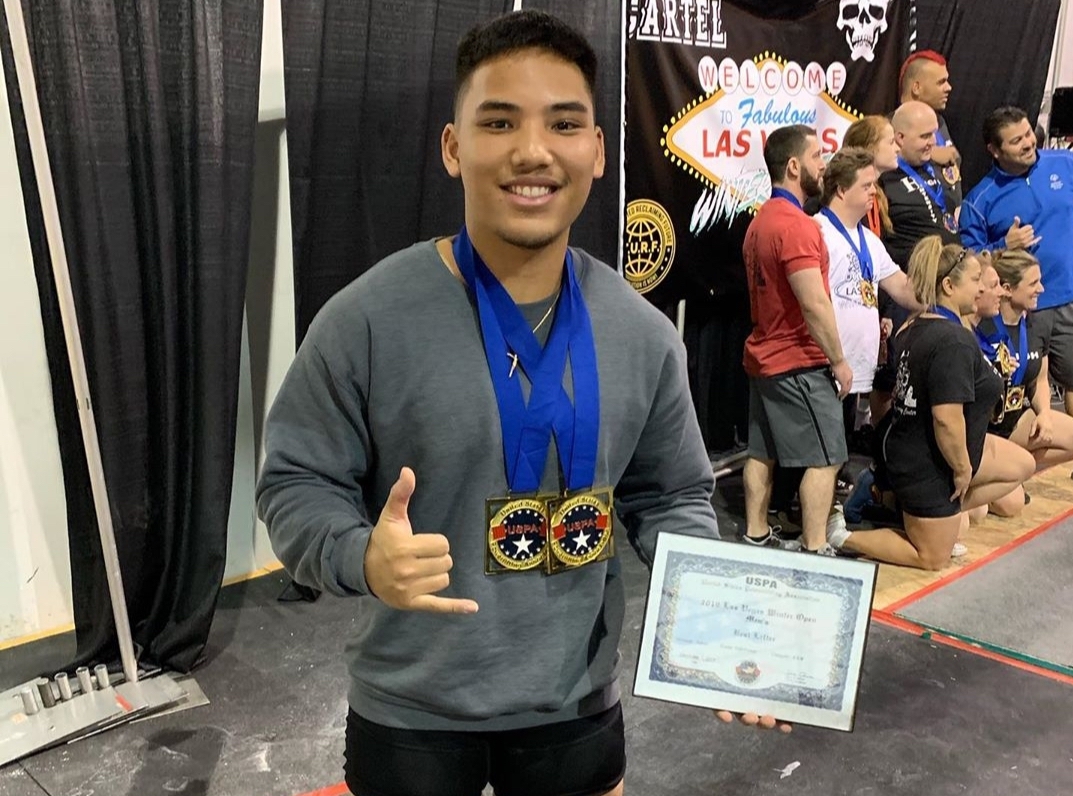 By Brandon Kinsella
19-year-old powerlifter Gerald Martinez brought home gold medals at the Las Vegas Winter Open on Saturday, picking up 1st place in both the junior and the open division at 82.5kg / 181lb, and also winning best overall lifter in the junior division. 
The road to gold has not been an easy one for Martinez, a 2018 graduate of FD and current sophomore at UOG. Lots of dedication, hard work, and sacrifice went into the entire journey. Martinez elaborated on some of the sacrifices he had to make in preparation for the competition.
"I started my diet four months out to avoid any serious cutting needed. I went from a lazy 197lbs to 183lbs and I've never felt better. I had to change my lifestyle around, and I started noticing results in my training regimen immediately. I started to get stronger which was great because I was at a much lighter weight," said Martinez.
The hard work paid off for Martinez, as he took home first in his division to go with some impressive numbers:
Lifts
Squat: 200.4kg / 440.9lbs
Bench: 115.2kg / 253.5lbs
Deadlift: 230.5kg / 507.1lbs
Martinez elaborated on how honored he was to be able to represent Guam at the competition.
"Being able to represent the island in the manner that I did was a blessing. I wanted to represent Guam and show how down to Earth and humble we are, but I also wanted to show to never count us out."
Martinez acknowledged that he couldn't have accomplished what he did on his own, and gave a big thank you to everyone in his corner that helped him along the way.
"First off I'd like to thank God for answering my prayers, keeping me and my family safe and healthy. I'd also like to thank my other half Leah, for meal prepping for me and handling me and the meet, she did so amazing and was a big part of my performance. My mom and Uncle Bill for the never-ending support and understanding how I was during my prep when I first got out to Vegas. I want to thank my family back home, my Dad, Auntie Kat, my Nana and Papa, everybody, they are always behind me. My friends and extended family. They always got my back, and lastly, my second family: Coach Chris, Josh, Grace, AJ, Bobat, Tone, Romar, Vinnie, and Kevin. I'm missing some people but all these guys and the rest you know who you are, they all guided me and always offered advice and I was just a sponge for all their experience. Lots of people in my corner, I couldn't have done this alone."
As for what's next for Martinez, he says he is going to enjoy a nice off-season and when the next competition rolls around, it's back to business. 

QUICK HITS
Bishop Obispos beat Mt. Carmel for the IIAAG Middle School Girls Basketball championship 37-25.
—————————————-
The Benavente Roadrunners crushed the Agueda Pirates 17-1 to win the 76 PONY Middle School Baseball League. Rodney San Nicolas was a beat, striking out 13 batters in a complete game while going 4-for-4 at the plate, including a homer and 4 RBI.