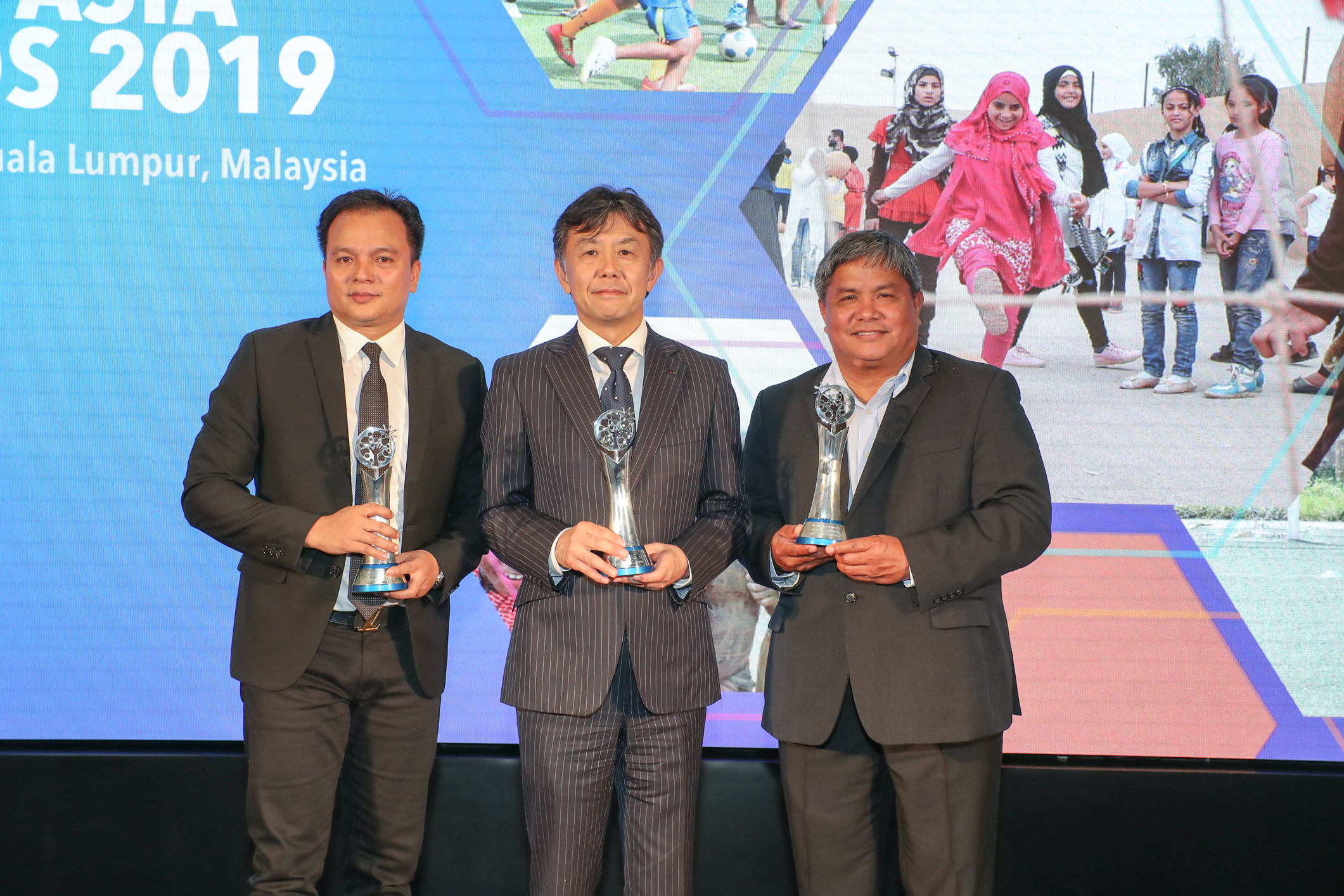 PRESS RELEASE – Guam Football Association received top honors in the AFC Social Responsibility Member Association of the Year Aspiring category Wednesday evening at the annual AFC Dream Asia Awards at AFC House in Malaysia.
"On behalf of GFA, I would like to commend members and staff of the organization for their passion and energy in realizing year-round football initiatives and programs to benefit the regional and local community," said Tino San Gil, GFA President, who accepted the award at the ceremony in Kuala Lumpur. "This award is testament to GFA's commitment to the forward development of the community through the sport of football and its efforts in providing new and ongoing opportunities for community members over the years. 
"Our efforts don't stop with receipt of this award; we still have so much more to do to give back to the community that has supported us and continues to support us. We've recently partnered with Special Olympics Guam to create Unified Soccer for its athletes beginning this year, we continue to donate footballs and equipment to schools, youth clubs, and other organizations, and soon, we will embark on our Football for Schools program, among other initiatives," San Gil added.
Earlier this year, GFA, through its U19 and U16 national training squads and staff, worked closely with Harvest House in organizing a soccer carnival for the program's foster kids during the inaugural Kamp Tinituhon, an induction camp for youth national teams. The players and staff also assisted with Harvest House events, including its Back to School event.
Additionally, GFA partnered with the Guam Police Department in its Fade Away from Violence event for at-risk kids late last year and will continue with the program again in December.
Through its Grassroots Department and Futsal and Beach Soccer Committee, GFA partnered with Department of Youth Affairs to present "Pop Up Futsal" with the Haya Youth Center summer program participants. Coaches brought futsal balls, goals, bibs, and markers to the Agat gym twice weekly for six weeks as part of the fitness component of Haya Youth Center's summer program.
Late last year, GFA organized a donation drive for the Northern Mariana Islands to aid in restoration following the destructive effects of Supertyphoon Yutu. Additionally, the GFA Competitions Department invited youth clubs from Saipan for a mini tournament with their Guam counterparts, as the devastation from the supertyphoon forced NMIFA to cancel the fall season of its youth league that year.
The AFC Social Responsibility Member Association of the Year Award is split into three categories – Inspiring, Developing, and Aspiring.
Japan Football Association was honored as the top recipient in the Inspiring category, followed by Chinese Football Association, and Football Association of Malaysia.
In the Developing category, the Myanmar Football Federation notched top honors, followed by Hong Kong Football Association and Bangladesh Football Federation.
In the Aspiring category with GFA, Palestine Football Association and Mongolia Football Federation won silver and bronze honors, respectively.
The three categories were established in 2018 to recognize the commitment and expanding efforts of AFC Member Associations who continue to use football as a catalyst for social development, according the AFC Web site. Top recipients in each of the three categories also received $15,000 for future social responsibility initiatives.