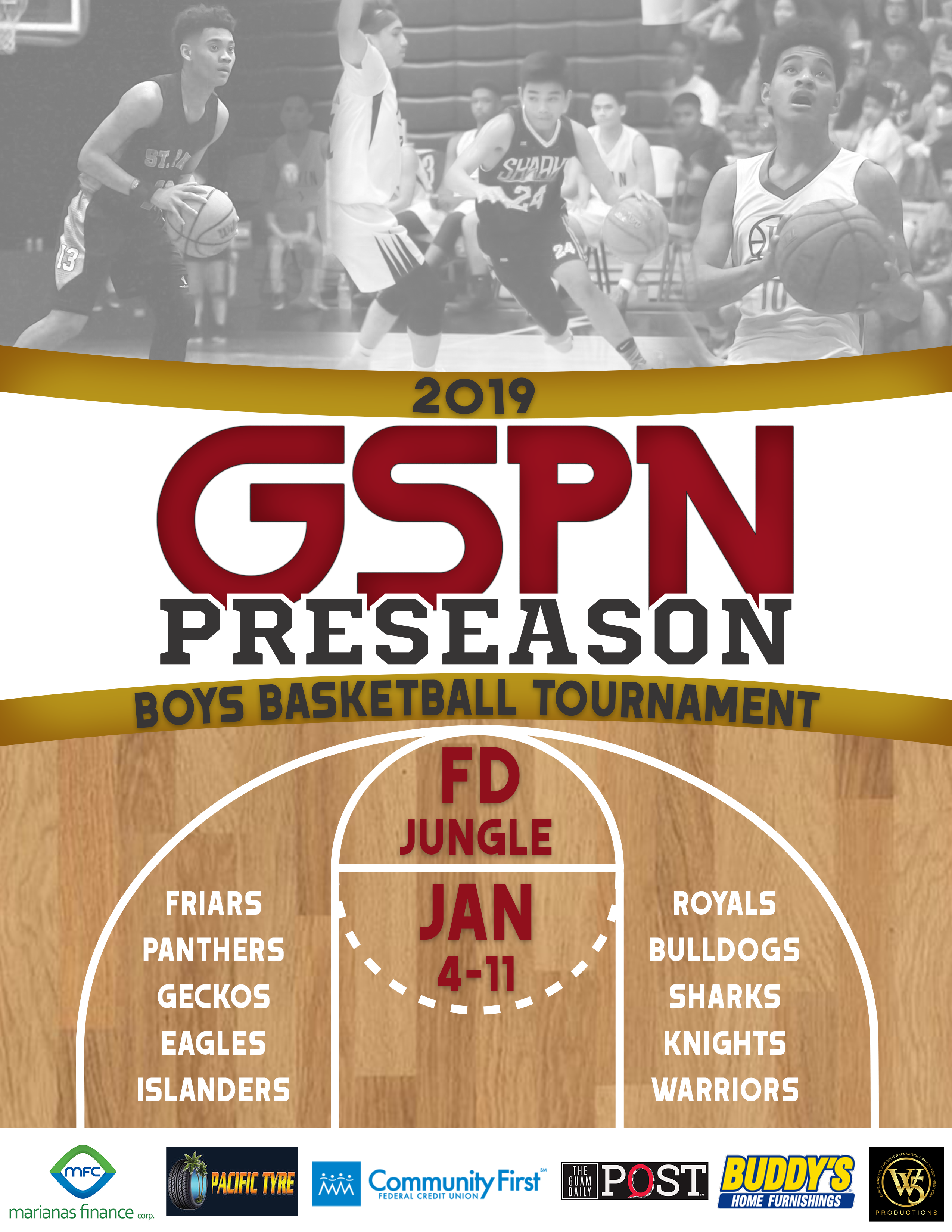 By Jay Leon Guerrero
Happy 2019 sports fans! With the new year here, GSPN kicks off New Year with the 2019 GSPN Boys Pre-Season Basketball tournament presented by the Guam National Guard. The tournament games will be played at the FD Jungle Gym from January 4-11.
Last season lost a huge amount of talent with a dozen seniors making the GSPN All-Star team. The St John's trio of Michael Min, Takumi Simon and Tony Hsieh leave big shoes to fill for the incoming underclassmen. The leadership of Alschea Grape and Jonah Hahn will be missed at JFK. Kyle Gaitan, DeAundre Cruz and Tomas Calvo are gone from powerhouse FD Friars. Cousins Jason Diaz and Josh Gatchalian leave a big hole in the front court for the St. Paul Warriors.
With all that talent gone and going to college overseas, will this season's IIAAG league be worth watching? The answer is: absolutely!
This season has a bunch of potential from different schools looking to make headlines and the coveted "Wendy's Player of the Game" honors. The pre-season tournament will give a first look at these athletes with their respective teams.
Last season's MVP candidate Jahmar White from St. Paul will look to have a big year along with 6'7″ FD big man Matt Fegurgur. The Warriors will headline the opening night on January 4th at 7pm and will play St. John's in a rematch from last year's championship game.
Kicking off the tournament will be the Harvest Eagles and the JFK Islanders. The Eagles will be led by new head coach Lawrence Nagengast, the Islanders will be coached by Rey Serafico. The Eagles and Islanders play at 530pm this Friday.
Check the GSPN calender for your gane schedules. Spectators will be asked to pay a small entrance fee at the door and concessions will be provided.
The tournament will feature all teams with the exemption of the Tiyan Titans and the Southern Dolphins who both declined to participate.
Tourney Schedule
Friday (1/4)
Harvest vs JFK – 5:30 pm
St. John's vs St. Paul – 7 pm
Saturday (1/5)
GW vs. Guam High – 10:30 am
Sanchez vs. Okkodo – 12:05 pm
FD vs. Harvest – 1:40 pm
St. Paul vs. ND – 3:15 pm
JFK vs. GW – 4:50 pm
St. John's vs. Sanchez – 6:25 pm
Sunday (1/6)
ND vs. Okkodo 10:30 am
Guam High vs. FD – 12:05 pm
GW vs. Harvest – 1:40 pm
Sanchez vs. St. Paul – 3:15 pm
St. John's vs. ND – 4:50 pm
JFK vs. Guam High – 6:25 pm
Monday (1/7)
Okkodo vs. St. John's – 5:30 pm
GW vs. FD – 7 pm
Tuesday (1/8)
Harvest vs. Guam High – 5:30 pm
St. Paul vs. Okkodo – 7 pm
Wednesday (1/9)
Sanchez vs. ND – 5:30 pm
FD vs. JFK – 7 pm
Thursday (1/10)
7th place game 5:30 pm
5th place game 7 pm
Friday (1/11)
3rd place game 5:30 pm
1st place game 7 pm

2022 GSPN I MÅS METGOT COMPETITION
2022 GSPN I Mås Metgot Competition Recap
2022 GSPN I MÅS METGOT COMPETITION
2022 GSPN I Mås Metgot Competition Recap
2022 GSPN I MÅS METGOT COMPETITION
2022 GSPN I Mås Metgot Competition Recap