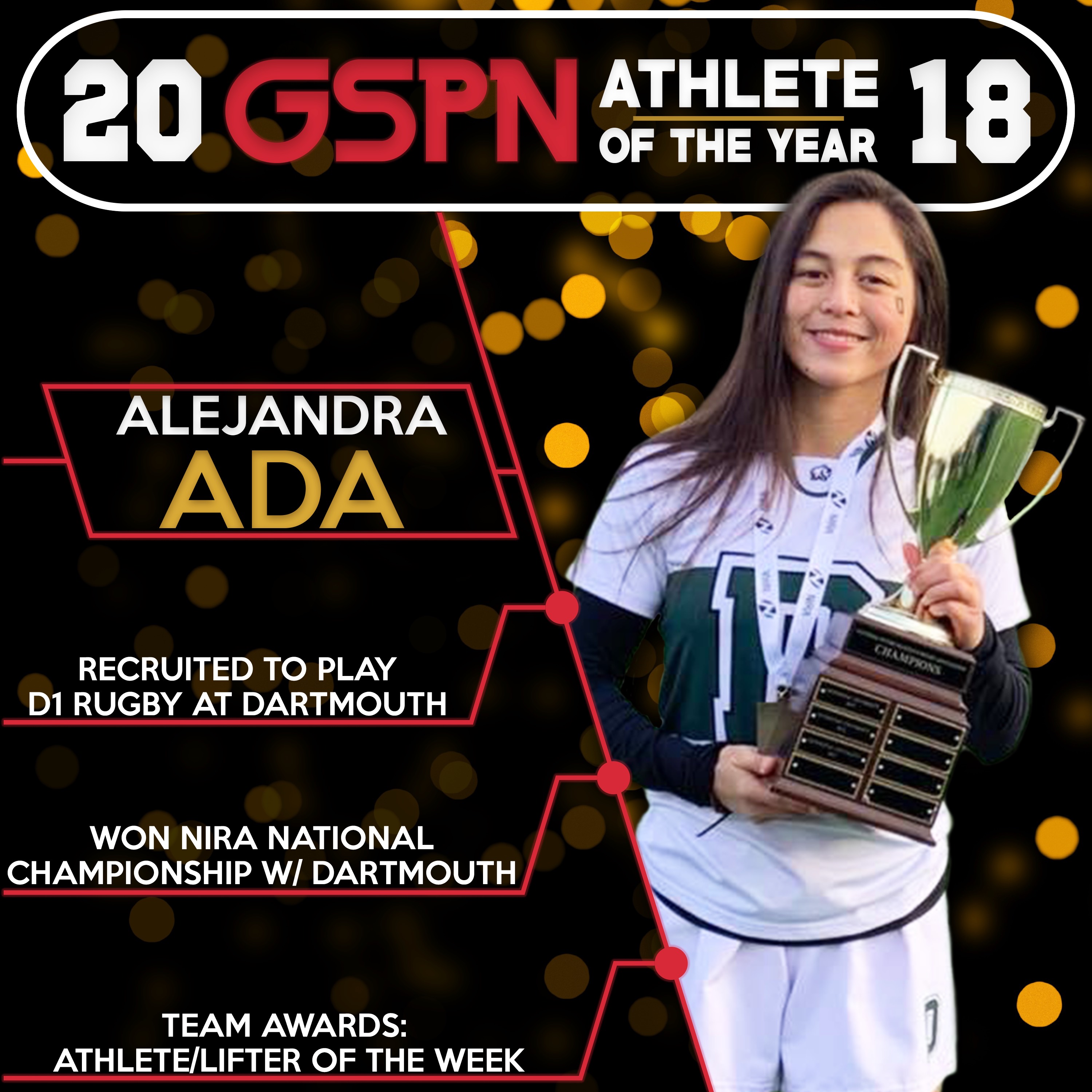 The GSPN Athlete of the year for 2018 has been awarded to 18-year-old rugby star Alejandra 'Ale' Ada, the youngest AOY winner and just the second female winner in the history of the award!
"I am both surprised and humbled to be selected as the GSPN Athlete of the Year. 2018 has been filled with so many milestones and memorable events for me and to be given this honor brings it full circle and caps off such an amazing year!," said Ale on her reaction to being selected.
Ada made a big splash over summer after announcing she would commit to play Division I rugby at the prestigious Dartmouth College, a college that is challenging enough to get in to on academics alone.
Ale did not only make the roster, she was a difference maker for the team all season long. She racked up team awards such as "Female athlete of the week" and "Lifter of the week" in just her freshman season. Ale's best game would come against Army where she posted two tries in the win.
Ale and the Big Green of Dartmouth would go on to defeat Harvard 19-14 for the NIRA National Title, the first ever NIRA title for Dartmouth.
Ale reflects on being named the 2018 GSPN AOY
"For me, this is more than an award – it represents my hope that it also becomes an inspiration to others to go for their dreams, their aspirations. I truly believe that anything is possible if you believe in yourself and you put in the work necessary."
"I'd like to thank God through whom all things are possible. I'd like to thank my parents and siblings for the unending support. Thank you to all my coaches and teammates both former and current, who pushed me to go above and beyond what I thought I could achieve."
"And finally, thank you to GSPN for presenting me with this Award and for giving all of Guam's athletes in the various sports the opportunity to shine and be recognized."
*The former winners of the GSPN Athlete of the Year Award played part in the selection process*
Honorable Mentions
GSPN ATHLETES OF THE YEAR
2012 – Jon Tuck (MMA/UFC)
2013 – Zach Pangelinan (USA National Rugby)
2014 – Eddie 'Barefoot Bandito' Vega (100 Barefoot Marathons)
2015 – Guam Men's Basketball Team (Pacific Games Gold)
2016 – Baby Joe Taimanglo (MMA/Bellator)
2017 – Manami Iijima (Professional Triathlon Athlete)
2018 – Alejandra Ada (D1 Rugby champion)