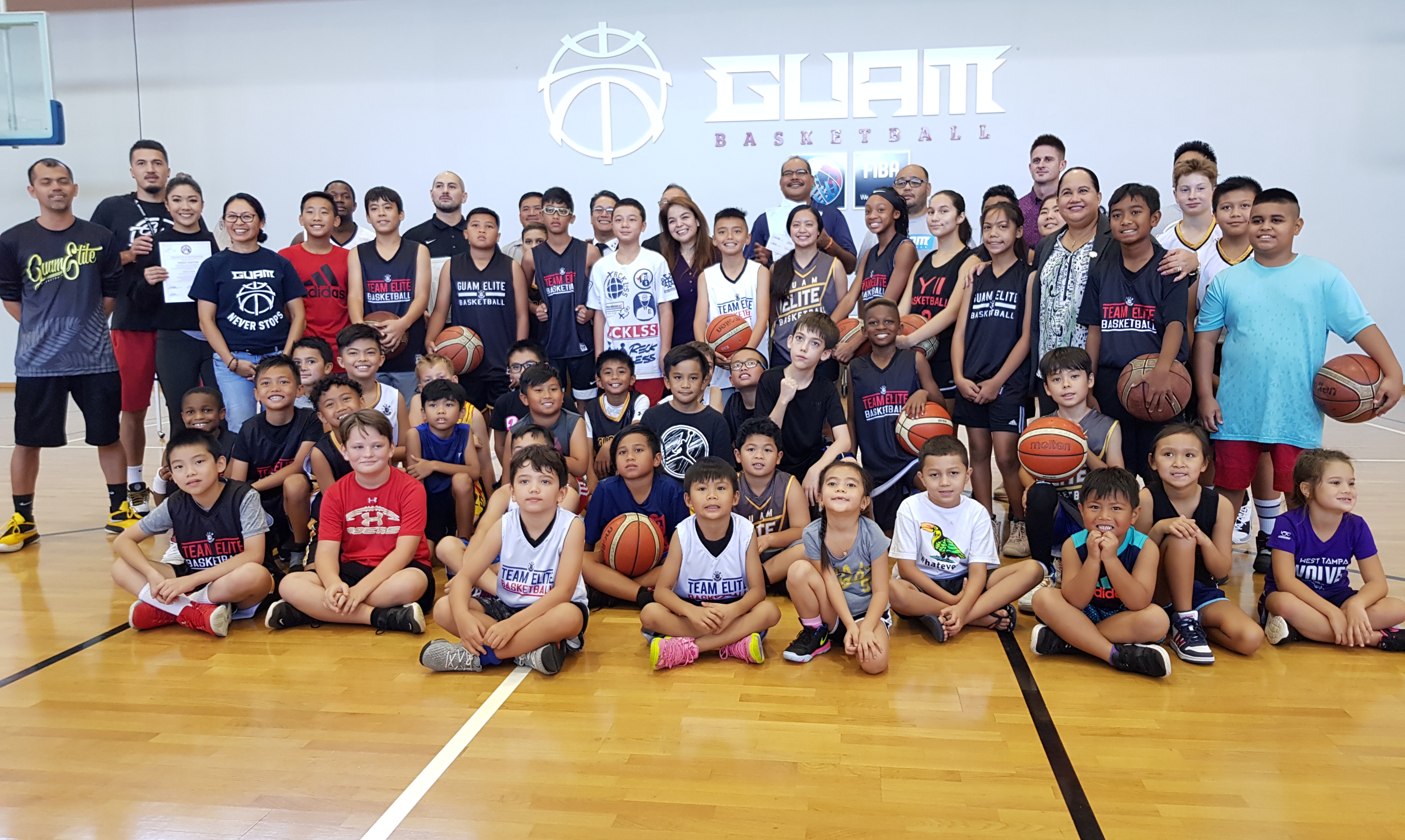 By Jay Leon Guerrero
Four senators and executive officers of the Guam Basketball Confederation (GBC) assembled at the Guam Basketball Training Facility in Tiyan on Saturday morning for a Legislative Resolution and a tour of the facility.
Senators Will Castro, Louise Muna, Speaker Tina Muna Barnes and Jose "Pedo" Terlaje met with GBC's President EJ Calvo and Vice President Frank Cruz along with other members of the Federation at the new training facility. The Tiyan gym was formerly the Naval Air Station (NAS) fitness center and was equipped with a full court basketball gym, weightlifting rooms and raquetball rooms. With combined efforts from GovGuam and the GBC, the gym was granted to the Federation for renovations.
"We are still planning on the second and third phases of this facility which is the use of the space located in the back part of the gym where the raquetball rooms used to be," said Calvo. "Its still in the developing stages but we are looking at having those back rooms available for a weight room and a physio room".
The facility is now a permanent home for the National teams which include the Mens, Womens, Youth, and 3×3 teams. A few years ago, the national teams had to book gyms and move from different facilities just to practice. Today, thanks to the efforts of GBC and the late Tony Thompson, they now have a permanent home of their own. The Senators visited the facility during youth camp training facilitated by Guam Elite Camps.
"This facility is valuable for our mens team which came back from the Pacific Games with another Gold medal and was also named the most outstanding team of the Games," said Calvo. The Men's team defended their gold medal and the Women's team finished fourth which was their highest finish since the 1999 Games. The 3×3 men's team also celebrated a gold medal in Samoa.
Calvo also announced that Guam Basketball is looking forward to their upcoming FIBA World Basketball matches against New Zealand in February and Australia in October/November.
"The Mens team qualified to be in the tournament after going undefeated in the FIBA Asia tournament held in Thailand. We are also happy to announce the men's team is now ranked 77th in the world which is the highest we've ever been," said Calvo.
"I remember playing on this very court with Susan (Lapola) a long time ago when it was called the NAS gym," said Speaker Muna-Barnes. Lapola, GBC secretary, along with development officer Jon Lujan and youth coach Brent Tipton were also present.
The Senators had the opportunity to present the resolutions to Nationals Men's and Women's team players Willie and Derin Santos Stinnett for their performances in Samoa. They also presented Legislative certificates to Calvo and Cruz for their work.