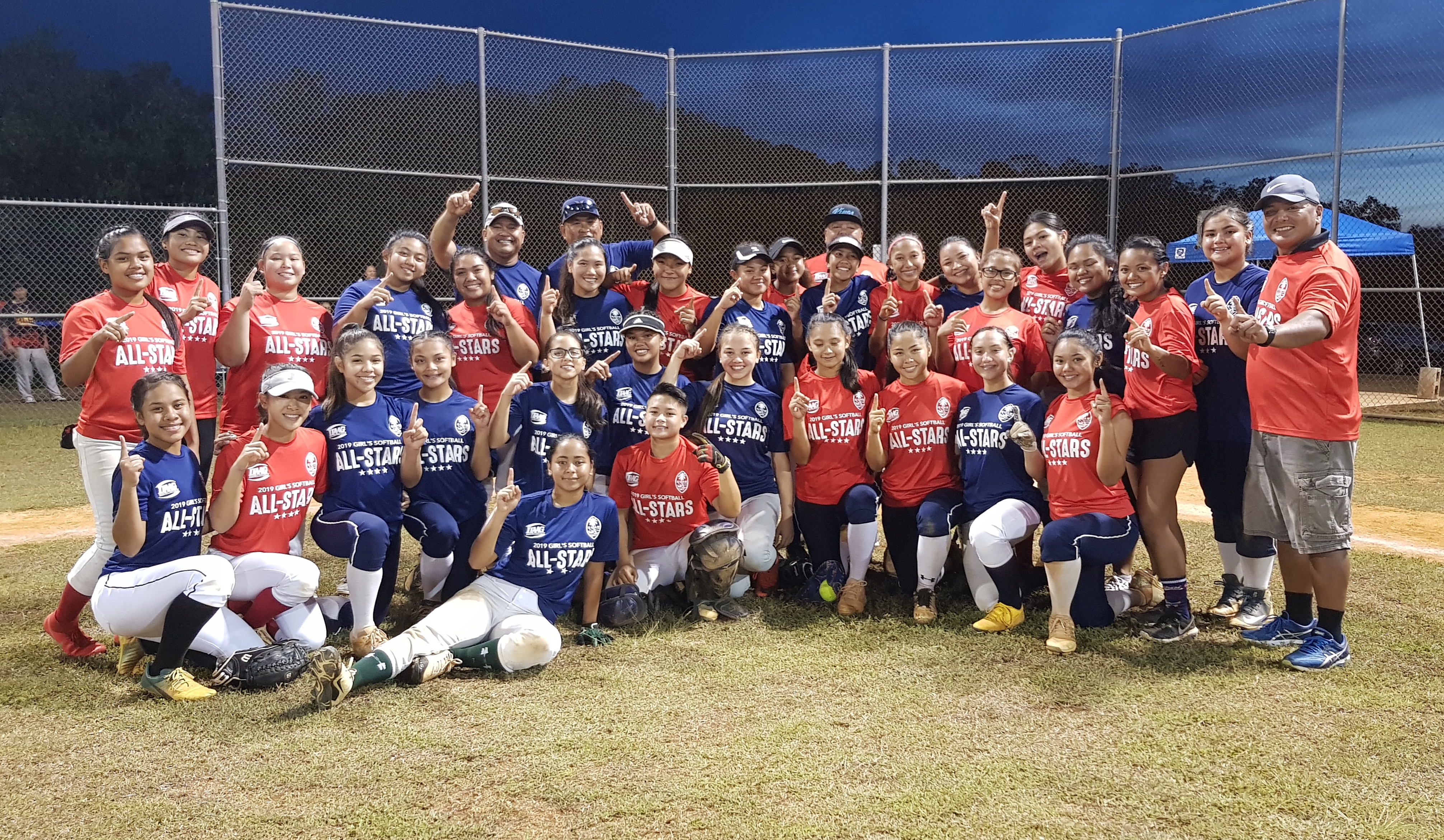 By Robert Balajadia
Despite having just a few days to get the event together, Saturday marked an iconic day for high school softball with the inaugural IIAAG All-Star Softball Game at the Okkodo Field featuring the All-Island selectees from the 2019 season. Coaches from the Academy Cougars, GW Geckos and JFK Islanders were divided into the Red and Blue teams with the mix of 1st, 2nd and Honorable Mentions also being split into both squads.
The game itself was competitive, coming down to a 6th inning swing from Gecko freshman Rocki-Jae Mesa that resulted in an in-the-park-home-run to give the Home Team Red a 4-3 lead. Cougar pitcher Ashley Mendiola locked up two strikeouts in the final inning to secure the teams win to wrap up an overall fun night of softball.
"I felt relaxed," said Mesa on her approach to her go-ahead at bat. "It was a really great experience."
Mendiola's standout performance on Saturday capped off such a memorable final season of high school softball to go along winning the 2019 title while also being named the league MVP. Saturday's send-off was a bittersweet feeling for the senior, but being part of the first ever All-Star Game is something she'll cherish, even if she had to strike out a few of her teammates in the process.
"It was amazing. I had early game jitters, but I knew eventually that all my training would come in. My teammates and I were teasing each other during the game, but it was a great opportunity for them to see how it is to really challenge me and I got the chance to challenge them," said Mendiola.
Cougar coach Russell Maratita had nothing but praise when speaking about Mendiola and just how far she's come along.
"Ashley came in as a freshman with big shoes to fill behind the 2015 MVP [Megan Maratita] but she rose to the challenge. Her sisters/teammates gave her nothing but encouragement all through out. She grew up in that Championship Game against JFK, even though we loss, and she developed the mentality to forget about errors and just move on to the next pitch. Her senior season was her breakout year and she blossomed. Ashley never talked about herself and it was always about her teammates. She understood the legacy she could end up leaving behind and boy, what a way to go out," said Maratita.
Quick turn event
A driving force for the All-Star event even being a possibility was due in large part to assistant coach for the Cougars Marissa Maratita, who gathered everything together after the IIAAG officially gave the game the 'go' on Wednesday. Maratita ran the game from the sideline as a coach, on the mic and even on a logistical level.
For the players, softball season ended in mid-March which meant most have already moved on to 4th quarter sports. That didn't stop them from accepting the invite to play in the inaugural game with many of them willing get in one big practice together before the Saturday event. Despite the lack of field time they may have shared together to develop any form of chemistry, the girls still put on an entertaining show.
"It's all about the energy you bring. As long as you bring out positive energy then other people will reciprocate that same energy. Today just showed that us girls, despite coming from different schools, can come together and work as a team and play the sport that we love," said Mendiola on how the teams were able to find their footing.
The inaugural game has given the younger players who participated in Saturday's event an extra incentive come next season. A pair of sophomore standouts in Joresha Quichocho and Savannah Grant at GW don't plan on missing out on any of these games with the two showing flashes of talent when given the opportunity during the All-Star Game.
"This game is something we wanted before the season so I'm really happy this event even happened. I'm going to be trying to get back here in both my junior and senior seasons," said Grant.
"Making it to this game is something we want to strive for because it really puts us out there with the best girls on island. This was a great experience and we had a lot of fun," said Quichocho.
Game Recap
Senators Talena Nelson and Therese Terlaje were present for the All-Star Game's first pitch with Nelson getting Terlaje to swing and miss on a low ball to open the game.
Defenses dominated the game going scoreless through the first three innings.
The Blue Team drew first blood in the top of the 4th as Kyoni Yamaguchi slammed a big hit deep left field for a double, but trouble on the tracking of the ball resulted in an error that allowed Yamaguchi to round the bases to get up 1-0.
Errors would sting the Blue Team in the bottom of the 4th, turning Kianna Songsong's single into two scores after two infield errors to go down 3-1.
The Red Team would run into their own errors in the top of 6th to give up an early run, but a big bat from Quichocho on a sac-fly would tie the game at three runs each. Mesa would answer in dramatic fashion as the lead batter in the bottom of the 6th with her go-ahead homer to shift momentum back to the Red Team.
Blue Team's Olivia Salas would clear the final two outs to keep the Red Team close, but Mendiola didn't allow the Blue Team any chance at comeback by shutting down the top of the 7th.
All-Star Softball Rosters
BLUE (Away)
#00 Sioni Benavente (Southern) – 1st Team All-Island Catcher
#10 Jeraila Martinez (Southern) – 1st Team All-Island Utility
#4 Isabella Muna (AOLG) – 1st Team All-Island Right Field
#3 Talen Topasna (AOLG) – 1st Team All-Island Center Field
#8 Savannah Grant (GW) – 2nd Team All-Island Short Stop
#24 Andrea Ninete (GW) – 2nd Team All-Island 3rd Base
#30 Joresha Quichocho (GW) – 2nd Team All-Island 2nd Base
#25 Kaitlin Santos (JFK) – 2nd Team All-Island Relief Pitcher
#62 Holly Tesei (Sanchez) – 2nd Team All-Island Utility
#1 Ginae Joseph (Sanchez) – HM All-Island Pitcher
#28 Sierra Reyes (Southern) – HM All-Island Left Field
#26 Olivia Salas (AOLG) – HM All-Island 3rd Base
#6 Deanna Blas (Sanchez) – HM All-Island 2nd Base
#7 Kiyoni Yamaguchi (JFK) – HM All-Island Center Field
RED (Home)
#15 Ashley Mendiola (AOLG) – 1st Team All-Island Pitcher – MVP
#18 Vanesha Naputi (Southern) – 1st Team All-Island Short Stop
#17 Marceline Pangelinan (GW) – 1st Team All-Island Left Field
#20 Jonese Taimanglo (Southern) – 1st Team All-Island 3rd Base
#2 Sierra Tenorio (AOLG) – 1st Team All-Island 2nd Base
#22 Lara Camacho (Guam High) – 2nd Team All-Island Center Field
#5 Kiersten Cruz (GW) – 2nd Team All-Island Pitcher
#32 Vianka Leon Guerrero (JFK) – 2nd Team All-Island 1st Base
#9 Rocki-Jae Mesa (GW) – 2nd Team All-Island Catcher
#4 Jonnique Pangelinan (GW) – 2nd Team All-Island Right Field
#13 Kianna Songsong (JFK) – 2nd Team All-Island 3rd Base
#30 Wemelen Williams (Sanchez) – 2nd Team All-Island 1st Base
#14 Carmen Grey (Sanchez) – HM All-Island Center Field
#31 Kaeliah Guerrero (AOLG) – HM All-Island Short Stop
PHOTO GALLERY BROUGHT TO YOU BY:

QUICK HITS
The Guam Smokin' Hot women's softball team captured first place in the Asia Cup Softball Championships 2023 in Bangkok, Thailand.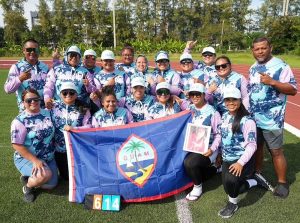 ——————————————————-
Roque Martinez gets the unanimous decision win Saturday night in his debut fight in South Korea's Black Combat promotions.
The 37-year-old controlled the tempo all three rounds and bloodied his opponent with some 3rd round ground and pound.