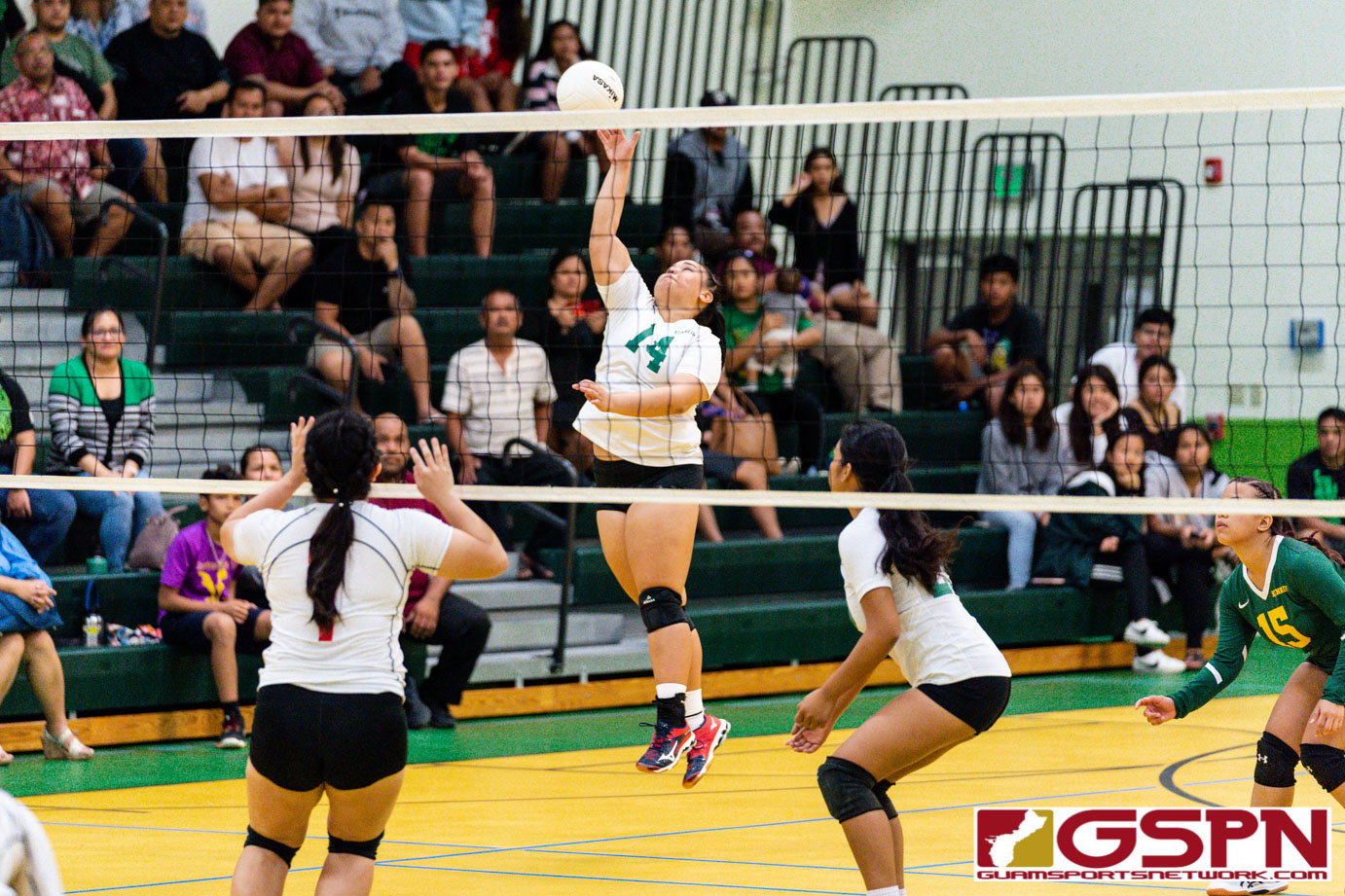 By Robert Balajadia
The JFK Islanders are taking the early season just one game at a time, but not even they could hold back how big Tuesday evening's win over the St. John's Knights was. The home team Islanders dispatched the Knights in four sets 23-25, 25-18, 25-23, 25-19 to improve to a (3-0 ) record while dropping the Knights to (1-1).
Led by Kiana Rivera's 15 kills and Frencine Villena's 11, JFK rebounded from dropping an error filled opening set to rattle off three straight for the big win. The Islanders gave away 16 points off hitting and service errors in the opening set, but cleaned up their act in the later sets.
"It's a great feeling. We beat them once our freshman year and this time we came in today, fought and managed to come away the victory," said Villena on taking down the Knights. "We just needed to stay calm and brush off our mistakes and move on to the next play."
JFK was also aware of the talents on the Knights roster which includes last season's MVP in Tylee Shepherd and right side's Hallie Wigsten. Preparing for such a potent hitting squad required the Islanders to rely on a total defensive team effort.
"We just needed to get a touch on [Tylee's] hits to slow the play down. We needed to responded by playing both good offense and defense equally. Every game is challenge for us and we aim to keep progressing and learning from our mistakes."
JFK won't see St. John's until the at least playoffs with the schedule only pitting each team against one another just once in the regular season. Tuesday's win could prove big in the final standings if the Islanders and Knights find themselves with identical records with JFK owning the head-to-head advantage.
Game recap
Rivera would score the first three points of the set for the Islanders, but neither team could find their groove as errors piled up for both teams as they battled to a 21-all opening set. A kill from Islanders Kiyoni Yamaguchi would be answered by Wigsten to knot the score at 22, but two errors by the Islanders would put St. John's ahead 24-22. Both teams would trade errors to end the set 25-23 St. John's.
Both teams were locked in to another close 2nd set, but a big kill from Shepherd off a long rally appeared to give the Knights momentum as they trailed 18-17. Instead, it would be the Islanders who would ride a wave of plays from Rivera to end the set on a 7-1 run to even the set tally 25-18.
Villena would have the Islanders powering through the 3rd set after securing her third kill of the set to get ahead 16-12. The Knights would battle back after Wigsten would notch a kill to get within 19-18, eventually tying the game at 22. Rivera would get a big kill off an attempted Angeline Del Carmen block to go up 24-23, and a hitting error by Del Carmen a play later would give JFK a two set lead 25-23.
Errors would plague JFK in the 4th set as they let a 20-14 lead get as close as 21-19, but kills from Yamaguchi, Villena and Rivera would be enough for the Islanders to close the set on a 4-0 run, winning the contest.
The Knights will have a BYE on Friday while the Islanders JV team will host GAA.
PHOTO GALLERY BROUGHT TO YOU BY:

QUICK HITS
Bishop Obispos beat Mt. Carmel for the IIAAG Middle School Girls Basketball championship 37-25.
—————————————-
The Benavente Roadrunners crushed the Agueda Pirates 17-1 to win the 76 PONY Middle School Baseball League. Rodney San Nicolas was a beat, striking out 13 batters in a complete game while going 4-for-4 at the plate, including a homer and 4 RBI.