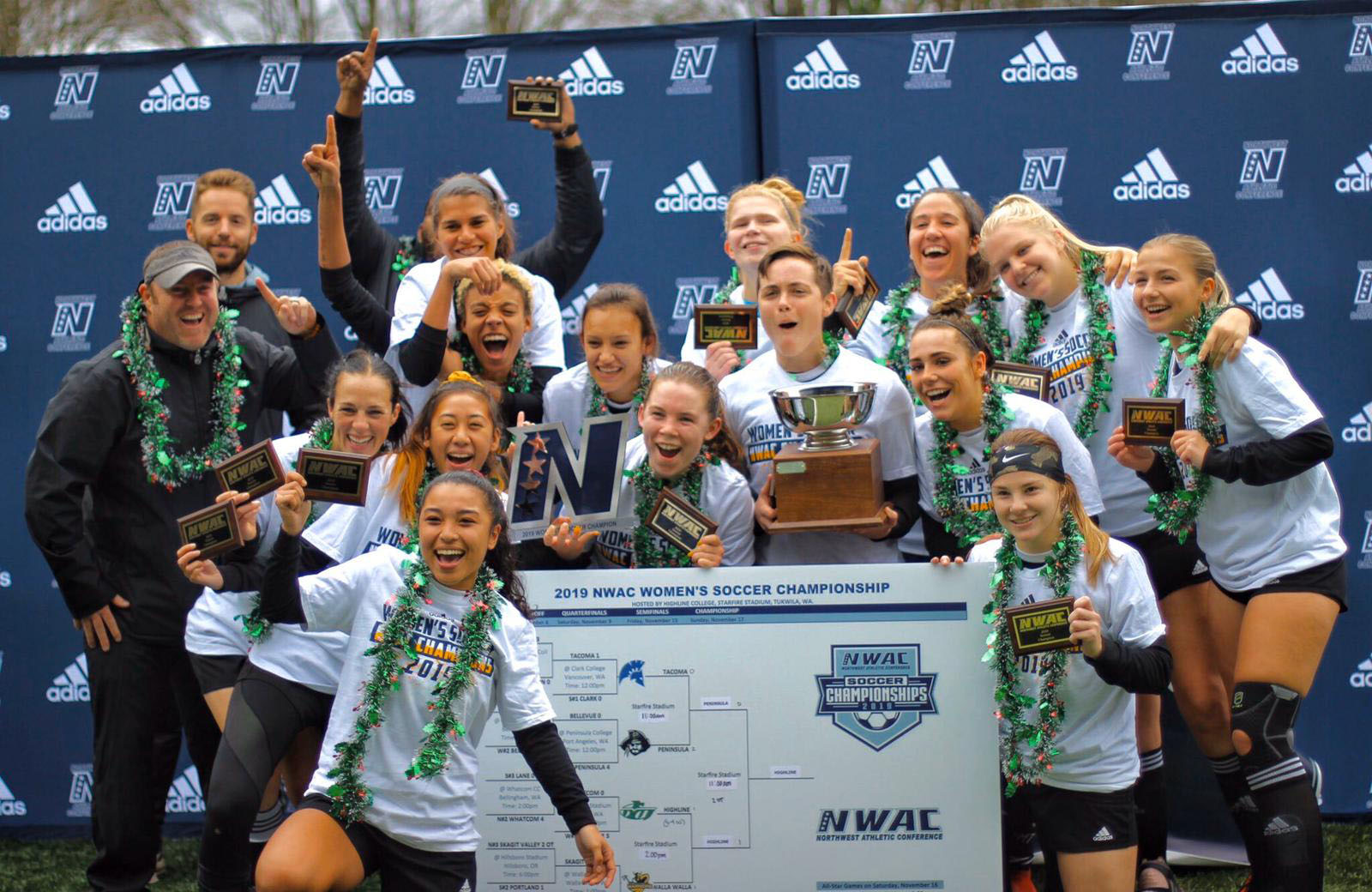 PRESS RELEASE – Guam's Skyylerblu Johnson featured as a key player for the Highline College Thunderbirds in the team's recently concluded championship season, contributing six goals and six assists in the regular season leading up to the 2019 Northwest Athletic Conference title.
Although the team finished undefeated through to earning the championship title, overcoming constant challenges with the odds stacked against them was the theme for the season, including starting with a full roster of only 11 players. The team later added more players, entering playoffs with 14 on the roster.
"This season was honestly a story," Johnson said via text message from Des Moines, Wash. "My teammates and I didn't know how to feel about the small numbers – all we knew was that we wanted to play … We worked our bodies tremendously throughout the course of the season, but it honestly all paid off in the end."
During the pre-season, the players practiced three times a day everyday – a two hour block in the morning, a one-and-a-half-hour block around lunch time, and another two hour block in the afternoon. Morning sessions consisted of training with weights and afternoon sessions featured field training, Johnson said.
"So many memories – like when we played against Bellevue, the second-ranked team in the division, with only 10 players versus their 25 on the roster," Johnson said. "It was very hot, but I remember … we kept pushing until we finally scored in the 87th minute. It was crazy – that was the beginning of when we all knew this team never gives up. Our style of play was so pretty – we love playing tiki taka – it's so fun to play and watch. We went on throughout the season undefeated, but it was not as easy as it looked."
The team survived several scares during the playoffs, including trailing 1-0 nearing the 90-minute mark against Walla Walla in the semifinals, Johnson said. The team scored in stoppage time off of Johnson's corner kick, sending the game into extra time. Highline eventually won 5-4 on penalty kicks to reach the championship match.
Highline also entered into extra time in the championship match against rivals Peninsula for the 2019 NWAC title. Johnson's teammate Sophia Leer, the team's back-up goalkeeper, scored the eventual game-winner after 20 minutes into extra time.
"Our main striker got hurt, so our back-up goalkeeper Sophia (Leer) came in," Johnson recalls. "It was 10 minutes already into stoppage time. Later, we won the ball in midfield, connected four passes around our opponents and Sophia ended up with the ball and scored – it was an amazing, unreal feeling. It still feels so unreal. I am so happy to have been a part of this unforgettable journey."
Before signing to play for Highline last year, Johnson had already been building a stellar international resume, playing for Guam's U13, U14, and U16 women's national teams, as well as debuting for the Masakåda, Guam Women's National team, in 2014, all before she turned 15 years old. Johnson scored her first international goal for Guam in 2016 against Macau-China in that year's EAFF E-1 Football Championship Preliminary Competition.
"Skyylerblu's determination, competitive mindset and work ethic propelled her forward to compete and achieve success as a collegiate athlete in Washington," said Anjelica Perez, captain of the Masakåda, who also played intercollegiate soccer. "Her experience among a higher density of intellectual, physical, and technical players will continue to increase her value on island. The number of training sessions and competitive matches she plays in the states will be evident in her performance with the WNT.
"Football in the states should be football on the island or anywhere else in the world. When she returns to the Masakåda next year for the EAFF tournament qualification rounds, Skyylerblu will create an impact on the field, provide motivation off the field, and be an inspiration for the future," Perez added.
For now, Johnson continues to revel in memories of the championship title run and is working on recovery from the physically demanding season.
"I'd love to give a shout out to my family back home," Johnson said. "I miss them so much. Also to Ning (Colleen Naden) and everyone at GFA! I can't wait to come home and play together again."
Johnson is a 2018 graduate of George Washington High school and is the daughter of Mike and Lucy Johnson.


COMING SOON …
High School Football starts Sept. 29
Brawl 3: Oct 13
Guam's Strongest Man and Woman Competition October 29
QUICK HITS
The Figo Islanders 40s women's softball team took gold in the Senior Softball World Championship in Las Vegas. Figo came out of the loser's bracket and beat the Arizona Belles 17-3 in the AA division championship game Sunday afternoon.
Other Guam teams that played in the 40s tournament were: Team SOTTA (women's) and Bud Light Guam, Friars 671 and Sindalun Guahan (men's).
Sindalu finished a respectable 4th out of 24 AAA division teams.