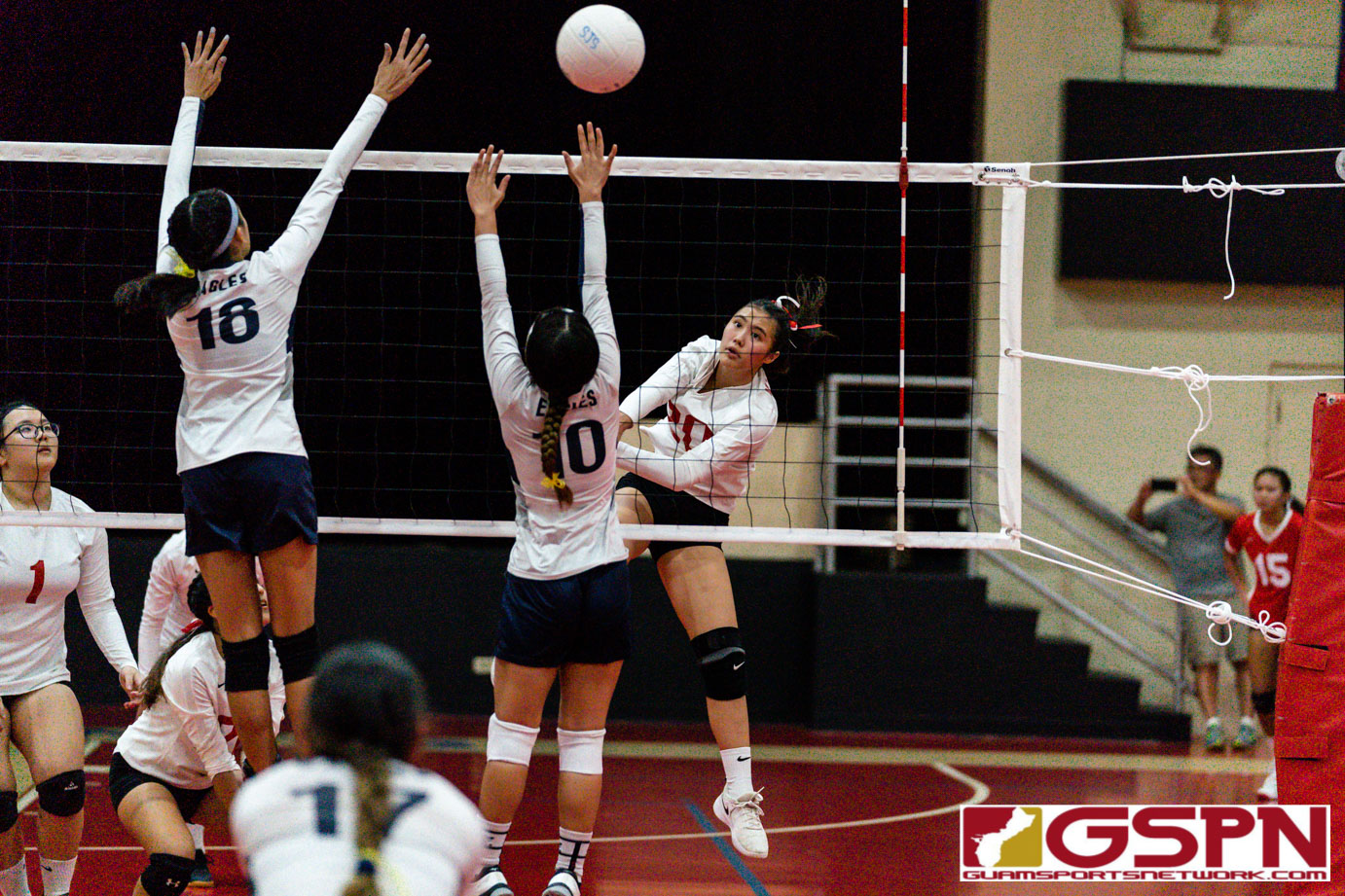 By Robert Balajadia
The St. John's Knights showed Tuesday evening just how potent their offense can be after dispatching the visiting Harvest Eagles in straight sets 25-18, 25-19, 25-15. Led by outside hitter Hallie Wigsten's 10 kills, the Knights displayed a versatile offensive brand with each of their starters getting at least two kills each.
Since falling early in the season to JFK, the Knights have been on a tear winning five straight games while not dropping a single set in the process.
"We're really just locked in to this season. After that loss to JFK, it definitely hurt us a little bit. But we're coming back really strong now so we're just keeping that strong mentality," said Wigsten on the Knights winning streak.
Reigning MVP Tylee Shepherd and Angeline Del Carmen had seven kills apiece. The Eagles were led in kills by hitters Carissa McMillan and Aya Cathey who had five each.
The Knights unleashed in the 3rd set where Del Carmen would tear through two free balls on back-to-back kills to push the St. John's lead 13-3. Wigsten would then run off three straight serve aces for a 19-6 advantage with her teammates putting extra flare in their service celebrations.
Wigsten is fully embracing her senior season with the Knights which has been a natural bitter-sweet feeling. Hallie has been able to channel the emotions of her final season onto the court, which has provided many nights like Tuesday for her and the team.
"It's definitely getting more and more sad as the days go on, and next week is already my senior night… I'm really just trying to make the most of all my games and put everything I've got on the floor," said Wigsten on her final ride.
Up next for the Knights is a home game showdown against the ND Royals. The meeting between the two teams has become 'must-see TV' and it's hard to expect anything short of another good game of volleyball this Friday.
"We all know how talented [the Royals] are and we're definitely practicing and working hard for Friday," said Wigsten.
Breakdown
The Knights had to hold off a furious Eagles rally in the opening set after jumping out to a 24-11 advantage. St. John's began to work in rotational pieces and the Eagles took full advantage. Harvest got momentum after an ace from Vanessa Kim before running out to a 7-0 run to get within 24-18, although the set would end on an error. Wigsten collected four kills in the set with Shepherd and Jadyn Palomares getting two each.
The 2nd set was highlighted by a pair of jump serves from Del Carmen, both aces, to hold and early 8-3 lead. The Eagles showed resilience with a kill from McMillan to spark a 5-1 run to get within 16-13. Wigsten would ignite a run for the Knights shortly after with a big kill, her fourth of set, to get up 18-13. Shepherd would smash a loose ball for a 22-18 advantage and Aprile Kim would notch the final point for the Knights at the service line.
Del Carmen went to work in the 3rd set with her and Wigsten orchestrating a 19-6 lead. The Eagles would stay fighting after an ace from Trinity Terlaje to get trim the lead 22-11, but errors would do them in for the 25-15 final. Del Carmen scored four of her seven kills in the final set.
PHOTO GALLERY BROUGHT TO YOU BY: