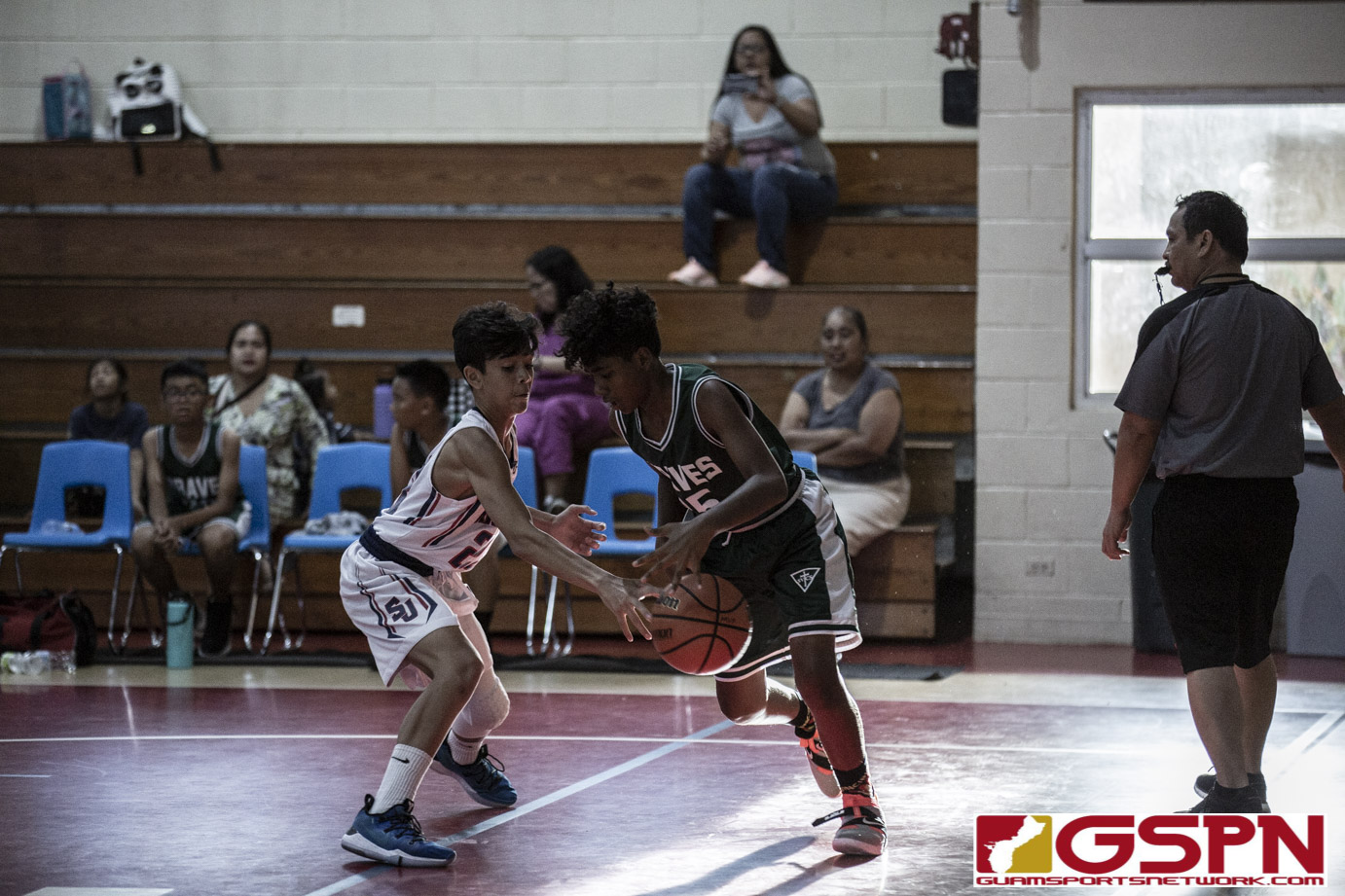 By Jay Leon Guerrero
Zander Kamai led the St John's Knights to a 44-26 victory over the San Vicente Braves scoring 17 points before fouling out late in the third quarter. Kamai's work on both sides of the Court was enough to help the Knights improve to 2-2 for the season.
It was the Kamai show in the first quarter, with the all-around eighth grader making plays on both sides of the court. Kamai made two lay-ups, had one steal and a pair of assists pto help the Knights go ahead 11-5.
The Braves turned up the aggressiveness to start the second quarter with Jamarion Santiago driving the lane for two lay-ups and Daethon Alcantara converting a free throw to trim the lead to 14-10.
Knight guard Pio Tolentino counters with a Harden-like step back three pointer to end the Brave run. Kamai records a steal, followed by a lay-up to push the lead to 23-10 by halftime.
Second half
The Braves had a clear advantage in the paint, scoring four quick points via offensive rebounds. Truman Howard scored off an offensive rebound and the Braves trailed 28-20.
Kamai fouls out
The Knights suffered a huge blow after Kamai picked up two quick fouls in the third period and was forced to sit on the bench with 50 seconds left in the third quarter and his team up by 11.
"After i fouled out, i still had confidence in my team to hold on," said Kamai. "For the next game, I need to just do a better job at playing honest defense".
The bench stepped up for the Knights to hold on for the win. Demarcus Ware (not to be mistakened with the NFL pro defenseman from Denver) hit two short jumpers to help the Knights increase their lead to 36-22. Miles Ganeb and Don Pangelinan added a pair of insurance points to extend their lead to 42-22 as the Braves struggled to his open shots. The final score was 44-26.
Pangelinan contributed 12 points and six rebounds to preserve the lead. Ganeb had six points (all in the crucial 4th quarter) and also grabbed seven rebounds. "We know have to alot of work to do, especially on rebounds," said Pangelinan.
"We need to hustle more on defense cause we don't have a deep bench and work on better ball movement for the rest of the season," said Kamai.
The San Vicente twin tower tandem of Santiago and Howard grabbed 15 and 8 rebounds, respectively. Santiago had a team high 12 points, Howard nearly had The double-double witj nine points. The Braves fall to 2-3 for the season.
PHOTO GALLERY BROUGHT TO YOU BY: