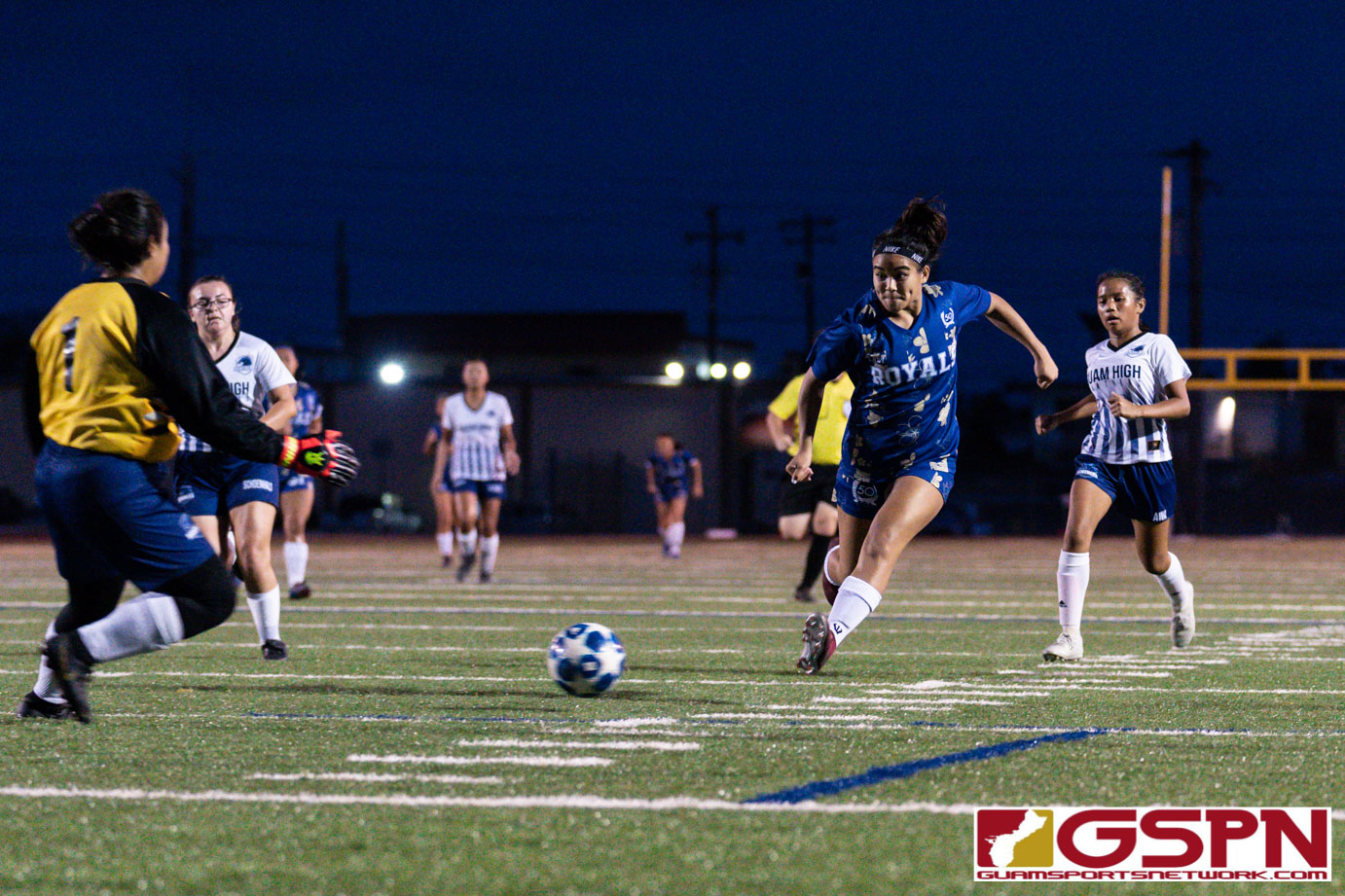 By Robert Balajadia
A pair of sophomores let the league know that the ND Royal's soccer future is in good hands.
ND sophomore Lauren Phillips scored all three of the teams goals to lock in a hat-trick in their 3-1 win over the Panthers in a late season clash at Guam High Thursday evening.
Guam High got a huge goal from dangerous-leg Alexandra Shimasaki in the 33rd minute, but the defense, led by fellow sophomore Minami Rabago, kept the streaky Panthers from getting into any kind of rhythm.
Phillips was poised for a big evening and her teammates knew exactly where to find her. Lauren's first goal came rather quickly as the reigning MVP Brianne Leon Guerrero pivoted and delivered a dime from the left wing as Lauren got her foot through two defenders for a single-tap goal in the 10th minute.
"Our mid-fielders knew where to set the ball," said Phillips giving credit to her teammates. "I feel like the connection was good today and their play really helped my runs."
Phillips would threaten to score on two more occasions following the first goal, finally getting her second goal in the 14th minute off another pass from Leon Guerrero to put the visiting team up 2-0.
"The biggest challenge was to stay calm and collected and not rush. We needed to use our teammates today, which is always the better option," added Phillips.
Royal defense takes control
Guam High struggled to get the ball to their forwards with the Royals stalwart defense playing tight coverage on the streaky Panther scorers. Panther Brennan King attempted just four shots at goal in the first half, but none were clean looks with Rabago bearing down on her all night. Rabago made plenty of individual stops when faced with a one-on-one as she anchored all the defensive action from the center.
"I definitely enjoy a challenge. [Guam High] are very good players, but I'm just glad that we were able to hold them down. The plan was to cover each other anywhere the ball would go. I know I can't always get the ball, but I can rely on my teammates and I know they've got my back," said Rabago.
The Panthers only attempted five shots on goal in the second half after being forced to bolster their backline against ND's dangerous forwards.
Pitch perfect
Phillips would net her final goal in the second half in the 64th minute. The ND offense put a wealth of pressure on Panthers keeper Hannah Davis, who made stellar saves on four different occasions to deny ND from adding more to their total.
ND looked comfortable in the second half playing on the Panther pitch. They haven't had the opportunity to play on GFA's pitch this season making Thursday evening their first go at it this 2019 season. Since more than half the Royal's squad is on the National Team, or involved in soccer clubs, playing on the pitch felt like home.
"We're used to the turf. We feel like we have to adjust to every field we play at so we felt it was a strength of ours to play on turf," said Phillips.
ND improved to (9-1) and the Panthers suffer their first loss at (8-1-2).
PHOTO GALLERY BROUGHT TO YOU BY: