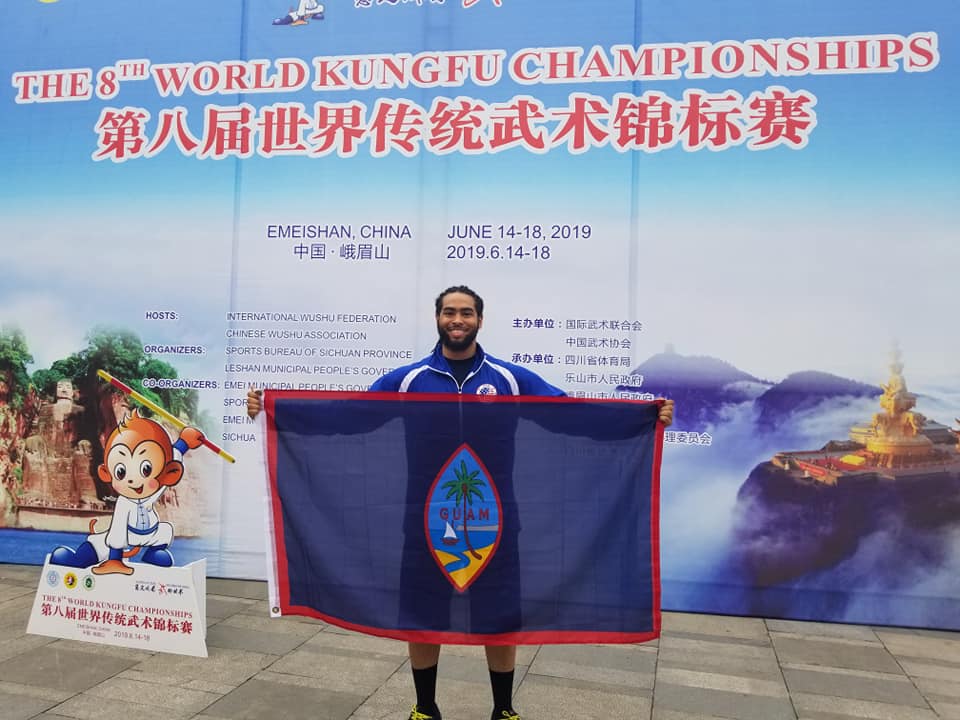 By Jay Leon Guerrero
A world-ranked Kung Fu practitioner has roots from Malesso. Aaron Keys, also known as the 'chamorrowarrior' on his Instagram account, is ranked in the top ten in the world in two forms of Chinese Martial Arts. He resides in Bowie, Maryland, but he is a proud Guamanian who dawns the Guam flag at national tournaments.
"I wasn't born on Guam and I'm half African American. I share the culture I grew up with from my mom's family childhood to adulthood," said Keys.
Aaron's mother, Diana Quinene Flores Keys, is from Malesso. The martial artist last visited Guam in 2006 when he was 12 years old and he will never forget his time on the island. "My favorite memories are when I met my entire mom's side. They welcomed us in with open arms and threw a huge barbecue. We ate, danced and connected with everyone and the
energy was so vibrant and warm like we belong here. My second favorite memory was jet skiing on Cocos Island and looking at the clear blue water."
Like Guam's MMA fighter Jon Tuck, Keys was also into video games and was introduced to martial arts as an outlet to do something different. At age 11, he was enrolled into a Kung Fu class and was immediately inspired.
"Six years later after I earned my 1st degree black belt, my younger sister wanted to learn Kung Fu from me and that inspired me to begin teaching classes. Seventeen years later, I've become one of the most influential male role models (of color) in my academy as a nationally ranked competitor in the country," said Keys.
The list of accomplishments includes:
– 70-plus awards (45 first place awards)
– 2018 North America Sports Karate Association World Top Ten (#3 Ranking in Chinese Weapons)
– 2018 North America Sports Karate Association World Top Ten (#5 Ranking in Chinese Forms)
– 2019-2021 USA Kung Fu team member (United States of America Wushu Kung Fu Federation)
– bronze medalist in the World Kung Fu Championship (Ranked 15th out of 33 other competitors from different federations)
Keys makes sure to represent Guam in one way or another by wearing a Guam sleeve or posing with the Guam flag at his tournaments.
"Whenever someone asks me about my Guam sleeve and Guam flag I tell them that I am a proud Chamorro," said Keys.
What's next?
Keys is currently training for four big competitions scheduled for later this year. Two are national (one in Miami 10/12 and one in Minnesota 11/2) and two local (one being at the University of Maryland College Park 12/6).
"My biggest goal for all of those competitions is to be the best version of myself and know that I left it all on the floor when I walk away. This will also help me achieve biggest goal this year to become the 2019 NASKA Chinese forms and Weapons World Champion and prepare for my USA Kung Fu team trials in 2021," said Keys.
He continues to perform well for his family and his heritage. He said there are so many people he thanked that inspired him that he wanted to thank. "I've had so many people who I look up to as far as inspiration to help reshape my approach to being successful in martial arts. My instructors at my academy Grand Master Wallace Powell, Grand Master Samuel Scott, Master Daryll Player have created a foundation of what it takes to be the best version of yourself through the process of self-discovery through martial arts. My blackbelt colleages Shifu Demetrius, Shifu Payton, my sister Shifu Alexis, Shifu Nargis, Shifu Lawrence, Shifu Nia have inspired me to set a bar and keep raising that bar until you achieve greatness as well as others seeing greatness in you. All of my students, every Shifu and Guru, the parents, administrative staff have been a backbone and an incredible source of love and inspiration to push to strive for greatness and to be a person they can all look as a positive role model in their lives.
"Current/past World Champions, Grandmasters, Masters, Dennis Brown, Clarence Burris, Ava Iman, Jeffrey Thurman, Sen Gao, Willie "The Bam" Johnson, Marco "Da Answer" Johnson, Tarell Bollock, Tyrone Bullock, Zar Succorotte, Donis Coronel, Matthew Lee, Justin Benedick, Jason Liu, Jeff Lui, Brian Wang, Jorge Perez, every UMBC Wushu team member, and so many more people have all played a pivital role for me towards how I approached myself as a better person through martial arts. Whether it's preparing for a competition, teaching my students, or just being 1% better than what I was yesterday".
Follow Aaron and his journey via his Instagram account at chamorrowarrior. Good luck Aaron on your continued journey, Biba Guam!
PHOTO GALLERY BROUGHT TO YOU BY:

QUICK HITS
The Figo Islanders 40s women's softball team took gold in the Senior Softball World Championship in Las Vegas. Figo came out of the loser's bracket and beat the Arizona Belles 17-3 in the AA division championship game Sunday afternoon.
Other Guam teams that played in the 40s tournament were: Team SOTTA (women's) and Bud Light Guam, Friars 671 and Sindalun Guahan (men's).
Sindalu finished a respectable 4th out of 24 AAA division teams.