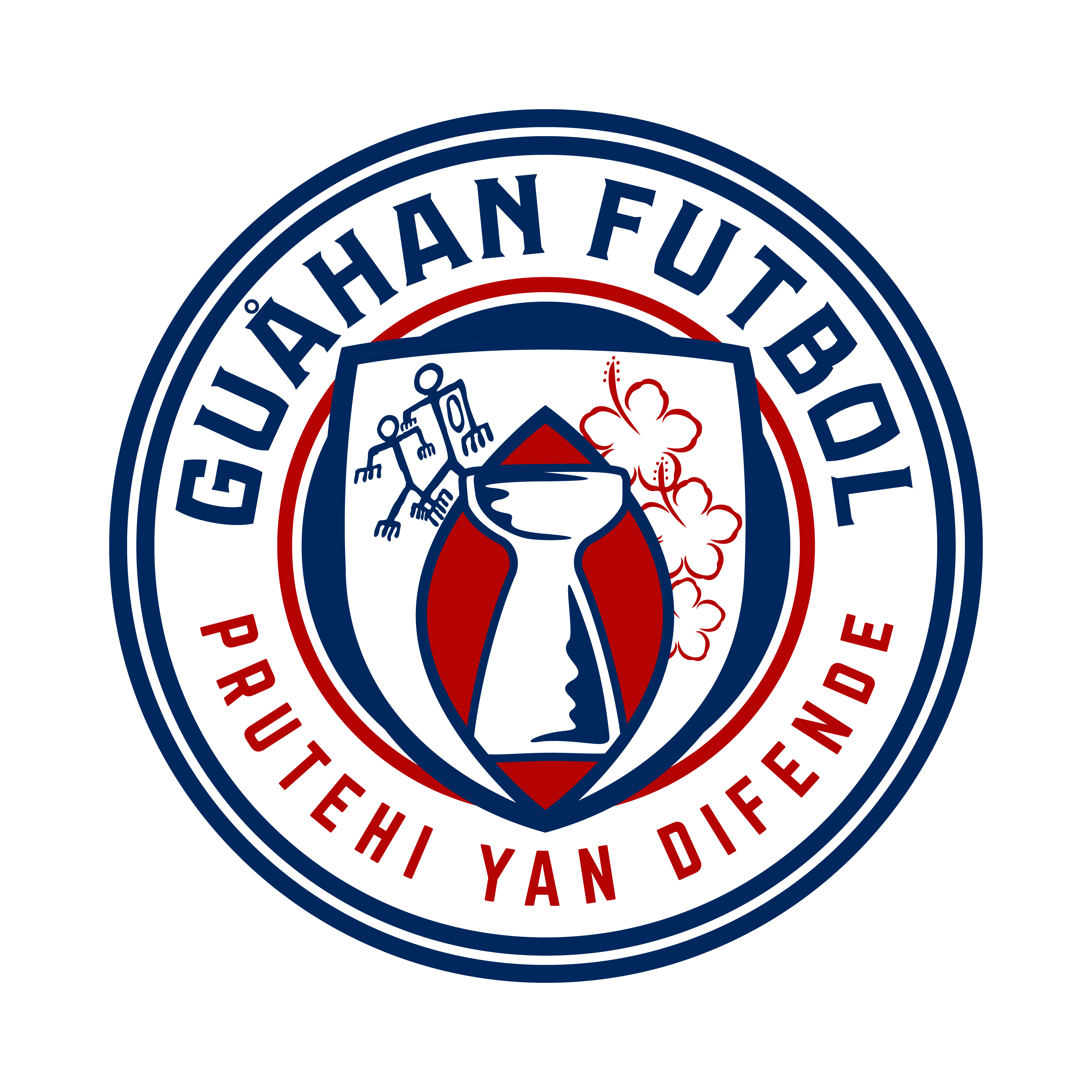 PRESS RELEASE – When the Matao, Guam men's national football team, steps onto the pitch in Thimphu, Bhutan for the first leg match of the FIFA World Cup Qatar 2022 and AFC Asian Cup 2023 Preliminary Joint Qualification Round 1 on June 6, the team will debut the newly created national team badge on their match kits.
The new badge, which took almost a year to develop, features cultural elements for identity, including a latte stone, the shape of the Guam seal, Chief Gadao cave painting depiction to represent the Matao, and tropical hibiscus flowers in a rising depiction to represent the Masakåda, Guam women's national football team. The wording, "Prutehi yan Difende" is adopted from the Inifresi, which Guam's national team players recite ahead of every match and training session.
"As a National Team player, this badge serves as a reminder that we are representing much more than just ourselves," said Mark Chargualaf, a midfielder called up to the Matao for June's qualification matches. "I know that whenever I am given the opportunity to wear this badge, I have to give everything and at time go above and beyond when called upon. The badge is a glimpse into our island's culture and identity, and we place it above our hearts, because like our hearts, it keeps us going.
"I feel very excited and honored to be a part of the team that will unveil our new National Team logo on the world stage, and I hope we get the results that will allow us to showcase it even more for the rest of this year and the coming years," Chargualaf added.
Chargualaf spearheaded the project to develop the new identity logo for Guam's National Teams and formed a focus group made up of current and former national players from both the men's and women's programs. Included in the group were Dominic Gadia, Brett Maluwelmeng, and Jason Cunliffe from the men's side and Anjelica Perez, Rhoda Bamba, Cara Walsh, and Carla Haddock from the women's side.
"This new badge was developed to follow the theme of our National Team programs, in that we are in this rebuilding phase and we wanted something fresh and new to symbolize that," Chargualaf said. "We also wanted something more specific to the National Team programs, hence the two symbols representing the Men's and Women's programs – the Gadao cave depiction and the rising hibiscus flowers, respectively.
"The process was the tricky part in that there were no guidelines as to how we would go about this, added with the pressure of knowing that end product had to be something that our National Teams and fans were going to be proud of. As a group, we met to decide on which elements were crucial in the new logo. From there, we approached a graphic artist (Ricky Catindig of W5 Design Studios) who was very passionate about helping with this and who also had some great points in the concept and design of the logo. A couple of sample designs later, we ended up with the final product which was simple yet meaningful," added Chargualaf, who made his senior-level debut in 2007 as a 16-year-old. The badge also will be placed onto Guam Women's National Team match kits, as well as youth national team match kits.
"On behalf of GFA, I commend Mark and all involved in creating this new identity badge for our National Teams," said GFA President Tino San Gil. "This, among other upcoming cultural immersion initiatives at GFA, will instill even more pride and confidence in our players and staff representing Guam on the international stage. I look forward to seeing the Matao display their new kits with the new badges during the upcoming FIFA World Cup Qatar 2022 and AFC Asian Cup 2023 Preliminary Joint Qualification Round 1 matches against Bhutan, as well as the team's progression through qualification."
The Matao will play against Bhutan in Bhutan on Jun. 6. The match will kick off at 6 p.m. Bhutan time (10 p.m. Guam time) and will be streamed live on Bhutan's Internet TV channel, https://mycujoo.tv/video/bhutan-football?id=46379 Additionally, the match will be shown live at GFA on a giant screen following the first-ever Soccer Alumni Tournament the evening of Jun. 6.
The Matao will return to Guam to play against Bhutan in the second leg of the qualification round on Jun. 11. The match in Guam will kick off at 3:15 p.m. and tickets are currently on sale to watch the Matao's first home match of the year.
Category 1 tickets are $20, Category 2 tickets are $10, and Category 3 tickets are $5 and are sold on a first come, first served basis. Categories are based on the location of seats at GFA.
For more information about the upcoming match, call 637-4321 or E-mail info@theguamfa.com

Foody's 5 Fun Facts
Sanchez QB Jayton Penaflor
DID U KNOW?
Kein Artero has a list of who's who of Artero uncles who've starred in Guam's gridiron: Andre Artero UOG Tritons & Hals Angels OL, Bubba Artero UOG Tritons & Hals Angels OL, Kenny Artero SSHS DB/Baseball Pitcher, Jesse Sablan FD & Hals Angels FB, Roland San Nicolas FD & Hals Angels OL, Chuck Ada SSHS & Hals Angels DB,  Ed "Rock" Artero SSHS & Hals Angels MLB, "Wild" Bill Ada FD & Hals Angels ML, Jared Ada FD & Hals Angels WR/Utility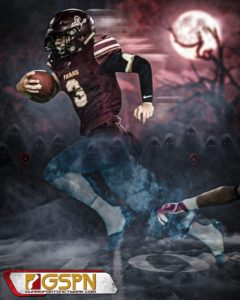 COMING SOON …
– 24th Marianas Fishing Derby
– NFL Week 3: Steelers at 49ers
– Jon Tuck's Bellator debut
QUICK HITS
Pro triathlete Mieko Carey finished third in XTERRA Japan on Sunday in a time of 3:43:02. Her career was on hiatus for a couple of years raising her twin children. It's safe to say the 40-year-old is back in top form. Congratulations Mieko san!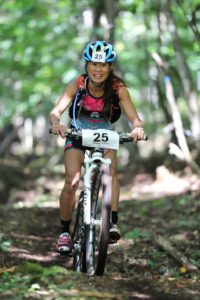 —————————————————-
UOG Athletics announced that head men's basketball coach Brent Tipton has stepped down due to personal reasons. UOG is now seeking for a replacement after Tipton's three years at the helm.