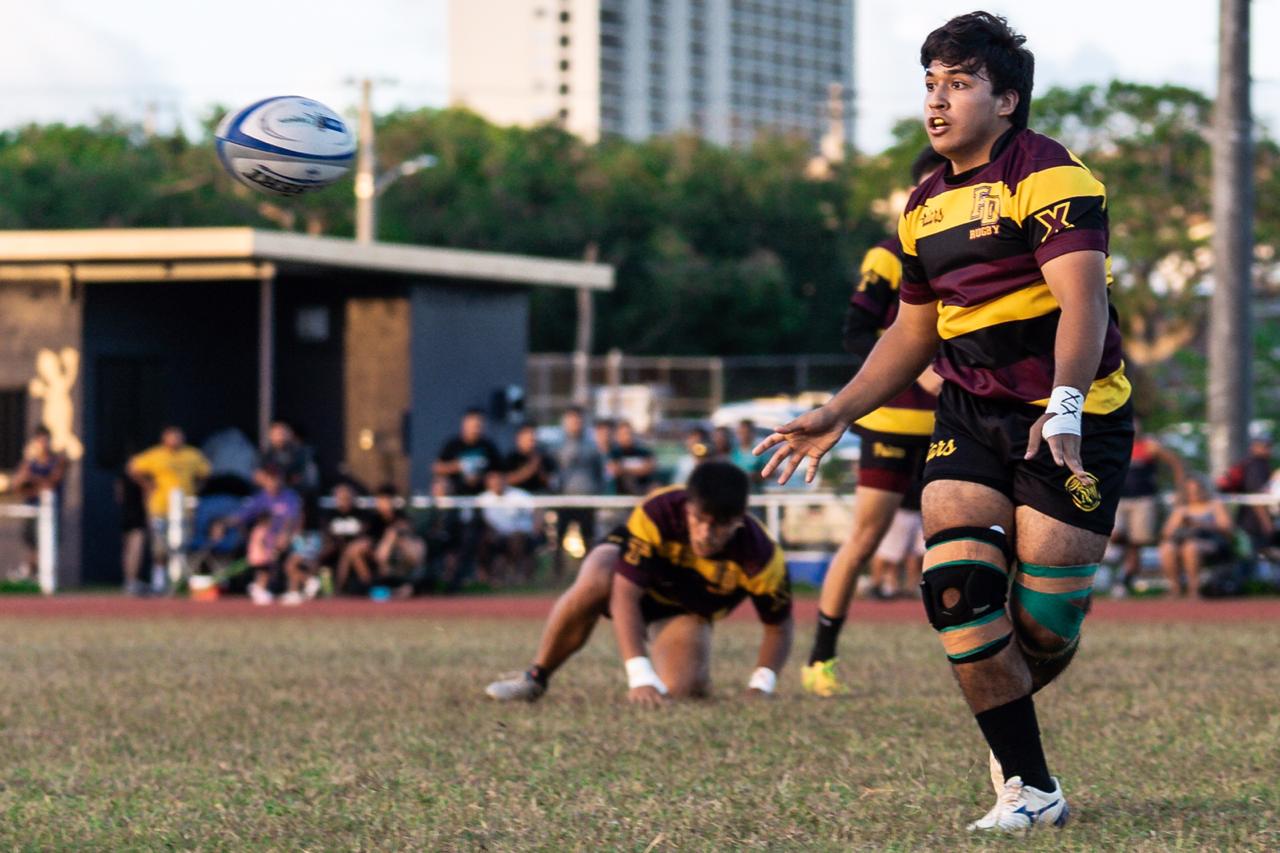 By Robert Balajadia
As an underclassmen, FD Friar Matias Calvo watched his older brothers Nainoa and Lenny dominate the high school wrestling scene which paved the way for their collegiate wrestling dreams. It would be easy to assume that the now senior Matias, an All-Island winning wrestler in his own right, would follow along in his siblings wrestling footsteps, but his love for rugby lead the standout down a different path.
Calvo will be attending Dartmouth College in New Hampshire starting the fall semester of 2019 and will play collegiate rugby for the program. Calvo becomes just the second Dartmouth attendee in two years after Academy Cougar rugby star and 2018 GSPN Athlete of the Year Ale Ada announced her attendance last summer.
"[Ale] inspires me because she's proven the ability to do it in the classroom as well as on the field. I very much hope to be able to do the same," said Matias.
Calvo attended the U.S. Collegiate Development Camp held at Dartmouth in the summer of 2018 which gives high school athletes a platform in their pursuit of collegiate rugby.
Matias left a good impression on Dartmouth's head coach James Willocks and had kept in contact with him post camp. He committed to Dartmouth, applying to the school, which is considered a binding application, officially hearing of his acceptance this past December.
That means breaking a chain of collegiate wrestlers for the Calvo brothers, which wasn't an easy decision for Matias to make. He decided to pursue collegiate rugby as a sophomore during his brother Lenny's final season and his family, especially his brothers, couldn't be more supportive.
"It was a very difficult decision to make because we spent a lot of time preparing for wrestling. But I grew up watching my dad [Leonard] play rugby and I later developed a love for it. I still wrestled in high school, but my love for rugby is what drove me to go after it collegiately," said Matias.
The love for the game developed for Matias in middle school playing flag rugby. Even though he was considered one of the heavier kids, the camaraderie and teamwork proved to be a big draw.
"I was chubby and wasn't the most active, but I would show up to every practice early and I put a lot of effort into it. I was drawn into the sport by the teamwork and bond we developed."
Calvo would develop a second-to-none work ethic during his growth in the sport and those qualities are what he can fall back on whenever a game or season doesn't meet expectations.
"I gauge myself on my work ethic and effort on the field. I don't look back at all the stuff I did, but instead how much effort I gave and how much work I put into it. You're not always going to come out victorious, but I leave everything on the field. I've been fortunate to be surrounded by coaches and family who never let me quit," said Matias.
Matias's father Leonard is considered the "Godfather of Guam Rugby" by GSPN's own Patrick Lujan, and the mentorship from dad has played a big factor in how Matias has developed. His parents and siblings consider him too to be most like his dad.
"I'm sure they'll all agree I'm most like my dad, but I don't think I can follow in his footsteps with what he was able to accomplish. I just hope I can make him proud. He's one of the biggest reasons I've even made it this far. He gets me through those days when I'm feeling lazy and he's been pushing me since."
Matias leaves behind a strong resume of high school rugby even though he spent majority of his senior season on the sideline due to injury.
3x IIAAG Rugby Champion
2x First Team All-Island
2018 Leading Try Scorer
2018 Player of the Year
Dartmouth is a Division I rugby school, but it's also a private Ivy League college with an 11% acceptance rate. That would mean Calvo would have to, not only excel on the field, but also in the classroom, which his acceptance now clearly entails.
"Grades have always been an important part of my life. My parents don't push me to get straight A's, they just want us to give it our all. Academics has always come first to me and my parents wouldn't allow us to do anything if our grades weren't up to par," said Matias.
Calvo is set to join the teams for workout late August just before the start of the season. With graduation merely month away, Matias will be cruising at a comfortable pace knowing his rugby journey and grind of a collegiate student athlete has just began.

QUICK HITS
The Figo Islanders 40s women's softball team took gold in the Senior Softball World Championship in Las Vegas. Figo came out of the loser's bracket and beat the Arizona Belles 17-3 in the AA division championship game Sunday afternoon.
Other Guam teams that played in the 40s tournament were: Team SOTTA (women's) and Bud Light Guam, Friars 671 and Sindalun Guahan (men's).
Sindalu finished a respectable 4th out of 24 AAA division teams.