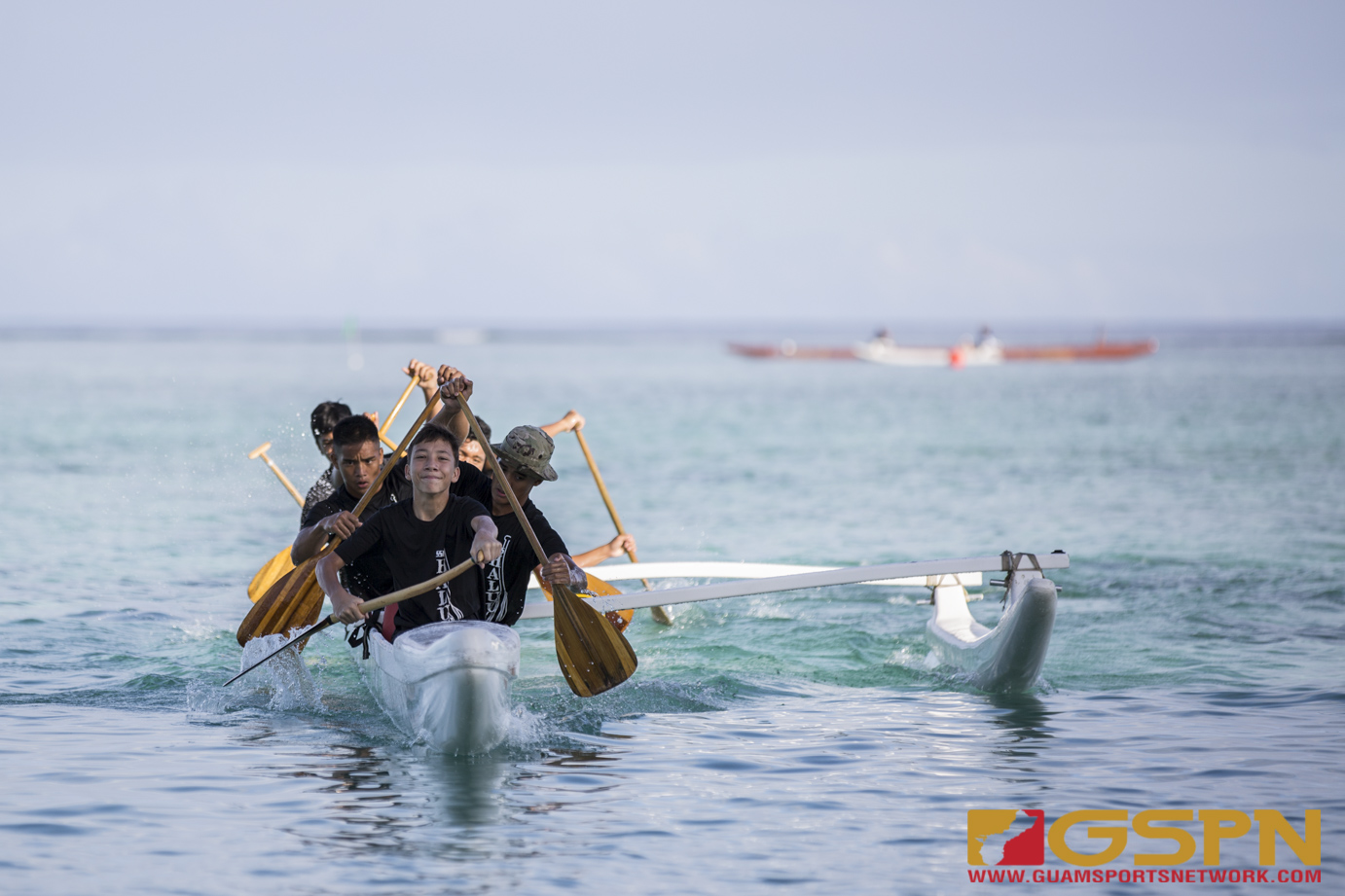 By Robert Balajadia
After a weekend break from racing and week long off from school, the IIAAG's paddlers hit Matapang Beach for Week 2 of the season. This week, teams hit the 1000m distance followed by a 500m sprint.
This week, the steer captains were leading their teams to victory with sharp turns being the key to the top team's finishes.
1000m Sottera
The JFK Islanders didn't even finish in the top three in the opening week of the season during the 500m, but took the top spot in the 1000m at 6 minutes and 34.5 seconds. The Islanders were the top team in their heat by six seconds with the ND Royals and St. John's Knights pulling in 2nd and 3rd from the second heat.
JFK was first on the turn at the 500m mark and first at the 750m with motivation fueling the way.
"It all comes down to teamwork and motivation. We shook off last week and we know as long as you come to practice and put in work that we can always comeback. We only focused on our boat, but we felt really good coming off the final turn," said senior steerer and Team Captain Alyssa Fernando.
1000m Sotteru
The Sharks made their moves on each turn. They took the lead after the first 500m with the JFK Islanders coming in the turn first. Sanchez trusted their captain Josh Sablan to pull through and the junior steerer did just that while deploying a different technique.
"I felt like our turns made us win because we weren't first coming into the turns but we ended up in front after the turns. I tried something different this week and went a little bit wider instead of coming to a dead stop. But I did get a little scared on the way back after the teams were catching up," said Sablan.
The Sharks finished in a smooth 5 minutes and 50.7 seconds to top their heat, besting the FD Friars and Tiyan Titans from the second heat.
500m Sottera
The Academy Cougars had a rough start to the morning, finishing dead last in the 1000m after numerous communication issues. That more than fueled their competitive fire, especially within their senior steerer and Team Captain Jackie Martinez, as Academy finished in first place of the 500m with a 3:02:00 time.
"Losing that first race really put into our perspective how important it is to go back to our basics and how important it is to listen to each other on the boat. We took that frustration and turned it into motivation and used it for each of the races after. It really benefited us in the long run because we came out even stronger, not only to start the race, but stronger than last week too," said Martinez.
The Cougars were never considered one of the better teams in paddling before last season where they finished 3rd in All-Island. The team has seen significant strides in faster race times since adding former Cougar and National Paddler Kiara Quichocho to the coaching staff last season with Quichocho, Paul Tapao and National Paddler Jesse Cabrera also coaching this season. Martinez challenged her team before their big 500m race and they responded in a big way.
"I sat everybody down and asked them if they wanted to go back to being that team that no one looks out for and is at the bottom of the barrel every single year. Everyone thought Academy showing out last year was a 'fluke' so I asked my team if we wanted to live up to being a 'fluke' or if we wanted show everyone that we're supposed to be here," added Martinez.
500m Sotteru
The GW Geckos took both the top spots in Week 1 with the Tiyan Titans left looking on in 3rd place. In Week 2, Tiyan had their time in the spotlight after holding off the Geckos down the final stretch by beating GW by just one second at 2:48 to GW's 2:49.
"We had a talk about what we needed to do better and what we needed to fix up. Communication is the key to winning these races so we have to have a strong bond and good team work. But I have to give it up to GW, they're a really hard team and it was a close race today," said junior Team Captain John Laguana.
Full results from the races will be posted when available!
PHOTO GALLERY BROUGHT TO YOU BY:

QUICK HITS
The Figo Islanders 40s women's softball team took gold in the Senior Softball World Championship in Las Vegas. Figo came out of the loser's bracket and beat the Arizona Belles 17-3 in the AA division championship game Sunday afternoon.
Other Guam teams that played in the 40s tournament were: Team SOTTA (women's) and Bud Light Guam, Friars 671 and Sindalun Guahan (men's).
Sindalu finished a respectable 4th out of 24 AAA division teams.