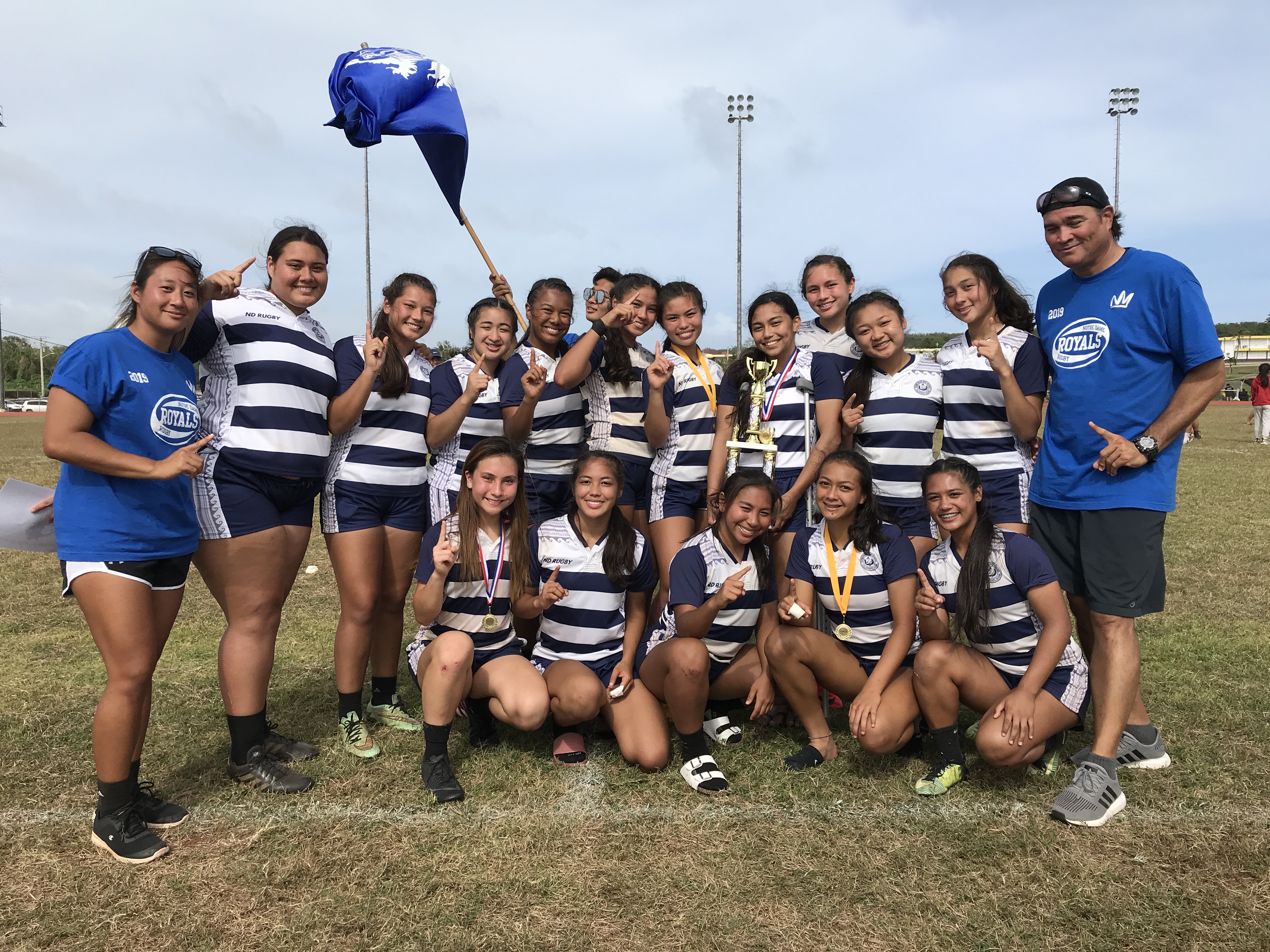 By Robert Balajadia
The last seven seasons have been ruled by the GW Geckos girls rugby team and the first five minutes of the IIAAG Title Saturday game against the ND Royals looked just as the past seven years has, GW dominance. But ND dug deep and gutted out a big response using a late try from Faith Moylan to snap the GW title streak, bringing ND the Cup in a 21-17 win.
ND defeated the Southern Dolphins in the semifinals to kick off the Saturday and the Geckos got through the Okkodo Bulldogs setting up the Cup game later in the afternoon.
GW opened the championship game with a big return from Avea Garrido to get into Royal territory. After getting the ball off a ruck, GW's Sawyer Park found an opening on the left side to score the first try of the game to go up 5-0 with a missed conversion. Park struck again moments later, breaking loose on the left side to go up 10-0, putting ND in their biggest deficit of the year.
The Royals were already without dangerous scorer Hana Takano who was out with a hip injury so their offense needed a jump start. Bringing the Royals back from the dead was Brianne Leon Guerrero, who broke loose on the left side for the teams first try. Leon Guerrero made good on her conversion to get within 10-7 which proved to be exactly what ND needed.
"I just took what our coaches have been teaching us and applied it on the field. I had to do what Hana usually does, sweep and cover our backs so I had to step up and do that for us," said Brianne.
"The last try of the first half really did it for us. At halftime we had a quick minute to get into the huddle, but I told them that they had momentum and that they've recovered from pre-game jitters. They did all of that 55 seconds later and once we took the lead we just stuck to playing the rugby that we've playing all year," said head coach Conrad Kerber.
Bri added to it in the second half, dancing around the last Royal defender on the edge to pull her team ahead for the first time 14-10 after another successful conversion. GW answered back with a big score off three passes, setting the stage for Frankie Fejeran to give GW back the lead 17-14 with a successful conversion.
The Gecko score was short lived after the kick off as the ball would end up in the hands of Moylan. Faith used patience in face of the Gecko defenders to avoid getting tackled before breaking into top speed along the left sideline for what would end up being the game winning try, putting ND up 21-17.
"It helped that I was running towards our fans," said Moylan with the ND crowd strategically placed behind the ND try zone. "We had to dig deep. I kept telling my team that we had to dig deep. I've been in the finals for two years so I know, trust me, how it feels to be so close and I know it too well. I believed that this was our chance and we just had to want it."
Defense would prevail for ND late in the game as they kept the Geckos from getting past midfield to secure the win.
"GW brought a great team to the field today, a formidable group of the girls. It couldn't have been a better stage with the defending champs giving everything they had, pulling out everything they had from their tool boxes," said Kerber.
Winning reactions
Mission accomplished for ND and head coach Conrad Kerber, who's made a successful return to high school rugby. Putting the season in perspective, Kerber knew his team had something special from the go.
"It was a great three-and-a-half month run of rugby. Being brought back after 10 years and changing just about everything I could with the team, and finding ourselves as a unit, and this was a wonderful team to coach. I had no issues with attitudes or anything of that nature and there was nothing more a coach could ask for. I look forward to bringing it back next year," said Kerber.
Moylan has been chasing a rugby title for the past three years and 2019 was finally her time. Along with raking in a bunch of seasonal awards, Faith's try to give her team the lead late will be a moment she'll never forget.
"It's bittersweet because winning only makes me want to stay on the pitch forever. It's just feeding into my love for the sport even more," said Moylan on winning.
Bound to being a spectator during the playoffs, ND's Hana Takano could only watch her team battle to bring home the rugby title. Takano was a catalyst in their success, leading the team in scoring tries with more than a handful of big plays being made all season. After dislocating her hip right before the playoffs, Takano's high school rugby run would come to an end in 2019. Even with her injury, Takano was there in full uniform in crutches cheering on their efforts.
"I'm very proud of my girls and it's nice to see how well they've progressed this season," said an emotional teary eyed Takano. "I was sitting in hospital crying, not because it hurt, but because they told me I couldn't play. Everyone has been helping get through this and that my health is more important. I've still got one more year so I have to come back stronger."
"Getting the team emotionally ready without Hana was the hard part, but we spent all week getting them positionally prepared. Hana came to all the practices and all the games so it helped with the emotion. Knowing that she was there, it gave us something else to play for other than just our school. We all know that her play for two-thirds of the season helped us get here," said Kerber.
The Southern Dolphins were forced to forfeit in the consolation game against the Bulldogs after not having enough players.
PHOTO GALLERY BROUGHT TO YOU BY: