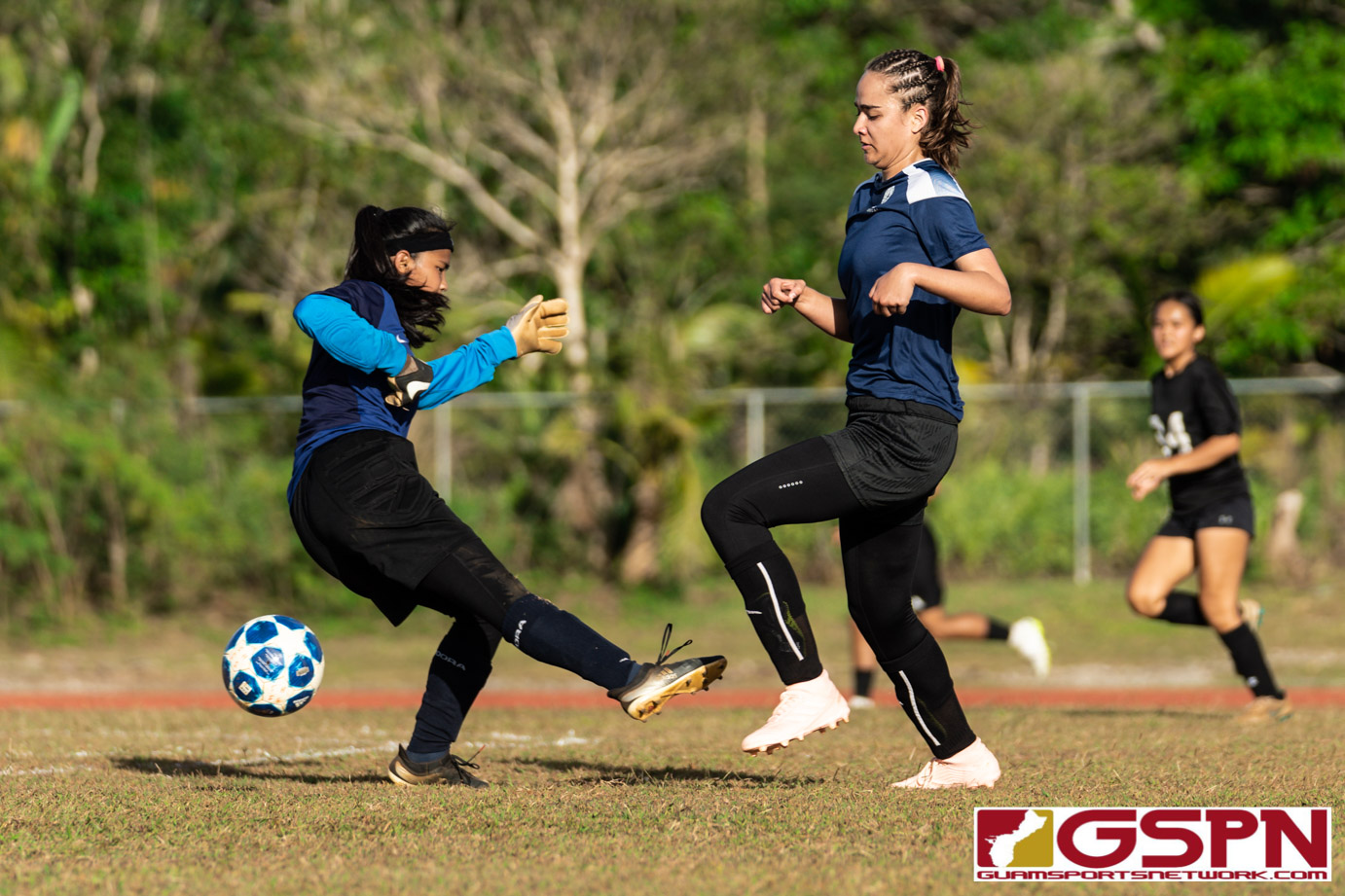 By Robert Balajadia
You already knew that Academy Cougar Mia San Nicolas was a dominant basketball player and Thursday evening she displayed her skills on the open field, netting four goals in the teams 6-0 win over the Sanchez Sharks at the Okkodo Field in IIAAG Girls Soccer.
San Nicolas got the team on the board in the 16th minute on a break away goal and then flexed some range in the 29th minute by netting a shot from just outside the goal box to get the Cougars up 2-0.
"We wanted to come out strong and aggressive together. We kept up the attack after starting a little slow and we took more shots to pick up the pace," said San Nicolas.
Mia did more damage right at the start of the second half, scoring two goals within the 41st minute netting a hat-trick, plus one, to put the Cougars firmly ahead 4-0.
The Academy defense wasn't tested often, but that didn't stop keeper Phoebe Shmull from making dynamic saves. The Cougars were tagged with a penalty inside the box late in the first half which set up a penalty kick for the Sharks. Shmull projected the shot from the kick, getting two hands up down the middle for the highlight save.
"I've always learned from my coaches to stay on my toes and just watch the ball. I did my best trying to read that play," said Shmull on the save.
Shmull also made two more diving saves in the second half to keep Sanchez off the board.
Cougar forward Inina Yatar started getting into the scoring action netting two goals of her own in the second half. Yatar scored her first off a penalty kick in the 45th minute with her second coming off a through ball up the middle that she rocketed towards the left side of the post.
The Cougars deployed a young group of underclassmen in their starting line-up to go along with returnees like Mia and Phoebe, but the new girls contribution in the teams debut was considered impressive from the veteran's point of view.
"Our new girls played really well. It's all about establishing good communication between the keeper and defenders while and having them communicate well with their other teammates on the field. Hopefully we can keep that up and if so, everything should turn out well."
Thursday's win was a great season starter for the Cougars who understand the league poses a wealth of high-level competition as they try not to let their aspirations get ahead of themselves.
"This game will hopefully set the bar for how we perform for the rest of the season," added Shmull.
PHOTO GALLERY BROUGHT TO YOU BY:

2022 GSPN I MÅS METGOT COMPETITION
2022 GSPN I Mås Metgot Competition Recap
2022 GSPN I MÅS METGOT COMPETITION
2022 GSPN I Mås Metgot Competition Recap
2022 GSPN I MÅS METGOT COMPETITION
2022 GSPN I Mås Metgot Competition Recap