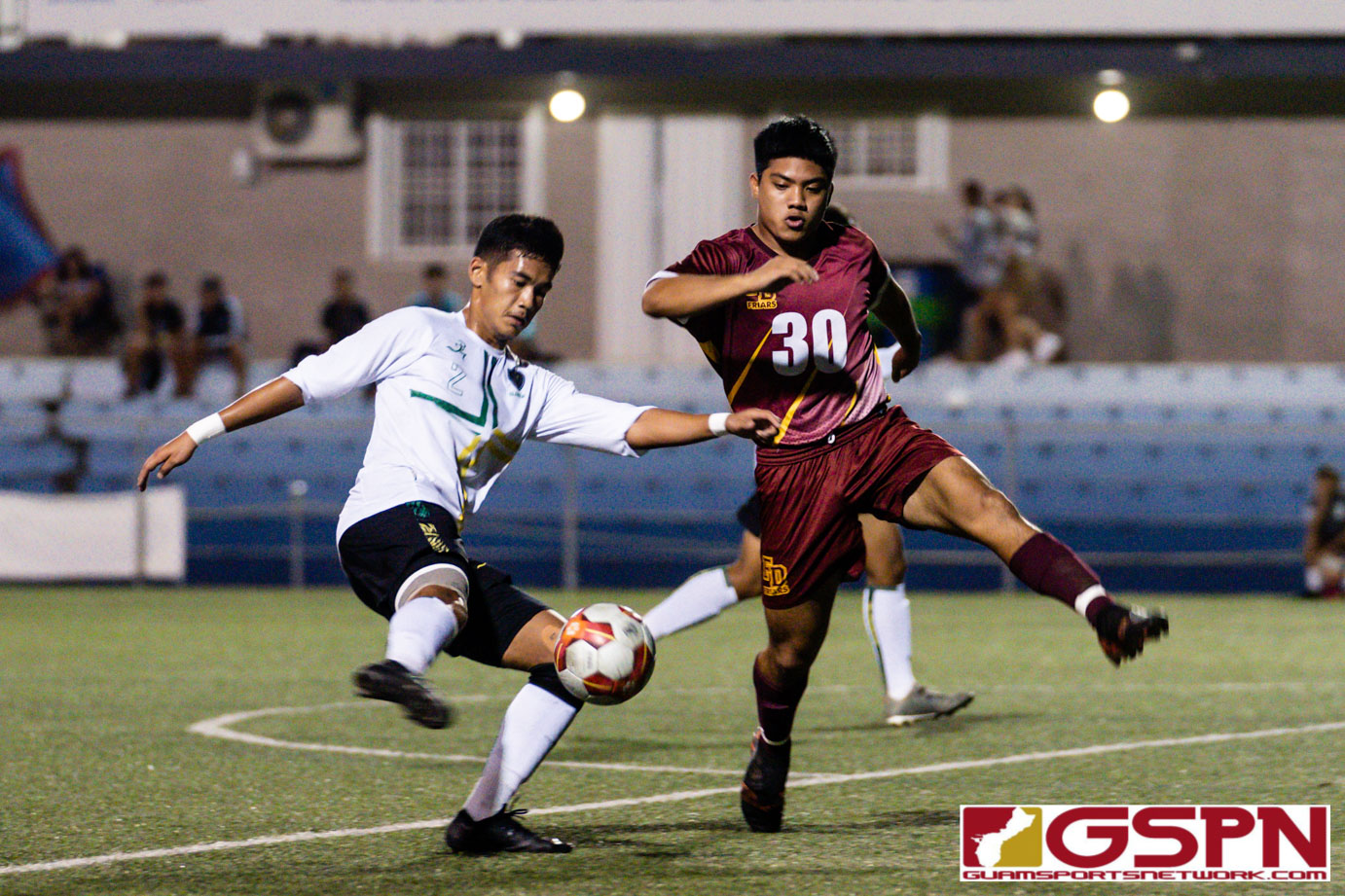 By Robert Balajadia
The JFK Islanders looked locked in from the opening kick after defeating the FD Friars 5-1 in the late game of the semifinals at the GFA Training Facility in Harmon. The Harvest Eagles defeated the Southern Dolphins in the earlier game 6-0 setting up a Harvest vs. JFK finale.
A pair of goals in a matter of seconds from JFK's Michael Castaneda had the Islanders rallying to their big win Tuesday evening.
Castaneda drew first blood in the 18th minute after a free kick opportunity opened up a shot in the center of the box. Castaneda trapped a bouncing ball and powered in his shot towards the left post for the first goal of the game.
The Friars had then just put the ball in play after the giving up the goal to where Castaneda would quickly strke again. A failed clear presented JFK with a throw in opportunity and Castaneda was able to control a pass from the throw in, took one dribble to get open and launch a shot from nearly 40 yards out for his second goal in the 19th minute.
JFK's Talyer Bonner added the teams third goal in the 39th minute right before the half off a cross kick from Noah Mueller to go up 3-0.
The Islanders extended their halftime lead in the 60th minute after striker Kaden Rivera got loose up the middle for a break away. Rivera shot left as FD Friars keeper Jariah San Gil moved up in the box to give JFK a 4-0 lead.
Mueller would put the finishing touches on the Islanders big night, scoring in the 62nd minute to go up 5-0.
FD would avoid a shutout by scoring in the 79th minute as Morgan McKenna took a pass from Kyle Halehale just outside the box to net the teams lone score of the night.
Eagles vs. Islanders for the 'ship
The regular season meeting between the Eagles and Islanders ended on the final play of regulation with the MVP James Lee scoring the game-winning goal. That was also the Islanders first loss of the season which makes their rematch in the Finals a highly anticipated showdown!
The Finals will kick off at 7 pm at the GFA Training Facility directly following the consolation game between the FD Friars and Southern Dolphins at 5 pm.
PHOTO GALLERY BROUGHT TO YOU BY: