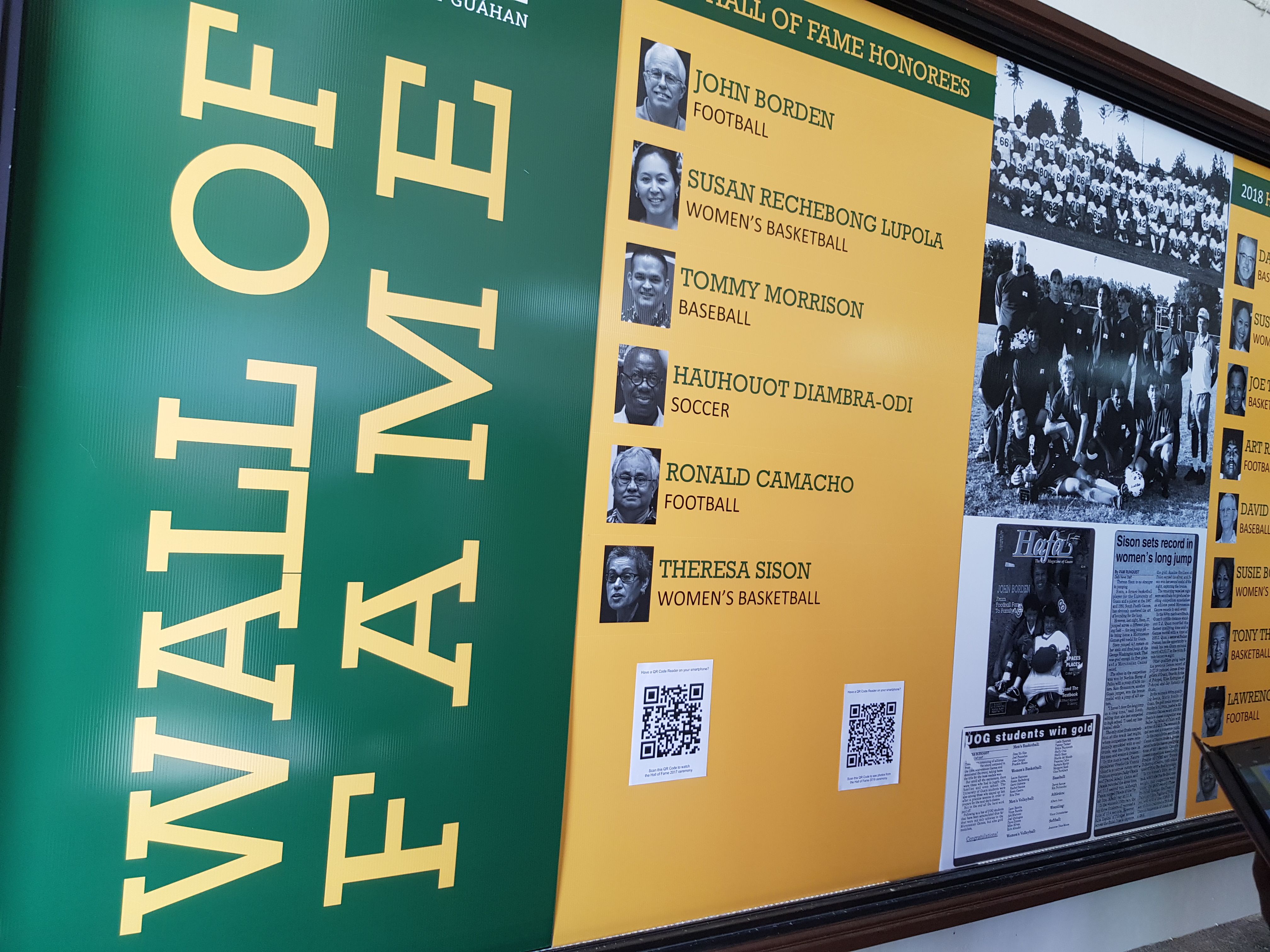 By Robert Balajadia
The Hall of Fame selected UOG Tritons of the 2017 and 2018 classes now have a predominant display at the UOG Calvo Field House with the unveiling of the 'Wall of Fame' right outside the walkway. Tuesday afternoon marked a special occasion for the 15 selected members with the official unveiling of the wall to commemorate their achievement.
In attendance were a handful of the selected members, including Triton's football star John Borden from the 2017 class and basketball icon Susan Lupola.
"It was so long ago I sure hope they can remember what we did back in the day, but having a wall like this will help remind people what sports were like back then. This is an overwhelming experience. I had no idea the wall would be of this magnitude," said the legend Borden.
John wasn't the only Borden who celebrated the occasion with wife Susie, a 2018 inductee, also sharing in the moment.
"I'm absolutely speechless," said Lupola, who shares the wall with her sister. "I truly feel like there should be many more greats up there before me, but I'm humbled. It's so important to have this and it's a beautiful program."
The most difficult process comes in the selection. UOG Athletic Director Doug Palmer had every intention of making a Hall of Fame class after seeing the importance of commemorating athletic achievements from his previous colleges, where he too started the Hall of Fame campaign.
"Having started two 'Hall of Fame' classes in two other institutions I saw the value of having something like this and I felt it was something we needed to do," said Palmer. "The biggest challenge was getting the names of these athletes, but it got much easier in the second class and more people started coming forth and nominating athletes."
Palmer was tasked with taking a deep dive into Guam's sport history which required a lot of research into the accomplishments of each selected individual. The first induction was difficult, but the nominations for those deserving have grown after just two years which Palmer has explained that he now has at least three years worth of worthy candidates.
People can expect at least 6-10 new inductees every year and they too will be added to the 'Wall of Fame' with a mandatory two female athletes in every class.
Palmer hopes to eventually get some modern athletes on the Wall of Fame as long as they have met the requirements for being Hall of Fame eligible.
Wall of Fame
2017
John Borden – Football
Susan Rechebong Lupola – Women's Basketball
Tommy Morrison – Baseball
Hauhouot Diambra Odi – Soccer
Ronald Camacho – Football
Theresa Sison – Women's Basketball
2018
David Nelson – Baseball
Susy Rechebong – Women's Basketball
Joe Taitano – Basketball
Art Rabon – Football
David Zimms – Baseball
Susie Borden – Women's Basketball
Tony Thompson – Basketball
Lawrence Johnson – Football
James Whippy – Soccer