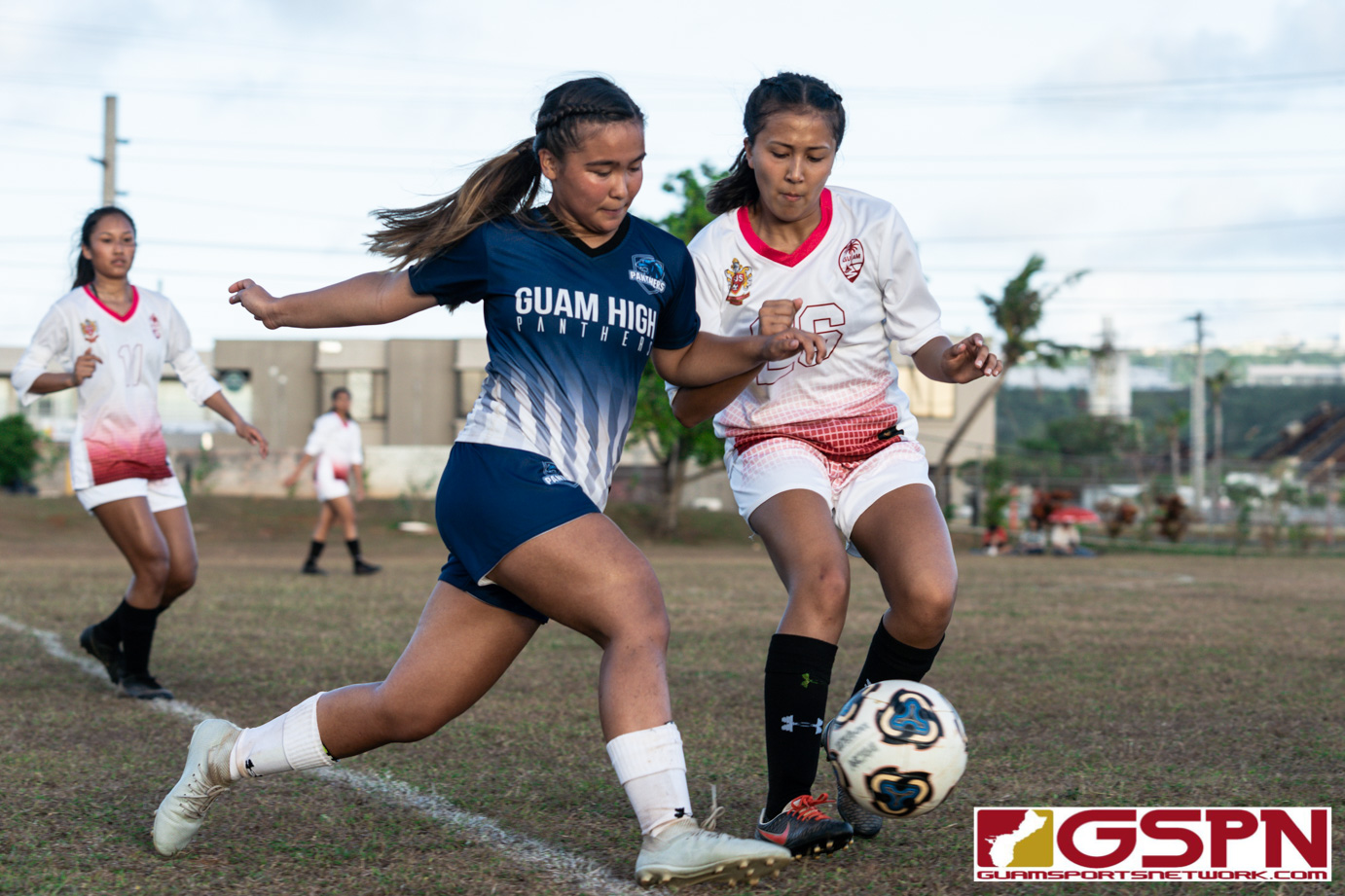 By Brandon Kinsella
In the IIAAG Girls Soccer League, a Tuesday afternoon showdown between the St. Johns Knights and Guam High Panthers would result in a scoreless tie where both sides showcased their defensive talents.
Throughout the matchup, both teams had multiple opportunities to get on the scoreboard, trading possession on the attack and getting off reasonable shots to the keeper. But when all was said and done, neither defense would let up and both keepers would manage to keep the game scoreless.
The speedy left center back in Hallie Wigsten lead the way defensively for the Knights and always seemed to be in on the action whenever Guam High was on the attack. Guam High's strikers found it difficult to get good shots off as Wigsten was able to use her quickness to clear the ball on multiple occasions. Wigsten elaborated on her big defensive outing at home:
"Being able to play defense at a high caliber is a result of our coaches pushing us in practice and making sure that we're conditioned. As a whole, I feel like our team could have performed much better, but we'll take the draw over a loss," said Wigsten.
Although neither team was able to get on the scoreboard, the Knights showed good ability to push the pace on the attack and dominated possession throughout the matchup. Striker Yasmeen Lopez found ways to beat defenders and looked to cross to her teammates on several occasions, but none of the shots could get past Guam High's keeper.  
For the Panthers, it was center back Addison Hawkes who was instrumental in slowing down the momentum of the Knights strikers. Hawkes' positioning allowed her to clear the ball on several occasions, in a game where the Knights held possession on the attack for much longer. Hawkes talked about her team's overall performance on defense,
"I think our defense held it down today. We work well as a team and I feel like we all blend in and make each other better. Our coverage was great today," said Hawkes.
Talented Forward in Alexandra Shimasaki was sidelined early in the first half to nurse a recurring injury. She would not return until the midway mark of the second half. When Shimasaki did return, she dropped backed to help on defense. Shimasaki described the situation:  
"I went down in the first half because of a knee injury. When I returned in the second, my coaches felt that I was more needed in the back to help out on defense, so we pushed a few of our players up to play forward, which they were very capable of doing."
Shimasaki showed ability to be an active presence on defense and her performance would help the Panthers avoid a loss.
Guam High remains unbeaten with this draw, improving their record to 3-0-1. St. Johns improves their record to 2-1-1.
PHOTO GALLERY BROUGHT TO YOU BY: