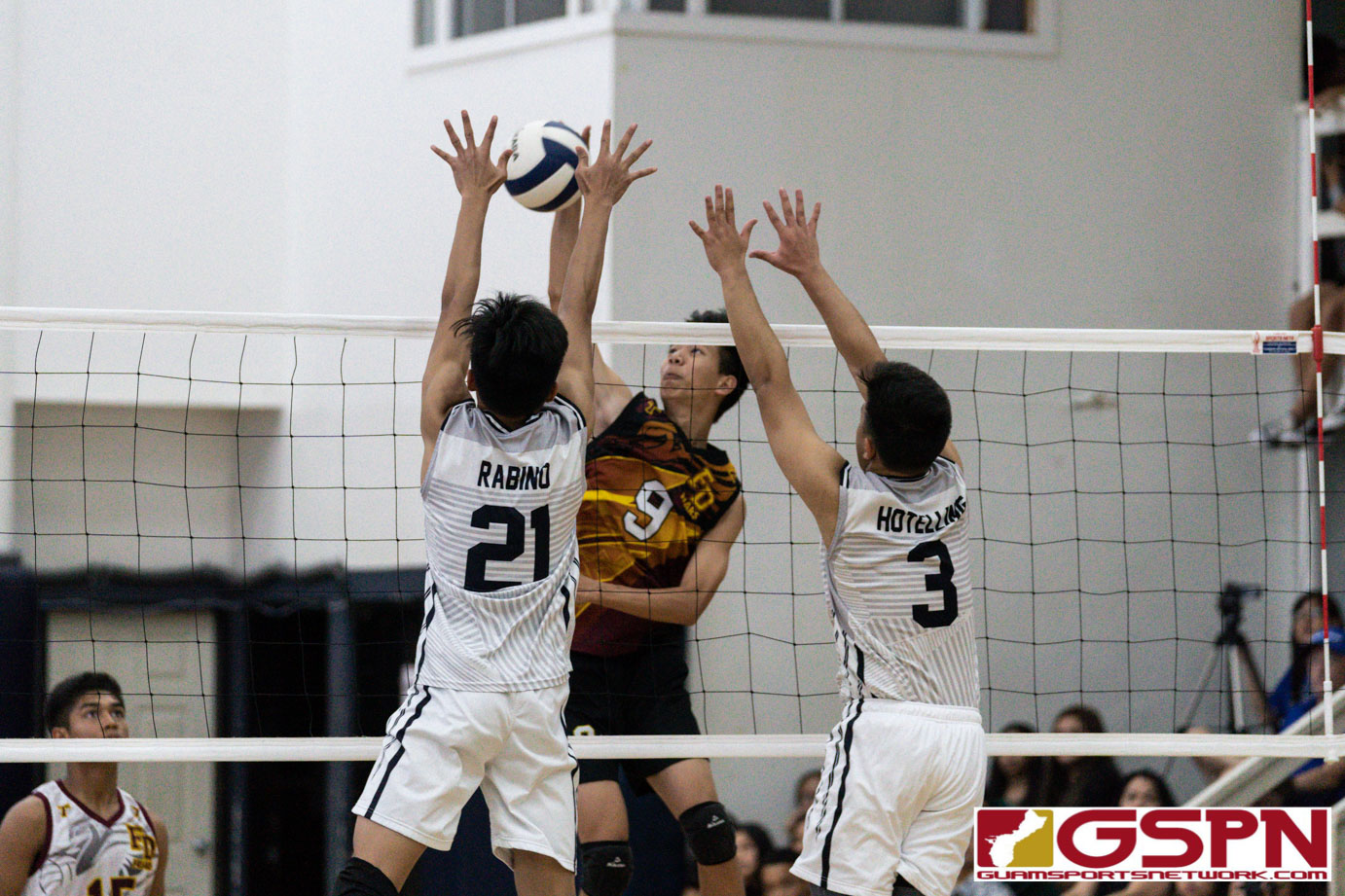 By Robert Balajadia
FD Friar setter Logan Pangelinan is usually all smiles during a volleyball game, but not a single one could be found as they started off shaky and trailed for majority of the opening set against the home team St. Paul Warriors Tuesday evening.
The reigning MVP helped his team regain control to win the opening set which got them back to playing a more fluid type of game after running away with victory in straight sets 25-22, 25-9, 25-15.
"Normally we get off to a good start and get a lead early, but instead we trailed 4-0 to start the game so we knew we had to get back. There was no time for fun in that set. We really wanted to get that lead back so we all played a little more serious," said Pangelinan.
Aidan McDonald had a game-high 13 kills with six coming in the opening set. Pangelinan worked the ball around and never allowed his hitters to get cold with his fellow hitters Soriano and Jeremiah Ngyuen and middle Brian Anderson also putting in strong performances.
"Aidan was working, he's always working, our middles were establishing themselves, but once I started seeing everyone getting on track I just fed everybody," said Logan.
Not so hot start
The Warriors jumped out to a 4-0 start behind a big block from Jonathan Sevilla and an ace from Jonathan Hotelling to force an early Friar timeout. The Friars got a pair of kills from McDonald to get on the board, but still trailed until tying the game at 12 off a Brian Anderson kill up the middle. FD would take a brief lead after a Warriors error, but the teams would battle to a 16 all tie.
That prompted one of the more vicious kills from Pangelinan to take a 17-16 lead off a pass from the backline. Pangelinan's kill would get the team riled up, but the relentless Warriors still found success taking a 21-19 lead off a Sevilla kill. Pangelinan got his third kill of the set followed by a block from Anderson to tie the game.
Anderson would come up big with a kill for a 24-22 lead, which ended in a large sized McDonald kill off  a set from Pangelinan to take the set.
FD started out the second set much stronger going 8-0 before a serving error ended their run. Soriano started to get going on back-to-back kills for a 12-4 lead. The young sophomore hitter Elijah Garrido was big down the stretch of the second set where he locked in two kills to go up 18-7 against his former team. The Friars hitters started teeing off with Pangelinan feeding them all, plus desserts, as the Friars dominated to a 25-9 second set win.
"Once we got that early lead we started getting into rhythm and having fun comes within getting into rhythm. So once we found that, we all started to have a lot more fun," said Logan on the return of his happy side.
The Friars didn't let up in the final set with 14 of their kills coming off of sets from the former MVP. But it's not like he wears the prestigious award on his chest as Pangelinan doesn't feel any different nor does he feel the need to defend his MVP selection.
"I don't feel that kind of pressure, I just play," ended Logan.
The Friars improve to (7-0) on the season and the Warriors fall to (3-3).
PHOTO GALLERY BROUGHT TO YOU BY:

COMING SOON …
High School Football starts Sept. 29
Brawl 3: Oct 13
Guam's Strongest Man and Woman Competition October 29
QUICK HITS
The Figo Islanders 40s women's softball team took gold in the Senior Softball World Championship in Las Vegas. Figo came out of the loser's bracket and beat the Arizona Belles 17-3 in the AA division championship game Sunday afternoon.
Other Guam teams that played in the 40s tournament were: Team SOTTA (women's) and Bud Light Guam, Friars 671 and Sindalun Guahan (men's).
Sindalu finished a respectable 4th out of 24 AAA division teams.