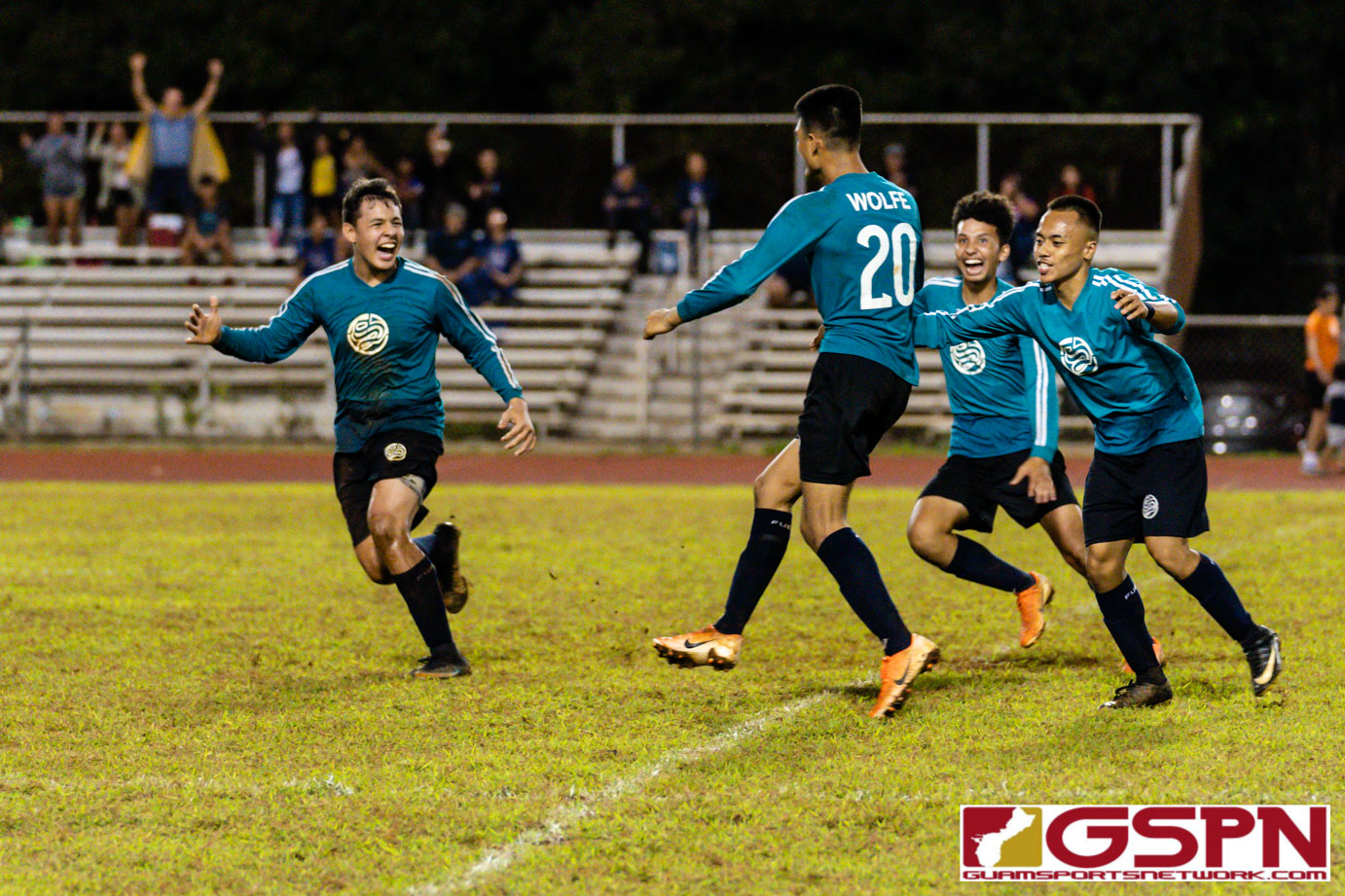 By Robert Balajadia
On the last play of the game in the the 94th minute of overtime, Southern Dolphin striker Zach Wolfe successfully shot a free kick to score the eventual game-winning goal to beat the home team Okkodo Bulldogs 3-2 Friday evening.
Wolfe's kick sailed perfectly over the defense and hit a mid-air curve that caught the Bulldogs keeper off-guard, hitting nothing but the back of the net to put the Dolphins ahead. The final whistle was blown just seconds later with Southern pulling off the minor upset to advance to the semifinals next week.
"I was trying to focus and not jam the ball. I was just trying to concentrate just put it in play," said Wolfe on the goal. "I don't really practice that shot as much, but it just kind of worked out tonight."
(the play was captured on GSPN's Instagram stories)
The Bulldogs struck first as Janeson Quitano provided a big goal after intercepting a Dolphin drop back in the box to net the games first goal in the 28th minute.
Southern quickly responded in the 30th minute after Cisco Brown made good on a penalty kick after a Bulldog defender tried to play a ball while on his back inside the box.
The Dolphins came up big in the second half as Dylan Fegurgur scored on the 59th minute off a poor clear from the Bulldog defense. Fegurgur powered the shot through just inside the box to put the Dolphins ahead for the first time.
Okkodo would respond in crunch time as forward Janeson Quitano placed a perfect pass to his streaking teammate Ivan Borja. Borja used two dribbles to get ahead, shooting right before Southern's keeper Nathaniel Florida could catch up, netting the equalizer in the 72nd minute.
Neither team managed to score in the first seven minutes of overtime before switching sides for the second half of overtime.
A foul was called on Okkodo's Mackey Rasmussen trying to fend off the offensive pressure applied by Wolfe and the sideline official called the infraction. The games started physical and didn't let up all night.
"Everyone's out here giving it their one-hundred and be super aggressive. We all want it so bad so that's all that it was," said Wolfe on the heightened level of physical play.
The foul would prove big, allowing Wolfe to settle in to the big kick.
Southern will face the Harvest Eagles in the semifinals next weekend after the Eagles defeated the St. John's Knights 3-0 in the earlier game.
"We're going to give it our best and that's all we can do," added Wolfe on heading into the semis.
PHOTO GALLERY BROUGHT TO YOU BY: