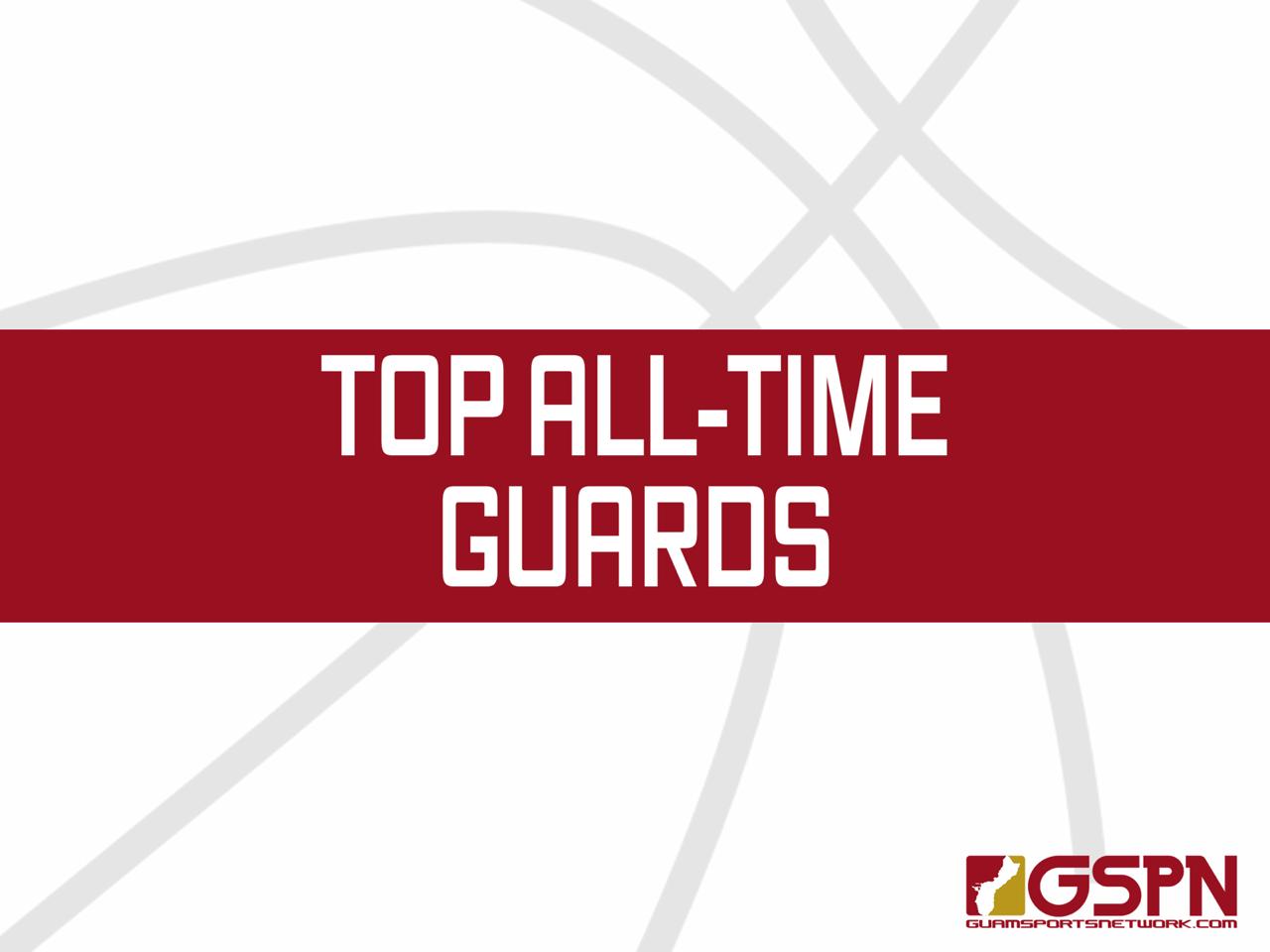 By GSPN
With the amount of attention our "All-Time Football Schools" were getting, many wanted us to dive into basketball, which has a very rich history on Guam.
We'll be grouping three of the schools best players from all generations in three different positional categories which include: Guards, Forwards and the big boys at Center and then stack them against each other.
We begin our rankings at Guard: The Playmakers
#1 JFK: JP Cruz, Joe Taitano, Erwin Villa
The Islanders have produced possibly the two greatest shooters ever in Guam Basketball history in J.P. Cruz and Erwin Villa. Cruz is widely considered Guam's best sniper to ever lace it up and Villa was a red-hot shooter who wowed the crowd before the popularity of the long-ball in today's game. The two snipers coupled with one of the faces on Guam's Mt. Rushmore of Basketball in Joe Taitano, it's hard to place the Islanders anywhere other than at the top. Villa and Taitano also went on to have successful coaching careers, furthering their basketball legacy. Cruz is still lighting up scoreboards on a local and national level as he remains one of the offensive focal points on the Men's Team.
Alternates: Kurtis Silva, John Cruz, Roger Dequina, Jose Marquez
#2 Father Duenas – Willie Stinnett, Chris Fernandez, Champ Calvo
There's a reason Willie Stinnett has been at the forefront of the Men's National Team as the Captain for nearly a decade – he leads by example. Stinnett has won at just about every level he's played, which includes high school and representing Guam, and even found a nice groove in his brief stint as a professional in New Zealand. Chris Fernandez is considered Guam's best floor general with his uncanny passing ability and high court IQ, which has earned him a spot on the Mt. Rushmore of Basketball. Edwardo 'Champ' Calvo paved the way for Friar Basketball in the mid 1970's, setting the tone for generations of exceptional FD hoopsters. Calvo guided the Friars to a title and eventually made Guam history with a gold medal in the 1975 South Pacific Games. It's also no coincidence that all three of these ballers have their jerseys retired by FD, the first in a batch of six players to ever receive that honor in Friar hoops history.
Alternates: EJ Calvo, Julius Yu, Noy Javellana, Earvin Jose, Dominic Sablan, Eddie Pelkey
#3 GCC – Joey Gogue, Mike Gogue, Roy Yutig
The GOAT Joey Gogue was and still remains the face (and memory) of GCC Tradesmen basketball. Under the guidance of Coach Bob Richards, the Tradesmen once had a fairly strong basketball program with 'The Pretzel' as its Jordan. Gogue could do it all ala Michael Jordan – the willpower, the drive, the hard work and of course, the natural skills of scoring from anywhere on the court. And the great 72-point game in the Far East before the 3-point line is always a forgotten memory for The Pretzel. Brother Mike Gogue was a quiet assassin: not a sound came out but the game was loud. Think Scottie Pippen when it came to Mike Gogue – a gifted athlete who excelled in so many other sports but quietly and happily played in the shadows of his older brother. Roy Yutig was a straight baller from Agat who could pop 30 in any given game.
Alternates: Joel Punzalan, Manny Ulloa, Vince Gogue
#4 GW – Arnold Mesa, Manny Alegre, Sid Guzman
This is a high-level, impressive trio as well. Arnold Mesa was a delight to watch, not many could compare. He's one of those, "you have to be there to believe it" athletes and he, too, played with barely a sound coming from him. Mesa made up a formidable backcourt with Joey Cepeda for Team Guam, when we just fell short of the gold in the 1999 SPG's here on Guam. Manny Alegre was a strong point guard who was a great leader and set up his team before himself. With a team-first attitude, Alegre would surprisingly pop some points on the board in spurts if need be. Sid Guzman was a slick guard in the late 1980's and had probably the smoothest handles in GW history.
Alternates: Rey Serafico, James Stake, Valiant Borja, Brian Williams
#5 St. Paul – Jahmar White, Tyler Smith, Morgan Aiken
The rise of Warrior Jahmar White wasn't a surprise to the basketball community as he quickly developed into one of the best guards in school history with his scoring and 'big-game' ability. Tyler Smith was a solid defensive guard and perimeter defender that was just an athletic level above his competition. Morgan Aiken was an explosive guard for the Warriors that carved up defenses and out-jumped bigs at the rim, which is a style he still plays in the pro circuits in Japan!
Alternates: Art Hameister, Tito Canovas, Thelo Orichiro, Vince Quitugua, Darrell Pangelinan, Andrew Borja
#6 St. John's – Michael Min, Gabe Lombard, Darrick Bollinger
Once every generation a basketball star is born at St. John's. Michael Min may have been the league's worst kept secret after dominating the middle school scene, but he quickly developed at an MVP rate to help bring the Knights their elusive first title in a stacked league! Before the association with triathlons and fitness in today's sports landscape, Gabe Lombard was filling up the box scores as a Knight as one of the best scorers in school history. Darrick Bollinger was well known as a star swimmer for our island, but his game on the court was just as impressive by leading the Knights to the 1995 title. Yet another quiet baller, Bollinger was quick to the hoop and ready to make contact underneath on just about every drive taken. His cardio was a no-brainer.
Alternates: Argie Flores
#7 Sanchez – Sam Delin, Mike Sheppard, John Buan
Old school Sam Delin was a straight killer on the court, who was unafraid of anyone nor anything. That chip on the shoulder provided results as he out-hustled the other nine players on the court. Mike Sheppard was pure silk. He had an envious mid-range jumper and overall slick game with probably the highest entertainment value in school history. You'd want to watch a Sharks game to just see Sheppard in action. John Buan had a motor like no other with his ability to will his team to victory. Buan was the epitome of "giving it your 110%" every play and did whatever his team needed on offense and defense. Sharks former coach Jin Han once said, "I wish I had 10 John Buan's."
Alternates: AJ Carlos, Nilo Colitoy, Robin Gabriel, Marlon Simbulan
#8 Oceanview/Southern – Peter Sanchez, Kevin Sanchez, Ron Taitague
During the era of Felipe Candaso as the Oceanview head coach, you know he was going to release the dogs. And the dogs came out!
Peter Sanchez was the most irritating opponent. His gear was on high every second on the floor, giving his all full court and leaving many a team in pure frustration. Kevin 'Flash' Sanchez was crossing over opponents before crossing over someone was even a thing – hence, his Flash nickname. Ron Taitague is in the Oceanview history books as part of the backcourt of the Knights Far East Basketball Championship Team. Taitague and sidekick Cy Concepcion were the backcourt studs in that exciting, historic team.
Alternates: Cy Concepcion, Sandy Fejeran, Joel Balbastro, Tony Susuico
—————————————— BREAK ——————————————-
Apologies to the Inarajan Eagles. They would have fit around this area of the listing with the likes of Ed Paulino and Dean Castro. Southern boys who played with a lot of heart and ball skills.
#9 Okkodo – Neil Apilado, Aaron Blaz, Vern Gustilo
The Bulldogs have a little over a decade of existence Guam sports history, but it always seemed basketball was their strong suit since joining the ranks in 2009. MVP Neil Apilado brought the school their first title in 2011 and will forever be tied to that historic season. Aaron Blaz would develop as the team's go-to scorer when the team competed for back-to-back titles and Vern Gustilo shot to internet fame after his 'through the legs' defense U19 competition was only a glimpse of craftiness from the guard. After that, he was simply known as The Vern.
#10 Guam High – Juan King, Anthony Williams, L.J. Aguon
Anthony Williams was a do-it all guard for the Panthers in a strong 2006 run where they finished in the top half of the league. Joe Taitano regarded Williams as the best point guard during the 2006 season. Juan King was an electric guard that just had a knack for scoring, from anywhere. LJ Aguon was a lights out shooter and had led the team in scoring in back-to-back seasons.
Alternates: Austy Hines, Rodney Taitague
#11 Harvest – Sammy Setik, Kobe Sotelo, Miles Herron
Sammy Setik and Kobe Sotelo were both explosive guards who lit up the scoreboard on a consistent basis. Setik was an aggressive attacker and a streaky shooter. Sotelo had a smoother style and was a great ball handler that often looked to get his teammates involved. Miles Herron was better known for his volleyball antics, but his all-around game translated well in basketball.
#12 Notre Dame – CJ Cruz, Jared Meno, Roland Balajadia
CJ Cruz was ND's go-to player in his years in varsity basketball. He had a strong, high IQ point guard who had a knack for seeing plays before they develop. Jared Meno was one of the Royals best all-around scorers in school history. Jared's 3-point shooting ability was one of the best in the league. Balajadia was athletic and crafty, Roland was a problem for defenses. He used his length well at the guard position on both ends of the floor.
#13 Tiyan – Westbrook Concepcion, Johnsey Hagel, Marc Evangelista
The Titans are the youngest batch of ballers of the group, but all three of these talents have appeared on GSPN All-Star Rosters, which is a milestone for the school!

QUICK HITS
Bishop Obispos beat Mt. Carmel for the IIAAG Middle School Girls Basketball championship 37-25.
—————————————-
The Benavente Roadrunners crushed the Agueda Pirates 17-1 to win the 76 PONY Middle School Baseball League. Rodney San Nicolas was a beat, striking out 13 batters in a complete game while going 4-for-4 at the plate, including a homer and 4 RBI.