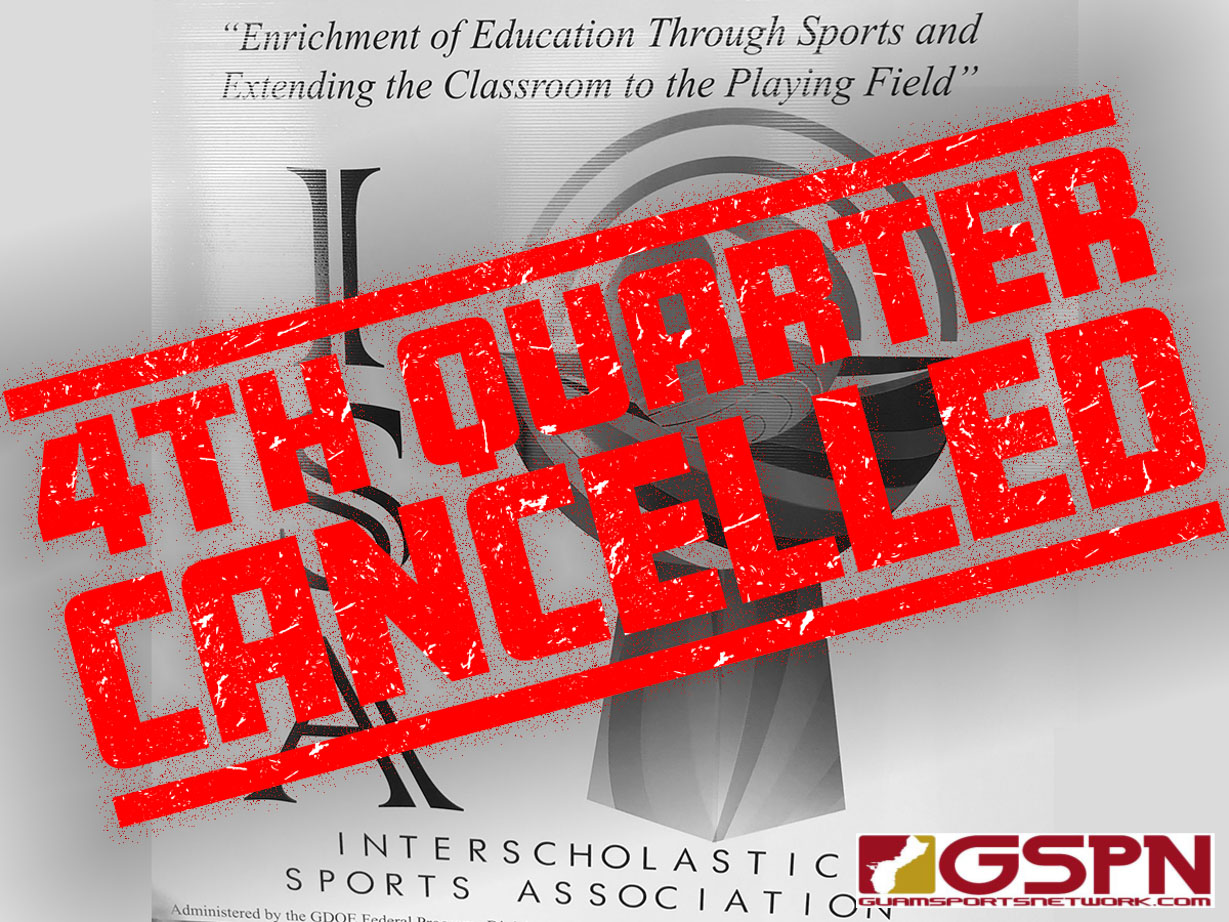 By Robert Balajadia
Superintendent Jon Fernandez announced on social media that GDOE had officially canceled the rest of 4th quarter for all schools, which in turn meant the cancellation of all ISA 4th quarter sports as well.
ISA Program Coordinator Al Garrido sent out a press release Monday afternoon breaking the news of the official cancellation and that the team is meeting to discuss what will happen to the only sport that didn't get to finish their season in the 3rd quarter in girls softball. Garrdio also hinted at the possibility of the ISA looking into summer and e-sports activities to try and compensate for the the 4th quarter cancellation.
Middle School Sports Canceled
– Boys Volleyball
– Track & Field
– Girls Soccer
High School Sports Canceled
– Boys Volleyball
– Girls Soccer
– Paddling
– Track & Field
– Bowling (Inaugural)
Athletes React
The Track & Field Season has been the high point of many GDOE high schools and their 4th quarter cancellation falls nothing short of devastating news. The JFK Islanders were prepped to defend their 2019 Girls Title with their boys ready to try and reclaim their spot at the top.
"I haven't really spoken to the girls specifically about the championship but I'm sure they're disappointed but I'm also sure that they fully understand the situation. It's unfortunate because I have several seniors that were really looking forward to finishing their last season and has been preparing extremely hard prior to this," said JFK Track & Field coach Jay Antonio.
"I think we just have to take this experience and learn from it and appreciate what we had pre-covid 19. I'm just proud of their dedication and positive attitude. I think several of our senior athletes would have excelled well this season such as Kiana Rivera, Johnizha Laleo, Joseph Aguon, Taiga Sato, and Ryan Kent. These guys have been training and I hope they can consider collegiate level to showcase what they can do. Once this pandemic is controlled and done, I will make sure that we can provide some type of opportunities for all our local the track and field athletes," continued Jay Antonio.
The paddling season was also set to feature a pair of GDOE defending champions in the Okkodo Bulldogs (girls) and Sanchez Sharks (boys). Sharks team captain Joshua Sablan was looking forward to rounding out his senior sendoff in the waters after a bruising season of football and rugby.
"I'm sad that we're not able to continue with sports, but at least we're missing for a good reason like our health," said Sablan.
The inaugural season of bowling was also set to be a big year for Jeremiah Camacho of the Okkodo Bulldogs after his team had won the exhibition title for two years in a row. Camacho is highly considered Guam's best youth bowler, and he was more than ready to welcome bowling to the official sports calendar.
"It's been pretty rough. Bowling has been apart of my life and it's hard to just sit back and do nothing. I was really looking forward to 4th quarter bowling, but safety is priority for all student-athletes!," said Camacho on missing his junior season.

QUICK HITS
The Figo Islanders 40s women's softball team took gold in the Senior Softball World Championship in Las Vegas. Figo came out of the loser's bracket and beat the Arizona Belles 17-3 in the AA division championship game Sunday afternoon.
Other Guam teams that played in the 40s tournament were: Team SOTTA (women's) and Bud Light Guam, Friars 671 and Sindalun Guahan (men's).
Sindalu finished a respectable 4th out of 24 AAA division teams.