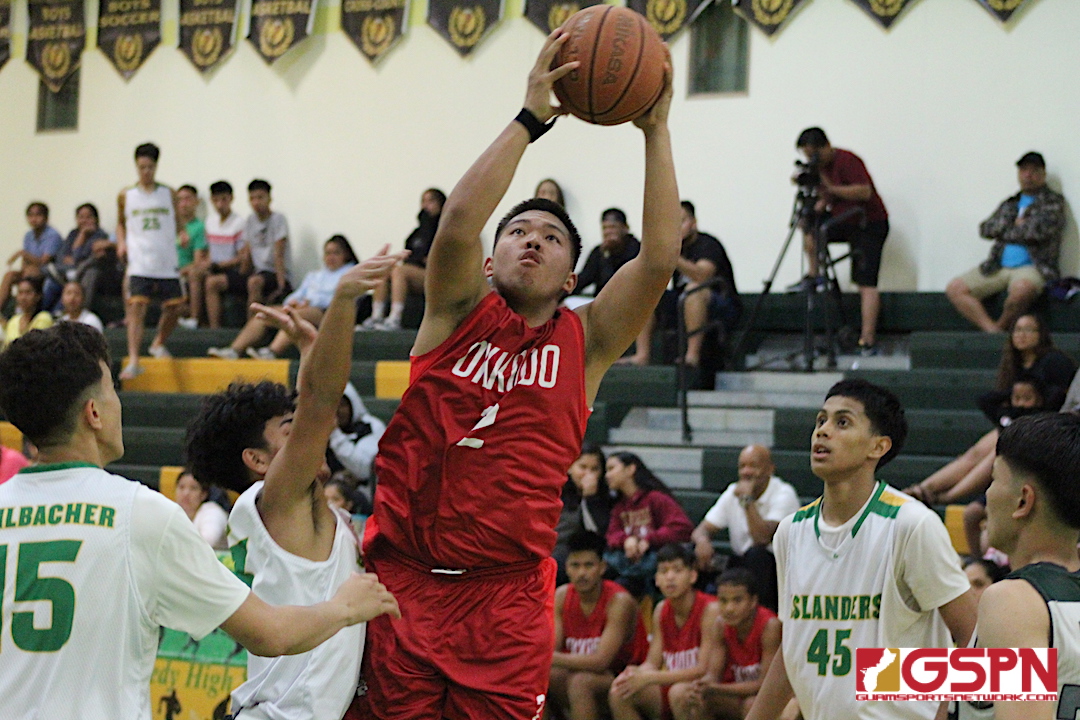 By Robert Balajadia
The Okkodo Bulldogs didn't get their first lead on the home team JFK Islanders until overtime, and they didn't surrender it once they captured it. Okkodo buckled down on defense to hold JFK scoreless in the extra period, pulling out a 62-55 victory in the ISA Boys Basketball League Tuesday evening.
Trailing 55-50 with a little over a minute left, Okkodo's Lenard Baul flipped on the clutch switch. Baul would strip JFK's Amram Yobei at mid court for a fast break layup to get within 55-52. Baul would follow up with an even bigger bucket, hitting a three from the left wing to tie the game with 18 seconds left.
"If you know it's critical you have to take the shot, miss it or not, you just got to do it," said Baul on taking and making the biggest shot of the night. "You just gotta do your job and play with confidence. We were antsy in the beginning, but when it came down to it, that's when we put our heads up an kept playing."
JFK's Rodson Simina would get an isolation play from the top of the key, using a cross over to get inside the paint. Simina floated up a shot that appeared to be online, but the shot would hit back rim, bouncing to Bulldog Kobe Santos.
Santos would dribble the ball down court and tried to get a final shot off, but the final buzzer would sound before Santos could get his release, despite the ball banking in for what would have been the game-winner.
Okkodo didn't waste their chances in overtime after taking their first lead of the game off a Jessie Martin baseline jumper 57-55. Baul would then get in the pain for an easy deuce to extend the lead 59-55 with under a minute left.
"We held it down on defense," said Jon Lorena on what allowed them to stay in the game and trailed by as many as 10 points. "We were stagnant in the first half, but when it mattered most we held it down and that's all that mattered."
The Bulldogs had fallen to the Islanders in the GSPN Preseason Tournament by a large margin. When asked if that loss had any effect on how passionate the Bulldogs came out Tuesday evening, Lorena assured that they will come to play against any team on their schedule.
"We've been wanting to challenge these guys since the preseason and they're a great team, but it doesn't matter who we play. We will come to play every night and that's how it is, we have love for the sport. Doesn't matter who it is, we'll come to play," said Lorena.
Lorena led all Bulldogs with 16 points and Baul scored all eight of his points in the 4th quarter and overtime periods. JFK's Simina led all scorers with 26 points and Ralf Manalac added 13.
PHOTO GALLERY BROUGHT TO YOU BY:

QUICK HITS
The Figo Islanders 40s women's softball team took gold in the Senior Softball World Championship in Las Vegas. Figo came out of the loser's bracket and beat the Arizona Belles 17-3 in the AA division championship game Sunday afternoon.
Other Guam teams that played in the 40s tournament were: Team SOTTA (women's) and Bud Light Guam, Friars 671 and Sindalun Guahan (men's).
Sindalu finished a respectable 4th out of 24 AAA division teams.