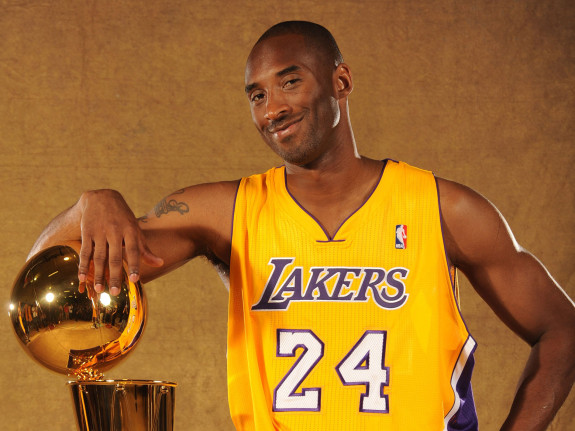 By Robert Balajadia
What inspired you to be where you are today? If you're not where you want to be, are you still striving to get there? If you're living it, are you enjoying it? What is your reason?
These are just some of the questions that have come to mind these past couple of days as I try to lament the passing of my reason for most things in my life, Kobe 'Bean' Bryant – Los Angeles Lakers Basketball Superstar.
To me and most, he was the greatest athlete to ever live, simply put. Even though a strong majority of Kobe's fans have never met him, the impact of his tragic death, including his daughter Gianna and seven others, hurt like losing a family member. It felt like losing a part of yourself, and to even your surprise, it hurt more than you would have thought.
Why does losing someone you never knew personally hurt so much? You either completely understand it or you don't understand it at all. The amount of things that get lost in translation is abundant and trying to translate these feelings into words is near impossible.
But I can explain his impact. For me and most kids born in the late 80's and early 90's, Kobe's impact was real, which inspired the reason I am where I am today.
This is a reaction story I didn't feel comfortable writing, for many reasons, mostly because I was a crying emotional wreck. But the more I started to reflect, the more I understood that I'm in a unique position in my career and I have a platform to speak on what Kobe meant to us, his fans.
A kid watching Kobe
My interest in basketball had piqued watching my Uncle Nick imitate Michael Jordan every chance he got, but I knew nothing more of Michael other than that he and the Looney Tunes saved the planet from the Monstars.
My grandfather was a hardcore Lakers fan. He became a fan watching the Lakers during the "Showtime" era and had been a loyal fan ever since (RIP Grandpa Rick). My father, by nature, was also a Lakers fan which meant the Lakers games were always on TV. I would always ask, "Where's Michael Jordan?", but my Grandpa would always shift my attention towards the Lakers. I still didn't really understand basketball at seven years old, but I did understand the Lakers were synonymous with winning.
As Kobe's game started to elevate, NBA Championships were won during my elementary and middle school years from 1999-2002 and I got to witness all of it on TV, thanks to Gramps. I was instantly captivated and pledged loyalty to Kobe and the Lakers, the first athlete and team I had ever dubbed as 'my team'.
My Aunt took me to get my first pair of Kobe ADIDAS, the first signature shoe of any athlete I've ever gotten. Mom would stock me up with Lakers gear and my love for sports was starting to truly take shape.
We all have similar stories of watching Kobe perform something so mesmerizing that moments later we'd all go in our drive ways and practice those same moves. Add me to that long list of kids.
My idolizing and fandom of Kobe would only grow as an adult, collecting shoes and paraphernalia as much as I could, whenever I could.
I could go on and on about his basketball accomplishments and what each specific milestone meant to me, but you've heard them all before from everyone else and from people who knew him personally.
One of the saddest days in his career was his final game before he retired, but that also turned out to be one of the most amazing moments in sports that I'll always remember, dropping 60 on the Jazz with his whole family in attendance.
Kobe's everlasting impact
While many kids can attribute their now adult and current basketball career to Kobe, I can't entirely relate. Kobe was the reason I loved basketball, but it became pretty apparent at a young age that my former life-long dream of making it to the NBA wasn't going to happen. But I loved sports way too much for it to just be a hobby.
I would flip on Sports Center before I'd flip on cartoons as a kid. I'd race home to catch the end of some basketball games and loved talking about the NBA with my peers at school. It was my hobby that was becoming more and more a part of my daily life and Kobe fueled every ounce of that.
When I graduated from high school in 2008, I had to start visualizing a career and what I wanted to do for the rest of my life. It was almost a no brainer: sports journalism. I had always been good with words and writing and I didn't want to settle for anything less than a sports-related career.
I was warned by a friend's parent that journalism itself is too competitive and chasing it as a career wasn't smart. She suggested I switch majors in college to focus on computers because that was where the money was at. Needless to say, I didn't listen to her. She didn't understand I had the Mamba's mentality and that I wasn't scared of competition.
I had always dreamt that my career in journalism would open a window for me to meet Kobe Bryant, even if it were just once for a short time. And I knew exactly what I wanted to say to him.
We have the same birthday, August 23.
Of all the sports and life related things that I could possibly say or ask him, why is that at the top of my list??? Because then he'd know that we had something in common and letting your idol feel relatable to you was the ultimate win. That, and I too started dating my future wife at 17 years old!
Plenty of fans on Guam shared their stories of Kobe and what he meant to them on social media and I found each one I read as relatable as I hope the one I'm sharing is to be.
My mother is the biggest Michael Jackson fan on Guam and his passing greatly affected her. She was the first to contact me when she heard the news of Kobe's passing as she understood I viewed Kobe the same way she did Michael. One of my closest friends Ryan was the next to hit me up because we both put Kobe on the highest pedestal. Then a wave of people checked in on me, making me realize how much I portrayed Kobe's importance in my life.
I'm passionate about things, but mostly in private. I am publicly passionate about sports and people who know me can easily associate me with two things: the LA Chargers (former San Diego) and most especially, Kobe Bryant.
And I wouldn't have it any other way.
Thank you Kobe, for being my reason. There will never be another.

QUICK HITS
The Figo Islanders 40s women's softball team took gold in the Senior Softball World Championship in Las Vegas. Figo came out of the loser's bracket and beat the Arizona Belles 17-3 in the AA division championship game Sunday afternoon.
Other Guam teams that played in the 40s tournament were: Team SOTTA (women's) and Bud Light Guam, Friars 671 and Sindalun Guahan (men's).
Sindalu finished a respectable 4th out of 24 AAA division teams.