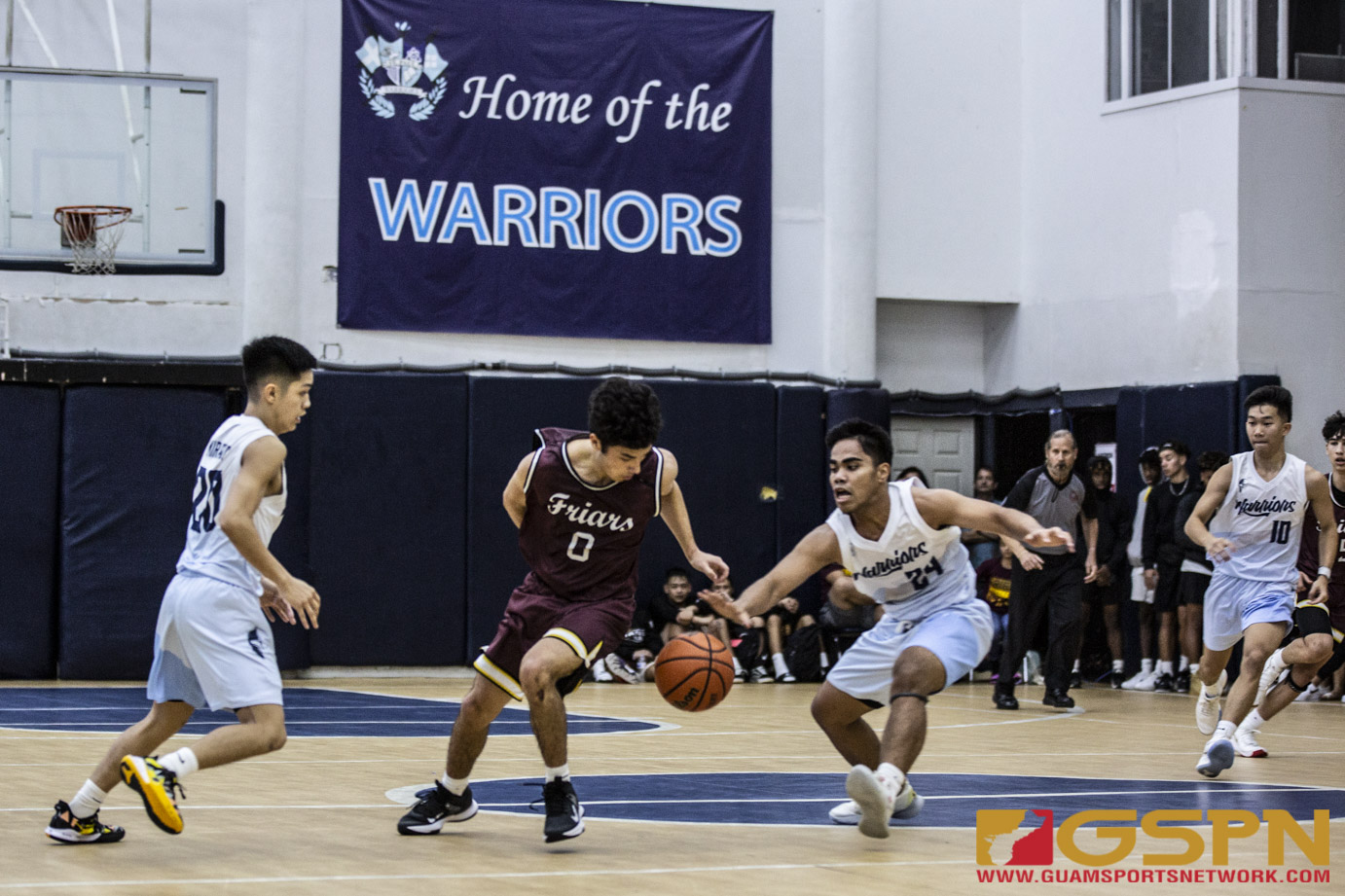 By Robert Balajadia
The most anticipated match-up of the IIAAG Boys Basketball season between the FD Friars and St. Paul Warriors had packed the house at St. Paul Tuesday evening with both teams meeting for the first time since last years Championship Game.
FD held off a furious Warriors barrage in the final minute of the game to grab a 53-50 victory to stay unbeaten (4-0) on the season.
Freshman rising star Blaise Ada led the team in scoring for the third straight game, netting 12 points against the Warriors while providing a big-time three in the 4th quarter.
The Friars had surrendered their 4th quarter lead after an Audrey Dela Cruz three put the Warriors up 35-34. Ada would tie the game at 38 from the free throw line and guard Colin Santiago would give FD back the lead moments later. The Friars would nurse a 40-38 lead before Ada's big three from the wing to get up 43-38 at the 1:20 mark of the 4th.
"My bigs set me a good screen and I got a wide open shot. My coach and teammates have been telling me to shoot all game and I just did it," said Ada on hitting the much needed shot.
Ada is averaging 16 points per game over the three-game span and his emergence as a go-to scorer for the team is no fluke.
"At first I wasn't comfortable, but my teammates have just been telling me to stay composed, do whatever the coach tells me to do and execute," said Blaise on settling in to his role on the team.
The Warriors were led in scoring by Dela Cruz with 16 points.
Warriors three point flurry
The Warriors refused to go away with less than 30 seconds left in the 4th after converting on three straight three-pointers to stay within striking distance. Down 48-41, Thelo Orichiro would hit the first from the right wing to get the Warriors within 48-44.
The Friars would split their free throws up 49-44. Warriors guard Brandon Miranda would use a hesitation side-step to get open for another three, getting his team within 49-46 with just 15 seconds left to play.
Friar Daryll Robles would make his first free throw, but miss his second. The Warriors had trouble on the rebound allowing Robles to corral the ball for an easy bucket to get up 52-47 with seven seconds left. Orichiro would convert on a heavily contested three to get within 52-50, putting Friar Colin Santiago on the line with 2.9 left to play.
Santiago would split his free throws with St. Paul forced to send up a half-court heave to try and tie the game, but Miranda's shot proved well off to preserve the Friars win.
The basketball rivalry between the schools was prevalent all night, from the crowd reactions to the intensity on the court. Even though the match-up is one of the premiere games of the season, Fegurgur felt it was important for the Friars to treat Tuesday's game like business as usual.
"We treat every game the same. Even though this one was a long awaited one, I don't feel any differently about this one. I'm ready to kill and that's how I always feel," said Fegurgur.
The Friars, Warriors, Panthers and Bulldogs all participated in the Kanto Classic in Japan a little over a week ago and each of those teams have played a lot of basketball despite it being just week three of the IIAAG season. Regardless, Fegurgur is embracing the grind.
"I would say that we are tired, but being tired is part of the process. You have to get tired to get stronger," added Fegurgur.
PHOTO GALLERY BROUGHT TO YOU BY:

2022 GSPN I MÅS METGOT COMPETITION
2022 GSPN I MÅS METGOT COMPETITION
2022 GSPN I MÅS METGOT COMPETITION
2022 GSPN I MÅS METGOT COMPETITION
2022 GSPN I MÅS METGOT COMPETITION
2022 GSPN I MÅS METGOT COMPETITION
COMING SOON …
GNYFF Championship Saturday
2nd Annual Greg D. Perez Fishing Tournament on Saturday
GML Playoffs
1st Quarter Sports
QUICK HITS
Team Onslaught represented Guam at the National X-Ball League paintball tournament in Sacramento, CA. The squad finished in 3rd place out of 12 teams in the Division 5 category.
Front L-R: Frankie Borja, Robert Delos Reyes
Back L-R: Marvin Reyes, Ericka Camacho, Gavin Santos, Nick Rivera, Nikki Tan, Adrian Mora, Ralph Sgambelluri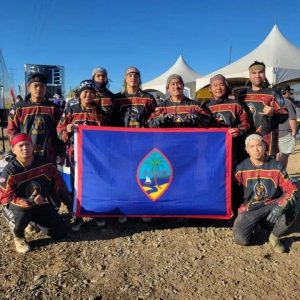 ———————————————–
Purebred Jiu-Jitsu Guam adds three more to their black belt stable. Daniel Cayanan, Cameron Mantanona and Peter Ungacta received their black belts on Saturday from Professor Stephen Roberto.