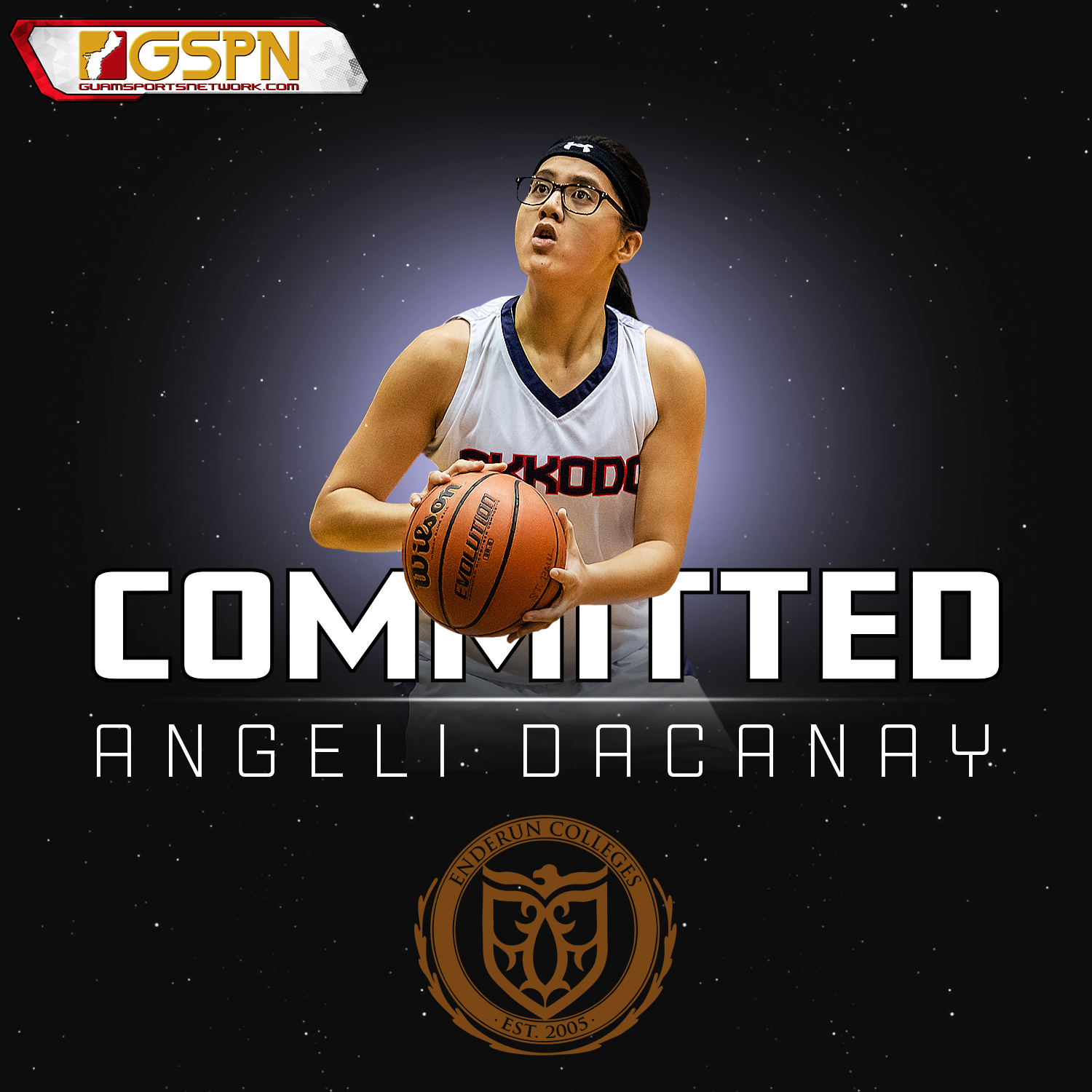 By Robert Balajadia
Okkodo Bulldog's leading lady Angeli Dacanay had put in an unforgettable senior season of basketball, winning the league co-MVP award and finishing 2nd place overall in a competitive season. Despite her senior year being cut short due to the pandemic, Dacanay knew college was just around the corner and she had quickly set her attention to the next chapter in her life.
Dacanay had her sights set on colleges like Chaminade and St. Martins, to whom she even received offers from, but a persistent former Guam Basketball star would end up playing the biggest part in the recruitment of Dacanay to Enderun College in the Philippines. Former St. Paul Warrior and current Enderun athlete Joy Pangilinan informed Angeli that the school wanted to offer her a full-ride athletic scholarship, an opportunity that Dacanay couldn't refuse.
"It ended up being a last minute decision and [Joy] contacted me herself to try and recruit me. It was a hard decision to make, and my family didn't really want me going overseas due to the pandemic, but Joy was persistent," laughed Dacanay.
Angeli and Joy developed a close relationship after the Bulldogs trip to the Philippines last season where they played scrimmages against Enderun College. The two have stayed in contact since, which was a catalyst during the recruitment process.
That dream quickly became a reality as Dacanay had less than a month to get her classes together and begin her collegiate courses online, starting just this past Monday. The pandemic had already taken the full experience of her senior year and it was starting to affect her first year of college.
"After not being able to get the full high school experience I knew I had to make some big decisions for college. Even though this is affecting my freshman experience, I'm grateful for the opportunity," said Dacanay.
Communicating with the team
Dacanay has been in constant contact with her Enderun teammates as they meet daily on Zoom calls to talk basketball and overall well being. They workout on Sundays with each other via Zoom as well, which is only going to make Dacanay's integration so much easier when she's allowed to join them, hopefully sometime before the year ends.
"It's hard because I'm the only one who only speaks English and everyone else speaks Tagalog. They all try their best to speak English just for me and that means a lot," added Angeli.
Dacanay's role on the team hasn't been established just yet. She's always played a 'big' role on Guam, but she won't be entering as the tallest member of her team. While she's not sure what role she'll fill, her expanded offensive game will find its way to make an impact.
From a pure back-to-the-basket scorer to an now established mid-range jump shooter, Angeli's game has come a long way.
"All that credit needs to go to my coaches. Coach Madd, Rox and Cabral helped me turn into the player I am today after helping me grow these past seven years. They really took their time and molded me into the best player I could be. I was the only one holding myself back, but they kept reminding every day of the player I could be," said Dacanay.
Angeli has also been putting in her own workouts while still on Guam, getting reps in at the National Training Center in Tiyan every Monday, cardio sprinkled throughout the week, and extra court time at FD when she can. Balancing all of that on top of her Enderun online classes has been quite the challenge!
Dacanay will continue to take courses online until she's able to travel to join the team so her departure date will remain up in the air, much like many plans have been forced to be due to the pandemic.
"I also need to give a huge shout out to Joy for recruiting me. She was the biggest factor in all of this happening. Hopefully I can join them as soon as the whole pandemic bowls over."