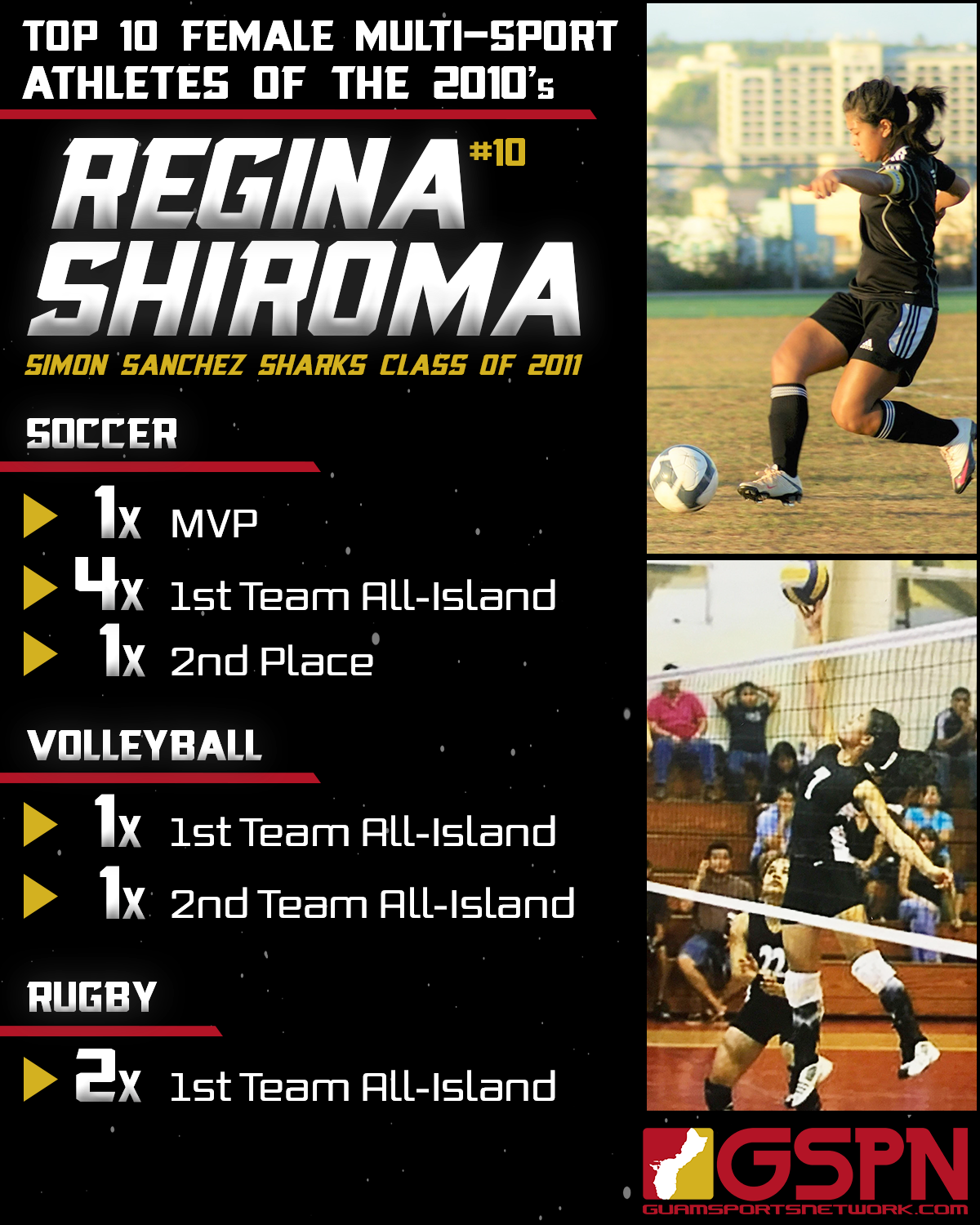 By Robert Balajadia
With high school sports officially wrapped up for 2020, we've decided to count down the top 10 male and female multi-sport high school athletes of the past decade (2010-2020). This list centers around athletes who were not only dominant in one sport, but were multi-faceted stars every time they took the field/court.
Following the direction of a list created by GSPN's Patrick Lujan four years ago on the best multi-sport athletes ever on Guam, 'like sports' (like cross country and track & field) will be ranked the same.
Today we start with: #10 Regina Shiroma
The daughter of one of Guam football's greatest ever, Buzzy Shiroma, Regina was surrounded by sports her entire life. The star athlete started to really come into her own as an upperclassmen, capturing MVP of soccer her senior season in 2011 while leading her team to a championship game that ended in a 2nd place finish.
Regina would also help her Sharks become one of the top four teams in volleyball that season with a 3rd place finish, while also securing herself as one of the league's best hitters with an All-Island nod.
Shiroma would wrap up her final season of rugby with back-to-back First Team selections.
Regina would spend time with the women's national soccer and rugby teams post high school before taking time to lend her writing skills to GSPN for a couple of years.
Shiroma's high school accolades
Soccer – 1x MVP, 4x 1st Team All-Island, 2nd place finish
Volleyball – 1x 1st Team All-Island, 1x 2nd Team All-Island, 1x Honorable Mention
Rugby – 2x 1st Team All-Island
2011 Shieh Su Ying Female Scholar Athlete of the Year
Regina's reaction
"I am humbled! It's an honor to be selected, however, I can't take the credit. It has always been the Lord in who's strength I rely on! It is the Lord who granted me the capacity to even play sports like soccer, rugby and volleyball. Without Him, none of these accolades would have been possible. It was and is such a joy and privilege to have played these various sports and to give God the glory and honor while doing so!
I praise the Lord for the abilities He gave me to enjoy for a time. Most of my years were spent playing sports and going to school and since those days are passing away, I have found much more contentment and satisfaction in giving back to the One who gave it all anyway. Don't get me wrong though, playing sports was fun (and I still play in the women's soccer league on Sunday afternoons and your occasional pick-up game), but it is no longer the object of my affections. I am grateful to God to have played in the teams I did and to be coached by many because I learned so much about teamwork, setting goals, not giving up when things looked bleak, still trudging forward when things didn't go as I expected and so much more.
In Hebrews chapter 12, verses one and two it says, '…let us also lay aside every encumbrance and the sin which so easily entangles us, and let us run with endurance the race that is set before us, fixing our eyes on Jesus, the author and perfecter of faith, who for the joy set before Him endured the cross…' So less and less do I run after a soccer or rugby ball, and more and more do I run towards Jesus. I have come to experience and know that running this race of life is so much sweeter with Jesus as the captain of my soul. So thank you Lord Jesus! & thank you GSPN for the recognition!"
Honorable Mention
Mya Sanchez (Academy)
Brianna Benito (Academy)
Gemilie Ilao (Academy)
Dyonii Quitugua (GW)
Colleen Quinata (GW)
Sam Quinata (GW)
Tasha Palomo (GW)
Alexia Brown (Guam High)
Shania Bulala (Okkodo)
Regine Tugade (JFK)
Kiana Rivera (JFK)
Mary Gillan (ND)
Mames Blas (ND)
Brielle Meno (Southern)
Chloe Miranda (St. Paul)
Monica Giger (St. Paul)
Jenna Han (St. John's)
Hallie Wigsten (St. John's)