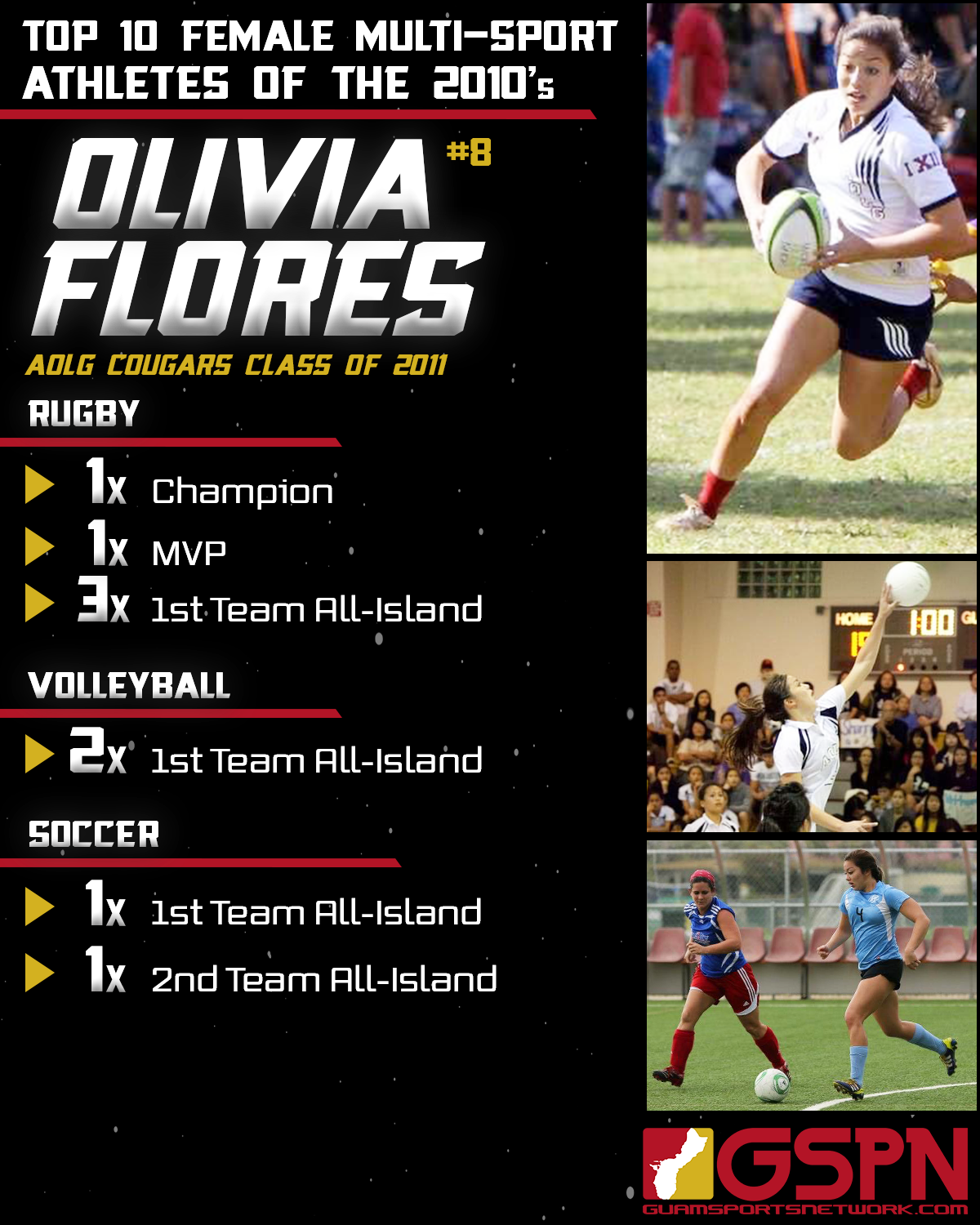 By Robert Balajadia
With high school sports officially wrapped up for 2020, we've decided to count down the top 10 male and female multi-sport high school athletes of the past decade (2010-2020). This list centers around athletes who were not only dominant in one sport, but were multi-faceted stars every time they took the field/court.
Following the direction of a list created by GSPN's Patrick Lujan four years ago on the best multi-sport athletes ever on Guam, 'like sports' (like cross country and track & field) will be ranked the same.
We continue the countdown with ladies #8 Olivia Flores of the Academy Cougars.
The post high school accolades of Olivia Flores could very well top her high school ones when you stack them together. Though, her high school play was nothing short of stellar as she took command of the Cougars volleyball, rugby and soccer teams as an upperclassmen.
Flores was voted as the leagues best outside hitter for volleyball for two straight seasons and led the team in scoring for soccer her senior year.
Rugby is where Flores really started to shine after being named the MVP of the league and winning a title her senior season. This was the last year that girls rugby would be played with flags, though Flores would prove later that the contact wouldn't phase her.
Olivia is a current staple on Guam's National Rugby team having toured with the team from Thailand in 2013 to Jakarta just last year. She's won five women's football titles with Team Legacy which makes it her adult accolades just as, if not more, impressive.
On top of all that, she's a nurse and mother who still finds time to stay active! She now goes by the name Olivia Flores Elliott after getting married a few years ago.
Olivia's high school accolades
Rugby – 1x Champion, 1x MVP, 3x All-Island 1st Team
Volleyball – 2x 1st Team All-Island
Soccer – 1x 1st Team All-Island, 1x 2nd Team All-Island
Olivia's reaction to making the list
"I feel very honored to be part of the 10 best multi-sport females of the decade. Ten years is a long period of time and there are so many great athletes that have made their statements throughout the years. I feel very fortunate to still be able to play alongside and keep up with all the rising stars and all the levels of talent. Their competition helps keep me young and drives my fitness. I have learned so much over the years and grown tremendously as a player and as a person. I feel so blessed that athletics has propelled me in so many ways in my life and provided me with so many unforgettable opportunities and friendships all over the world. I hope to continue playing sports for as long as my body allows, so that I set a good example for my son. I hope he picks up sports and I look forward to sharing all that I know with him."
Honorable Mention
Mya Sanchez (Academy)
Brianna Benito (Academy)
Gemilie Ilao (Academy)
Dyonii Quitugua (GW)
Colleen Quinata (GW)
Sam Quinata (GW)
Tasha Palomo (GW)
Alexia Brown (Guam High)
Shania Bulala (Okkodo)
Regine Tugade (JFK)
Kiana Rivera (JFK)
Mary Gillan (ND)
Mames Blas (ND)
Brielle Meno (Southern)
Chloe Miranda (St. Paul)
Monica Giger (St. Paul)
Jenna Han (St. John's)
Hallie Wigsten (St. John's)

COMING SOON …
High School Football starts Sept. 29
Brawl 3: Oct 13
Guam's Strongest Man and Woman Competition October 29
QUICK HITS
The Figo Islanders 40s women's softball team took gold in the Senior Softball World Championship in Las Vegas. Figo came out of the loser's bracket and beat the Arizona Belles 17-3 in the AA division championship game Sunday afternoon.
Other Guam teams that played in the 40s tournament were: Team SOTTA (women's) and Bud Light Guam, Friars 671 and Sindalun Guahan (men's).
Sindalu finished a respectable 4th out of 24 AAA division teams.