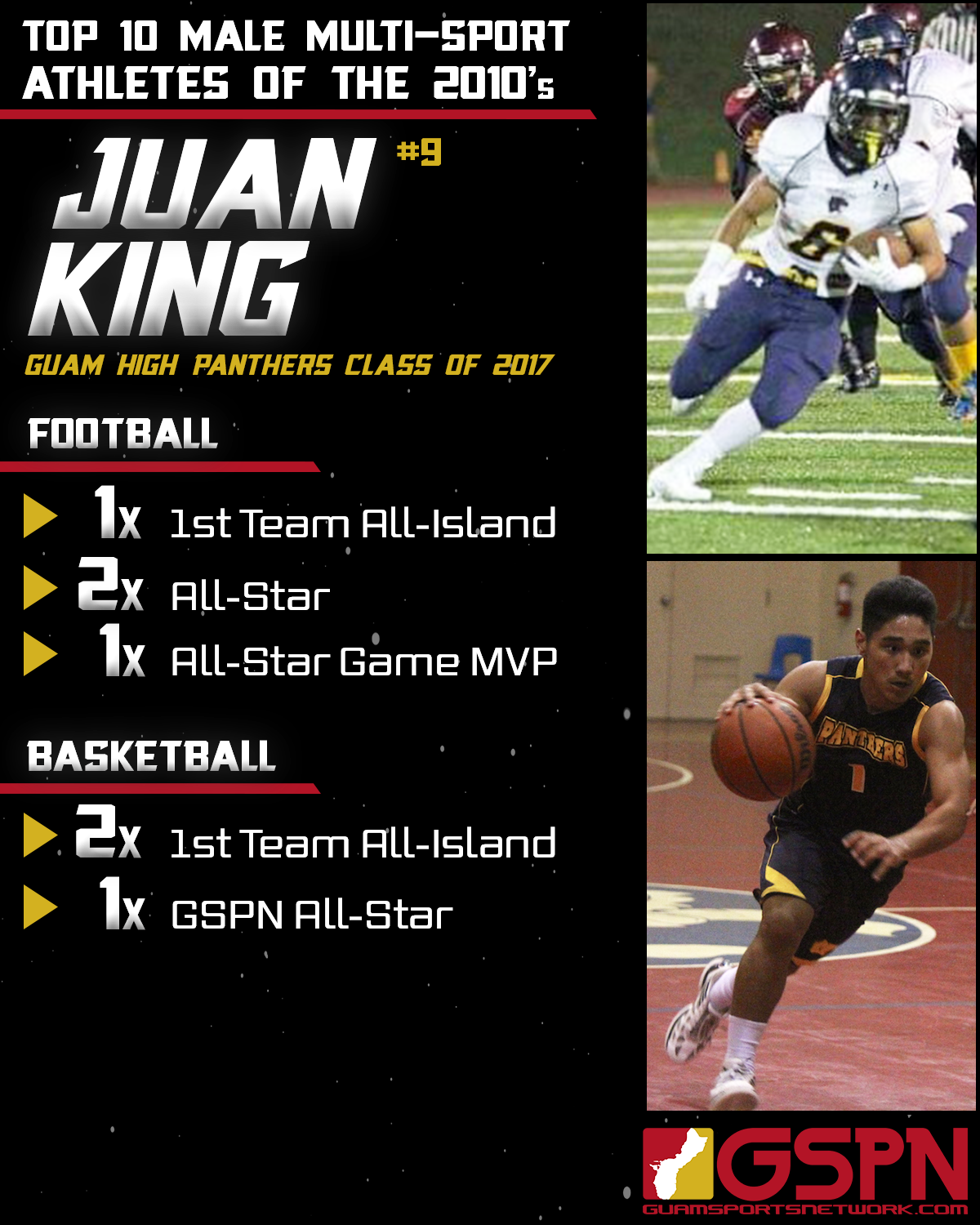 By Robert Balajadia
With high school sports officially wrapped up for 2020, we've decided to count down the top 10 male and female multi-sport high school athletes of the past decade (2010-2020). This list centers around athletes who were not only dominant in one sport, but were multi-faceted stars every time they took the field/court.
Following the direction of a list created by GSPN's Patrick Lujan four years ago on the best multi-sport athletes ever on Guam, 'like sports' (like cross country and track & field) will be ranked the same.
We continue the countdown with #9 Juan King of the Guam High Panthers.
Whether it was football or basketball, you could guarantee that Juan King was going to light up the scoreboard. Juan could be considered one of youth football's most electrifying players ever and he elevated his play in the high school scene.
King had led the team in touchdowns two seasons at Guam High, though he lost out on his junior year due to breaking his tibia in the opening game of the season. He would come back strong in his senior campaign, notching a 1st Team RB selection as well as taking the GSPN All-Star Football Game MVP honors in a highlight tape that was dominated by his runs (video below).
Juan was selected as an All-Star for both basketball and football.
King was a walking bucket in basketball, amassing a career game against the GW Geckos where he scored 48 points as a senior. King would spend a season playing basketball at FD in 2015 as a sophomore and was still a perennial starter on what many believe was the most talented basketball roster ever from 1-15.
King would take his talents to Culver-Stockton for a year before transferring to North Park, reuniting with older brother Jujuan King.
Juan's high school accolades
Football – 1x 1st Team All-Island, 2x All-Star, 1x All-Star Game MVP
Tomadachi Bowl All-Star Selection (football)
Basketball – 2x 1st Team All-Island, 1x GSPN All-Star, 1x 2nd Place finish
(youth accolades: 3x GNYFF/GYFL Champion , Multiple 12U/14U division MVPs and all offensive player )
Juan's reaction to making the list
"One word, Blessed. I want to thank God for giving me the opportunity to play sports. I also want to thank my family for the continuous support throughout my life. Thank you GSPN for nominating me to be on the Top 10 Multi-Sport Athletes of the decade."
Honorable Mentions
Dylan Naputi (GW)
Ryan Quitugua (GW)
Devin Maluwelmeng (GW)
Noah Quichocho (GW)
Shelby Meeks (GW)
Damon Hocog (GW)
Bryton Cepeda (FD)
Noah Diaz (FD)
Roy Taimanglo (FD)
Jake Benito (FD)
RJ Rokop (FD)
Jujuan King (Guam High)
Aaron Blaz (Okkodo)
Maks Kepwe (Okkodo)
Dezdin Fikes (Okkodo)
LJ Aguon (Guam High)
Nolan Chamberlain (JFK)
Wayne Blas (JFK)
Jonah Hahn (JFK)
Patrick Cruz  (Sanchez)
Wes Shiroma (Sanchez)
Josh Sablan (Sanchez)
Kobe Sotelo (Harvest)
Sean Evans (Harvest)
Mason Caldwell (Harvest)
Takumi Simon (St. John's)
Brandon Miranda (St. Paul)

QUICK HITS
The Guam Smokin' Hot women's softball team captured first place in the Asia Cup Softball Championships 2023 in Bangkok, Thailand.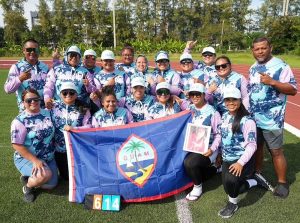 ——————————————————-
Roque Martinez gets the unanimous decision win Saturday night in his debut fight in South Korea's Black Combat promotions.
The 37-year-old controlled the tempo all three rounds and bloodied his opponent with some 3rd round ground and pound.