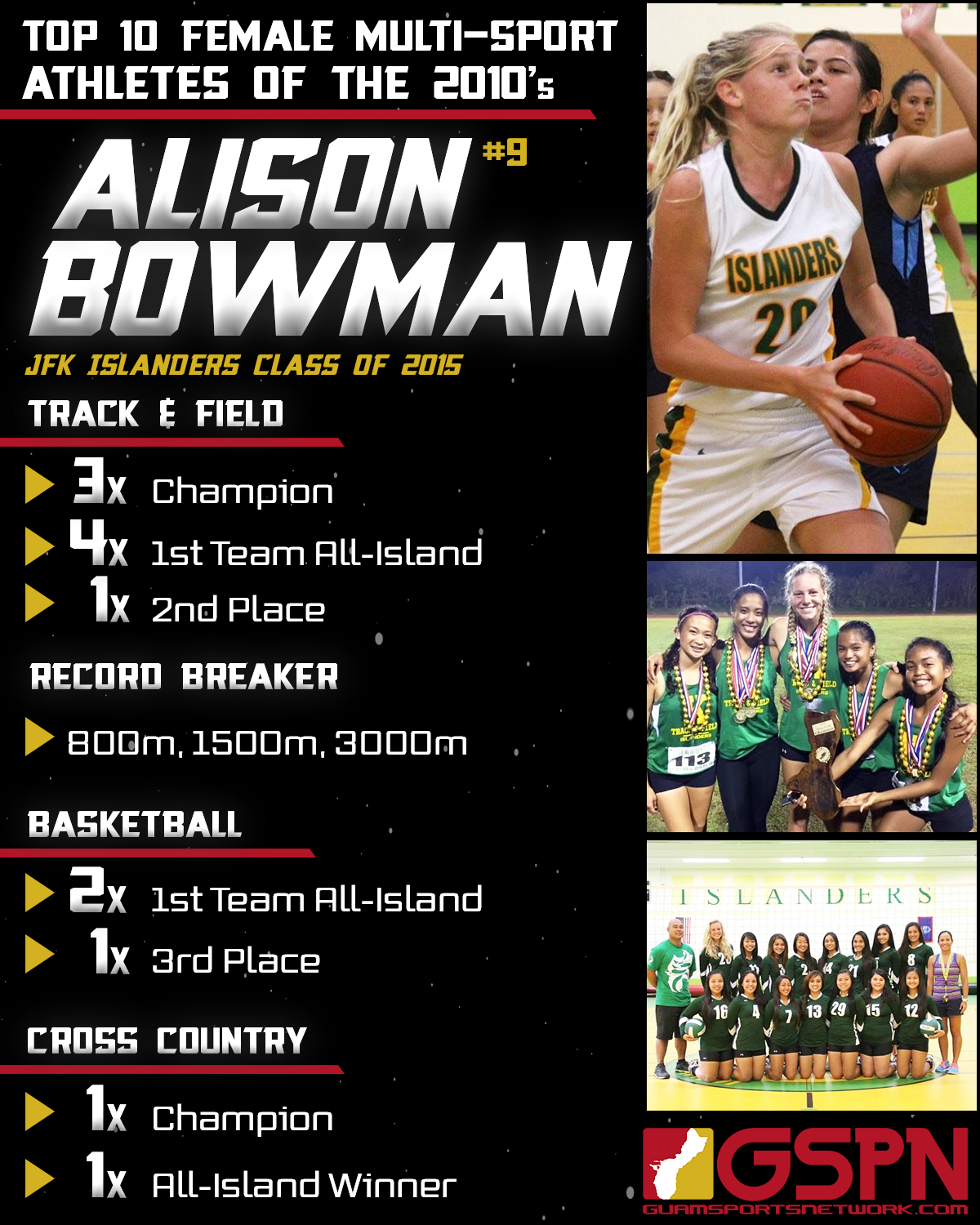 By Robert Balajadia
With high school sports officially wrapped up for 2020, we've decided to count down the top 10 male and female multi-sport high school athletes of the past decade (2010-2020). This list centers around athletes who were not only dominant in one sport, but were multi-faceted stars every time they took the field/court.
Following the direction of a list created by GSPN's Patrick Lujan four years ago on the best multi-sport athletes ever on Guam, 'like sports' (like cross country and track & field) will be ranked the same.
We continue the countdown with #9 Alison Bowman of the JFK Islanders.
Alison came into high school as a track & field powerhouse as part of the Guam High Panthers. She won the team title, along with the distance running events, in just her first year, setting the tone for her high school athletics career.
Bowman's size made her a natural fit in volleyball and basketball, but she would forgo volleyball to commit to cross country since they were in the same quarter, where she would also win a title with JFK as well as 1st place in the All-Island meet.
Bowman was a dominant figure in basketball, racking up 1st Team selections as an upperclassman, finishing 3rd place in the 2015 season.
Outside of high school sports, Alison was also deeply committed to surfing where she would reel in a 2013 Melanesian Surfing title.
Post high school, Alison would continue to run for Guam's National Track & Field team while suiting up to run for the University of Hawaii. Alison competed in 3×3 tournaments for basketball, won bronze in the 2019 Pacific Games and holds the Guam record for 4×4 and steeplechase records and indoor 600m.
Alison's high school accolades
Track & Field – 2x Champion,
Record breaker – 800m, 1500m, 3000m
Basketball – 2x 1st Team All-Island, 3rd place finish
Cross Country – 1x Champion, All Island Winner
Surfing – Melanesian Surfing Cup Champ
Winner of the All Around/Multi Sport Athlete at the Governor's Award Banquet in 2014.
Alison's reaction to making the list
"I'm honored. Some of my best memories came from playing sports on and for Guam. It's been a blessing being able to represent my island as much as I have."
Previous Reveals
Honorbale Mention
Mya Sanchez (Academy)
Brianna Benito (Academy)
Gemilie Ilao (Academy)
Dyonii Quitugua (GW)
Colleen Quinata (GW)
Sam Quinata (GW)
Tasha Palomo (GW)
Shania Bulala (Okkodo)
Regine Tugade (JFK)
Kiana Rivera (JFK)
Mary Gillan (ND)
Brielle Meno (Southern)
Chloe Miranda (St. Paul)
Monica Giger (St. Paul)
Jenna Han (St. John's)
Hallie Wigsten (St. John's)

QUICK HITS
The Figo Islanders 40s women's softball team took gold in the Senior Softball World Championship in Las Vegas. Figo came out of the loser's bracket and beat the Arizona Belles 17-3 in the AA division championship game Sunday afternoon.
Other Guam teams that played in the 40s tournament were: Team SOTTA (women's) and Bud Light Guam, Friars 671 and Sindalun Guahan (men's).
Sindalu finished a respectable 4th out of 24 AAA division teams.