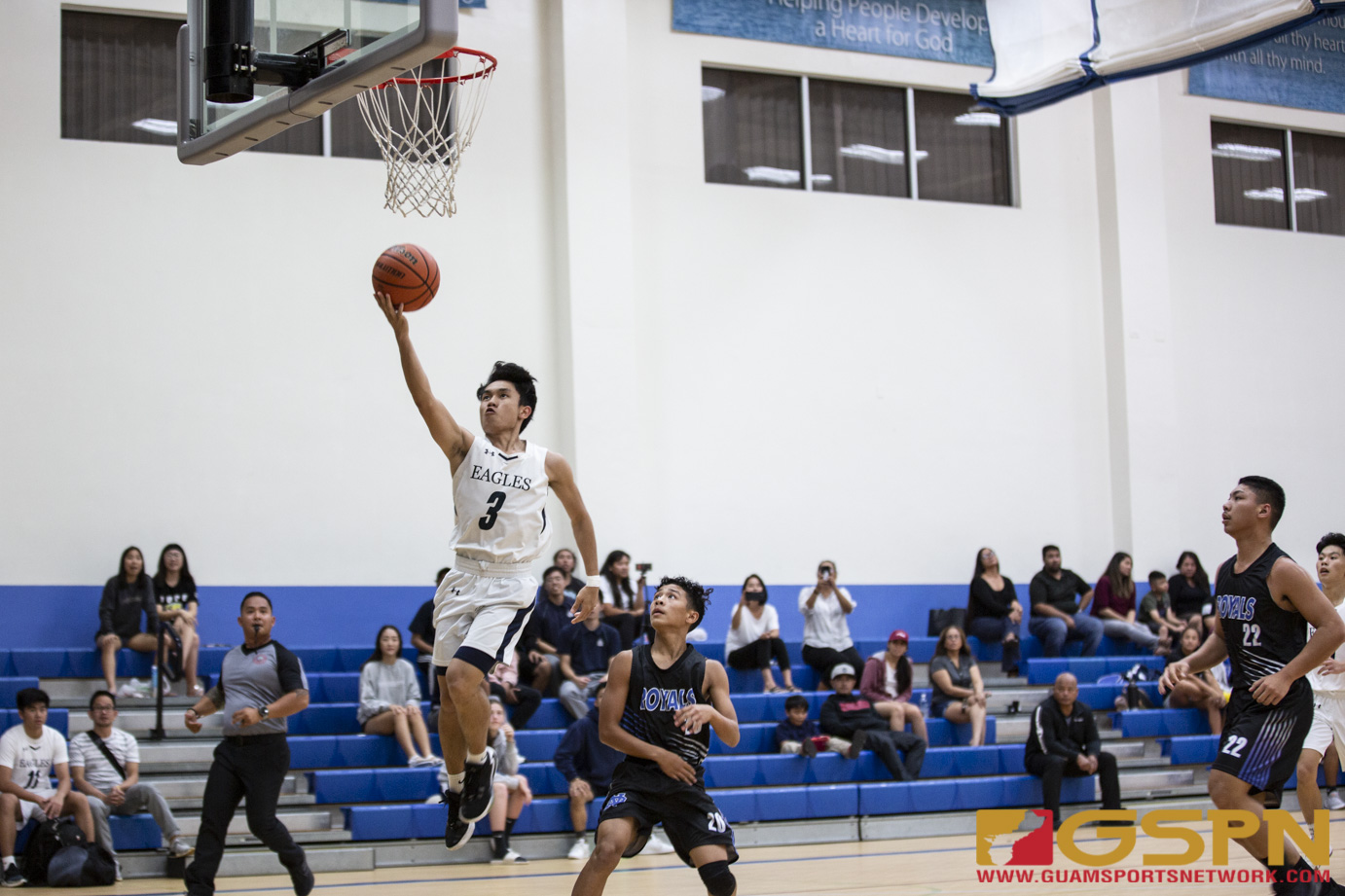 By Jay Leon Guerrero
The Harvest Eagles took a double digit lead early and never looked back to defeat the visiting ND Royals 66-36 in the IIAAG Boys Basketball league. Jan Gonzales came off the bench and led the Eagles in scoring with 15 big points to help Harvest improve to 2-1 overall and 1-1 in the IIAAG league.
Royals held scoreless after 1st quarter
The Eagle defense held the Royals scoreless in the first quarter, taking a 12-0 after the first eight minutes of regulation.
Eagle center Joe Henderson kept the Royals from second chance points, snatching defensive boards as the Royals were cold from the field to start the contest.
Bryce Chargualaf finally got the Royals on the board with their first field goal, a three-pointer to start the second quarter. Royal freshman guard Shawn Lamperero followed up with a transit layup, which prompted an early timeout by the Eagles.
Gonzales for 3
The Eagles countered with the outside shooting by Gonzales to go up 32-10 by halftime. Gonzales made two-pointers during a 12-2 scoring run during the second quarter which basically put the game out of reach for the Royals.
"We were just running the plays and I saw the opening so i took the shots," said Gonzales. Gonzales made 3-of-5 three-pointers for the game.
Harvest starters Gae Baeck Kim and Matt Park helped the Eagles maintain their lead in the second half, converting lay-ups off turnovers. The Royals were plagued with turnovers, committing 28 total for the game.
"Our defense is something that fuels our offense, our guards did a good job pressuring them," said Henderson.
The Eagles also out-rebounded the Royals 55-30, scoring 32 second chance points via offensive rebounds.
"We definitely had the size and experience advantage," said Henderson. "We have eight or nine seniors on our squad and this is going to be the year we are going to go at it."
Henderson had nine points, a game high 17 rebounds and two blocks. Taka Ward had six points and nine rebounds for Eagles.
Jordan Meno led the Royals with 12 points and seven rebounds. Chargualaf had nine points, Tyler Concepcion contributed eight points for ND.
The Royals are 0-3 overall and are 0-2 in the IIAAG league.
In the junior varsity game, ND got their first win of the season with a 36-29 victory over the Eagles. Dylan Santiago led the Royals with 16 points, Wes Keith had 14 points for Harvest. The Royal JV squad improved to 1-2 for the season.
PHOTO GALLERY BROUGHT TO YOU BY: