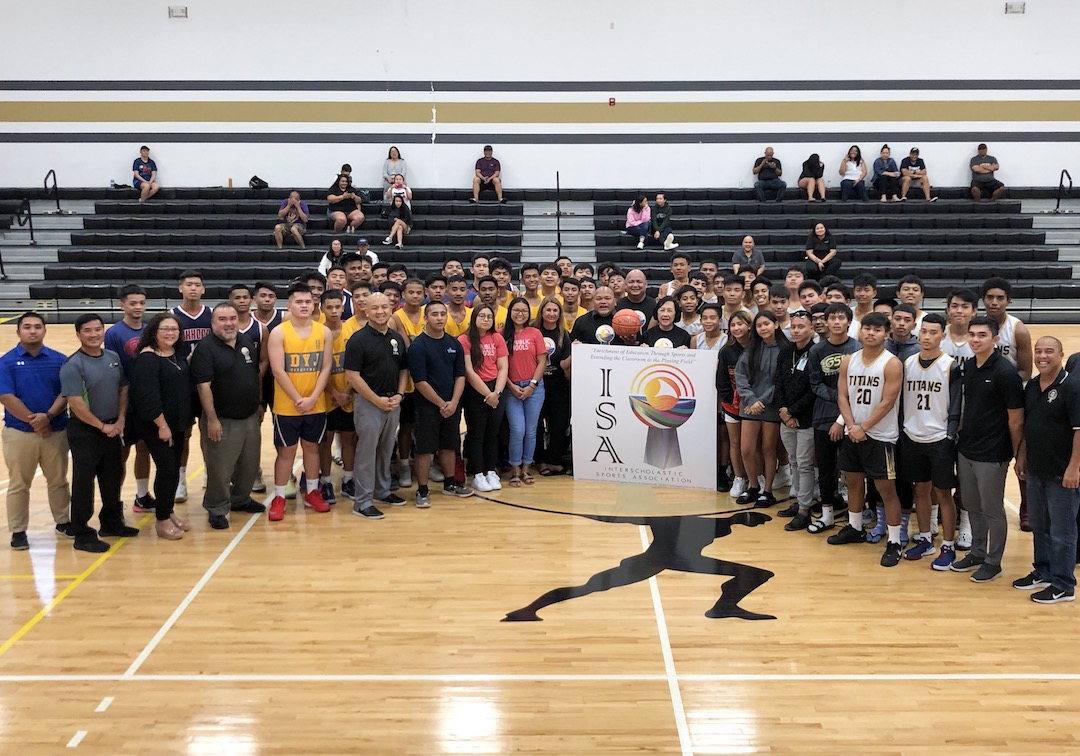 PRESS RELEASE – The Guam Department of Education and Guam Education Board (GEB) celebrated the first Interscholastic Sports Association (ISA) game of the season held on Tuesday, January 21, 2020 at the Tiyan High School gymnasium.
The inaugural ISA basketball game was held between Tiyan High School and Okkodo High School. The Tiyan High School Air Force Junior ROTC color guard performed the opening ceremonies, followed by welcoming remarks from the GEB Chairman and Superintendent of Education.
"I want to thank everyone who has been a part of this transition and who has been working hard to ensure we have a good quality program," former GEB Chairman and current Vice Chair Mark Mendiola said. "Just the other day we partnered with the Guam National Olympic Committee to prepare our athletes and our coaches, so there are a lot of great things coming out of this program, and we're looking forward to having a great season ahead of us."
"This weekend we were excited at the participation we received during the student athlete awareness program held with the Guam National Olympic Committee," Superintendent Jon Fernandez said. "During the program, we saw our coaches, athletic directors, and our student athletes gather to talk about topics such as safety, anti-doping, and concussions."
"The reason we are working to bring everyone together is not just for the competition, but to provide our kids with the resources and information they need to be successful and to develop into well-rounded student athletes. This is a historic game and we look forward to the start of a great season," Fernandez added.
The welcoming remarks were followed by a commemorative basketball tip-off at center court by Mendiola between the opposing teams. During the opening game, board members and department leadership also sported a celebratory ISA t-shirt that was created to commemorate the opening of the ISA league.
For more information about ISA sports, please contact Acting Sports Program Coordinator Al Garrido at the Division of Curriculum and Instruction via email at [email protected] or at 300-1377.

QUICK HITS
Bishop Obispos beat Mt. Carmel for the IIAAG Middle School Girls Basketball championship 37-25.
—————————————-
The Benavente Roadrunners crushed the Agueda Pirates 17-1 to win the 76 PONY Middle School Baseball League. Rodney San Nicolas was a beat, striking out 13 batters in a complete game while going 4-for-4 at the plate, including a homer and 4 RBI.