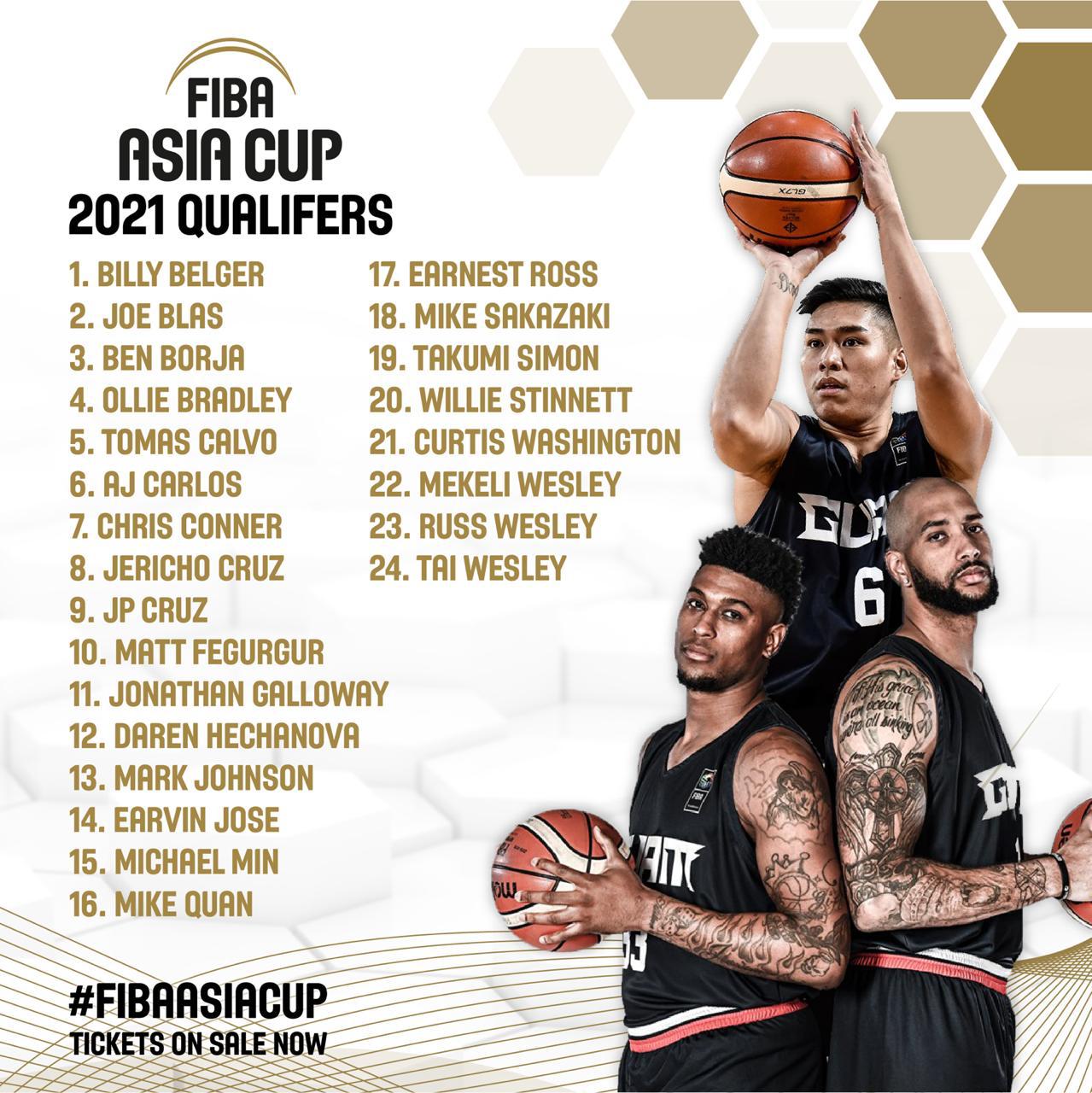 PRESS RELEASE – Guam Basketball announced a list of 24 names today that represent the top prospects currently available and eligible to represent the Guam Men's National Team as they prepare for their 2020 campaign. In coming weeks, coaches will select 12 players from this list to compete in FIBA Asia Cup Qualification games versus Hong Kong (February 20) and New Zealand (February 23).
This Guam Basketball Expanded Roster currently includes a wide range of players, ranging from high school & college student-athletes to professional players…and some with over 10 years of experience playing for the Guam National Team.
Familiar faces for Team Guam include veterans J.P. Cruz, Willie Stinnett, Earvin Jose, Daren Hechanova, Joe Blas, Mekeli Wesley, Russ Wesley and Tai Wesley…who have all won Gold for Team Guam at The Pacific Games. Also returning to action after making their debut for Team Guam in 2018 at the FIBA Asia Cup Pre-Qualifiers are Curtis Washington (former Guam resident) and Guam-born pro baller, Earnest Ross. Guam's Expanded Roster is also loaded with young talent currently still in high school, college, or recently graduated.
The rising stars include Jonathan Galloway (UC Irvine All-Time Leading Rebounder), Mike Sakazaki (recently graduated Chaminade University player), Chris Conner (University of the East player), Ben Borja (California Maritime University player), Tomas Calvo (California Lutheran University player), Michael Min (New York University player), Takumi Simon (2019 Pacific Games Gold Medalist), Billy Belger (2019 Pacific Games Gold Medalist), A.J. Carlos (2019 Pacific Games Gold Medalist), Mike Quan (University of Guam player), as well as Matt Fegurgur (High School Senior & Pre-Season MVP).
New recruits to the program include Jericho Cruz (current PBA player with the NLEX Road Warriors), Ollie Bradley (former Guam resident) and Mark Johnson (born & raised in Guam). FIBA eligibility rules require either a Guam birth certificate or residency in Guam of at least 4 years prior to the age of 16. Only 1 player can be eligible on each roster that established their residency in Guam after the age of 16.