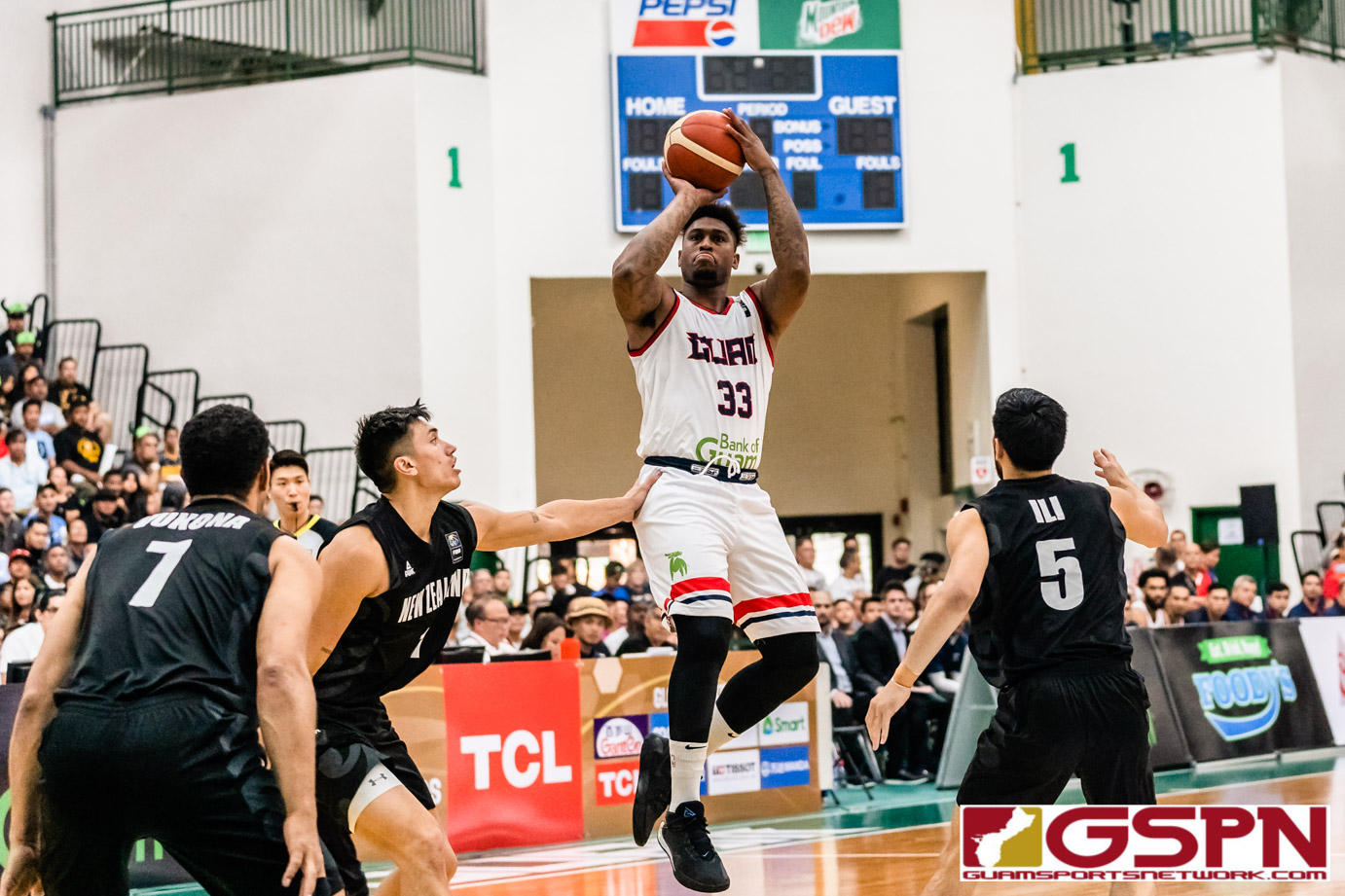 By Jay Leon Guerrero
The biggest basketball game in Guam history was played Sunday evening at the University of Guam Calvo Field House in Mangilao featuring team Guam vs New Zealand in the first game of the FIBA Asia Cup 2021 Qualifiers. Local fans packed the Field House and witnessed a hard-fought battle, but Guam was unable to overcome an injury to a key player and turnovers, falling to New Zealand 113-94.
The tournament is a FIBA World Qualfier and this was Guam's first game in their pool, which is also composed of Australia and Hong Kong. The game versus Hong Kong was scheduled for last week but was postponed due to the coronavirus outbreak.
Guam starts on fire
Much to the delight of the home crowd, team Guam got things rolling early and managed to take the lead after the first quarter of play.
Team Guam led 24-22 after the first quarter behind the offense of Ernest Ross and Tai Wesley. Ross hit a pair of three-pointers and Wesley was a mismatch with any New Zealand defender to help Guam gain early momentum. Guam's Jericho Cruz and Joe Blas also scored in the first period.
New Zealand, also known as the Tall Blacks, made their adjustments and exploded offensively in the second quarter. Shea Ili and Tohi Smith-Miner opened up the second quarter with back-to-back three-pointer to give the lead back to New Zealand.
Disaster strikes for Guam after Wesley heads to the locker rooms after suffering a quad injury. He was unable to recover from the injury and was forced to watch the rest of the game from the bench. Also forced to sit for Guam was starting point guard Daren Hechanova due to foul trouble. Hechanova, Guam's starting point guard, is also Guam's most athletic player and best perimeter defender. 
With two of Guam's key weapons on the bench, the Tall Blacks began to gain their confidence and led 46-36 in the second quarter. Guam's Willie Stinnett scored four straight points to trim the lead to six but buckets by Reuben Te Rangi and Jordan Ngatai had the Tall Blacks ahead 56-43 by halftime.
"Tai (Wesley) was always that calming presence for us and it was hard for us not having him out there," said Stinnett. "Im still proud of the way we all played out there but their points off turnovers and not enough live reps is what got to us tonight."
The Guam team committed 20 total turnovers and New Zealand forced several of them in the third quarter. The full court trap led to lay ups and the Guam team was down 64-47 to start the third quarter.
Guam goes on a 10-0 run
After the Tall Blacks established a 17-point lead, the Guam team went on a crazy 10-0 run courtesy of two three-pointers from Ross and a pair of dunks from center Curtis Washington.  New Zealand head coach Pero Cameron was forced to call timeout after Ross launched a mid-court alley-oop pass to Washington that made the fans go wild with 6:32 left in the third period. Guam trailed just 64-57 at that point.
The Tall Blacks seized back momentum after the timeout, scoring six straight points as the crowd went silent once again. New Zealand continued to make their baskets from long distance and opened up an 86-67 lead heading into the final period.
As the minutes winded down, the Guam team tried to go on a run but traded baskets with New Zealand and ended the game with a final score of 113-94. New Zealand was 23/26 from the free throw line and made 16 three-pointers for the contest.
"Guam is very much like New Zealand and they are one of those teams that 'fly under the radar'," said Cameron. "You under estimate them and 'boom' they smack you when you least expect it."
Ili had 25 points, eight rebounds and seven assists for New Zealand.  The Tall Blacks are 2-0 in pool play after an upset victory over Australia last week. Te Rangi added 17 points, Ngatai scored 14 for New Zealand.  
Ross led the offense for Guam with 21 points, Washington had 19 points and nine rebounds. Blas scored 13 points, Jonathan Galloway had 12 points and eight rebounds. 
Guam Proud
Despite the loss, the fans stayed and cheered for their home team. Hundred of fans wore the Guam Basketballs 'Guam Proud' t-shirts and surely the home crowd was proud of their team. 
"Im glad we played a good game at home and I said we were going to put on a show and I think we did just that," said Guam head coach EJ Calvo. "I grew up watching games here at the Field House. I know we created good memories for future players and something Guam basketball fans can cherish forever."
PHOTO GALLERY BROUGHT TO YOU BY:

QUICK HITS
Bishop Obispos beat Mt. Carmel for the IIAAG Middle School Girls Basketball championship 37-25.
—————————————-
The Benavente Roadrunners crushed the Agueda Pirates 17-1 to win the 76 PONY Middle School Baseball League. Rodney San Nicolas was a beat, striking out 13 batters in a complete game while going 4-for-4 at the plate, including a homer and 4 RBI.