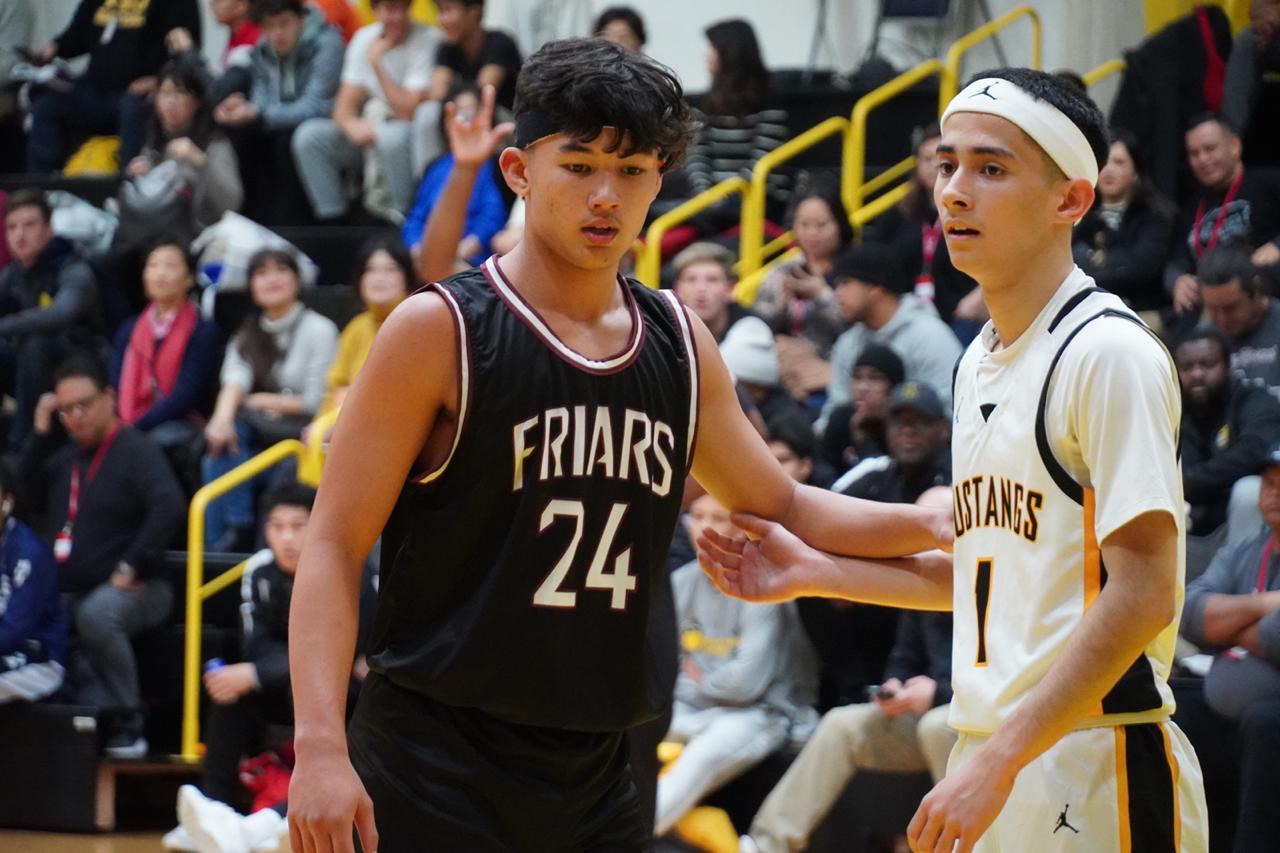 By Jay Leon Guerrero
GSPN was at the High School Kanto Basketball Classic in Tokyo, Japan on Thursday to catch some of the action with Academy, FD, Guam High, Okkodo and St. Paul visiting the American School in Japan.
The first game of the day featured the St. Paul Warriors boys team going against the defending champion Humphreys Blackhawks. The Warriors were down by as much as nine points in regulation but the Warriors made a huge comeback in the final minute to defeat the Blackhawks by one point.
Brandon Miranda had an "and-one" to start the fourth quarter charge. The Warriors were trailing by a point and Thelo Orichiro had the ball with 10 seconds left and drove to the basket.
Orichiro got fouled and converted both free throws with four seconds remaining to give Warriors the lead and eventual win after the Blackhawks failed to a long game winning three-pointer.
"Our coach continued to tell us to just keep playing hard D," said Orichiro. "I got fouled and sank both free throws to lock down the win."
FD loses to host team ASIJ, defeats Humphreys in double header
After dropping their first game to the host team, the Friars came back and defeated Humphreys 44-40.
Friar big man Matt Fegurgur was matched up with 6'9″ Blackhawks center Colin Metcalf. Fegurgur had 11 points, eight rebounds and five blocks before exiting in the third quarter.
The Friars relinquished the lead after Fegurgur's exit, going down by six points in the final period. FD guard Colin Santiago hit a three-pointer to trim the lead and the Friars came back with tight defense from Matt Santos and Daryll Robles to close out the game.
Robles recorded a steal and a go-ahead lay-up under a minute remaining. Santos also recorded a steal and was fouled, sinking his free throws to secure the victory.
Thursday Scores
Girls:
ASIJ 38, Okkodo 32
Academy 40, Kubasaki 33
ASIJ 35, St. Paul 24
Kadena 42, Academy 34
Okkodo 29, Humphreys 26
St. Paul 38, Yokota 29
Boys
St. Paul 36, Humphreys 35
ASIJ 46, FD 32
Okkodo 72, Kubasaki 51
Kadena 42, St. Paul 34
ASIJ 47, Okkodo 27
Friday Scores
Kadena 35, St. Paul 31
Zama 52, Okkodo 50
FD 63, Zama 37
Yokota 37, St. Paul 36
Kinnick 57, Okkodo 50
PHOTO GALLERY BROUGHT TO YOU BY:
(photo from Dom Sablan)

(photo from Dom Sablan)

(photo from Dom Sablan)

(photo from Dom Sablan)